Op-ed: UCLA must ensure open access to COVID-19-related intellectual property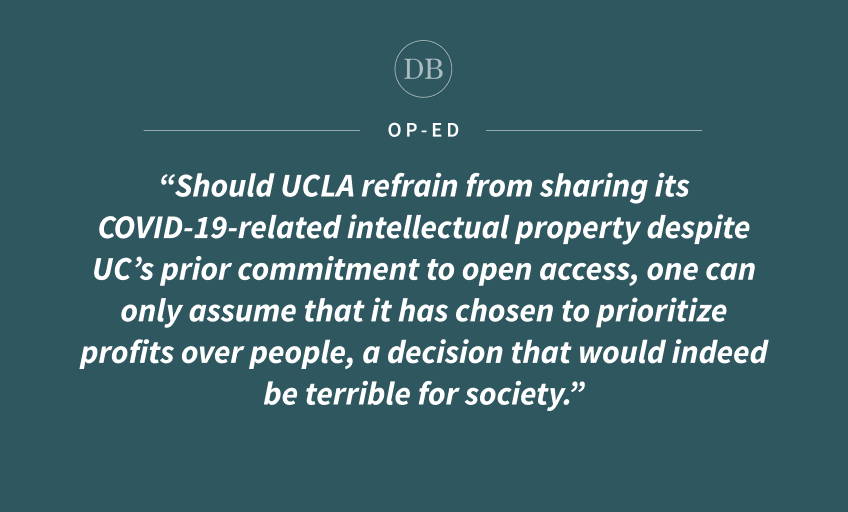 On March 16, the University of California made history. It signed an open-access agreement with Elsevier – the largest scientific publisher in the world – ensuring that articles published by UC affiliates in thousands of Elsevier journals, including the prestigious Lancet and Cell Press, will be available worldwide at no cost. UC President Michael Drake celebrated the agreement as a landmark achievement for "open, equitable access to information," emphasizing the importance of sharing scientific knowledge especially during a global pandemic that requires international collaboration. Open access not only allows for increased dissemination and application of scientific advances in developing nations, but also encourages more diverse scientific collaboration, response, and critique – all critical for achievement of global health equity.
The open-access agreement, then, is indeed cause for great celebration and pride. However, in the midst of a pandemic that has caused the deaths of over 550,000 Americans and 3.2 million people worldwide, the UC has a time-sensitive opportunity to truly embody the principles of open access when it matters most. To save lives and prove its stated commitment to "making its scholarship available to the people of California and the world," the UC can publicly share its intellectual property linked to COVID-19 free of charge for use in ending the pandemic and minimizing the impact of the disease. As the UC campus with the largest income from technology commercialization, UCLA has a practical and moral duty to lead the way in ensuring equitable global deployment of its technologies.
UCLA should join the global movement for a People's Vaccine and take two concrete steps toward equitable access to COVID-19-related scientific knowledge: signing the Open COVID Pledge and contributing to the World Health Organization's COVID-19 Technology Access Pool. The OCP, already endorsed by the WHO and adopted by unlikely bedfellows including Facebook, Amazon, IBM, and Microsoft, is a legally binding, public commitment to make intellectual property available free of charge for the purpose of ending the COVID-19 pandemic. Similarly, C-TAP, launched by the WHO in May 2020 with the support of 30 countries, encourages the dissemination of knowledge through a global shared pool of intellectual property, data, and licensing associated with COVID-19 diagnostics, treatments, and vaccines.
Intellectual property restrictions represent a primary reason for artificial vaccine scarcity and delays in the distribution of COVID-19 technologies to low and middle-income countries, many of whom are currently projected to obtain vaccines only in 2022. WHO Director Tedros Ghebreyesus has argued that "openly sharing vaccine manufacturing technology, intellectual property, and know-how" is critical to achieving global production and distribution goals. These goals cannot be met unless universities like UCLA are willing to forgo traditional technology licenses in the name of open access, a cause that the UC has already proven it values given the Elsevier agreement.
In fact, UC has itself acknowledged its moral obligation to provide unfettered public access to taxpayer-funded research. Underscoring the importance of an open-access deal with Elsevier, co-chair of the UC negotiation team Jeffrey MacKie-Mason argued that "publishing (UC) scholarship behind a paywall deprives people of the access to and benefits of publicly funded research. That is terrible for society." Or, as Robert May, chair of the UC Academic Senate put it, "knowledge should not be accessible only to those who can pay."
If the UC believes that access to taxpayer-funded scientific knowledge should come without a price tag, surely they must agree that sharing the products of publicly-funded, COVID-19-related UC research should not be limited to those who can afford licenses, especially when thousands of lives are at stake. The only sticking point may be that the allure of profit from exclusive licenses on UC COVID-19 technologies outweighs the university's loyalty to equitable knowledge distribution. Should UCLA refrain from sharing its COVID-19-related intellectual property despite UC's prior commitment to open access, one can only assume that it has chosen to prioritize profits over people, a decision that would indeed be terrible for society.
By signing the OCP and contributing to C-TAP, UCLA has the chance to make history again: to become a leader – within the UC and across the world – in the fight for a free and equitable vaccine to speed the distribution of life-saving technologies and to further the cause of open access that UC championed with its praiseworthy Elsevier agreement. If this commitment to open access is genuine, CEO of UCLA Health John Mazziota must endorse OCP and C-TAP to ensure global open access not only to UCLA research articles, but also to the life-saving products, technologies and know-how its research generates.
The UC student community and the world are waiting.
Schlingmann is a third-year molecular, cell and developmental biology student.