Week six: Work stoppage for Abolition May, USAC candidates issue apologies amid controversies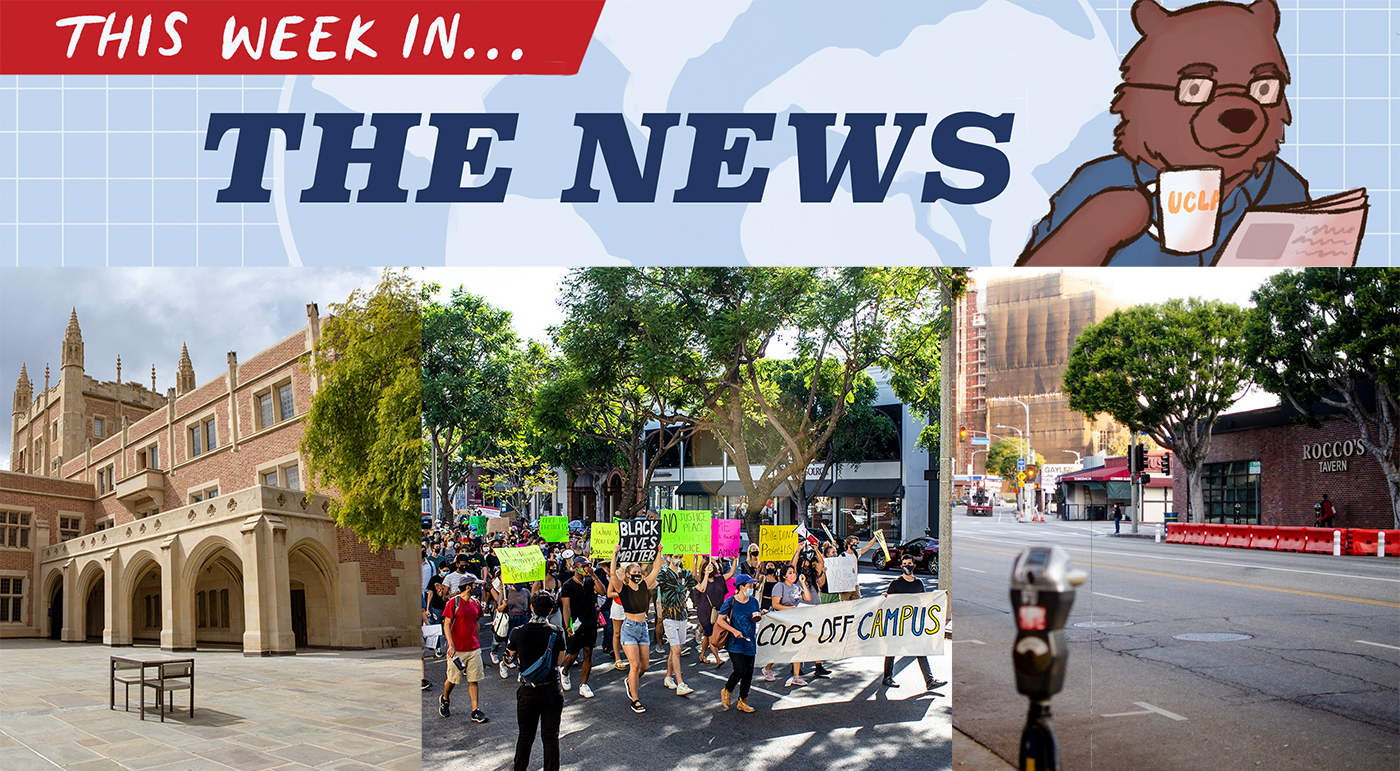 (Left to right: Ashley Kenney/Assistant Photo editor, Naveed Pour/Daily Bruin staff & Kanishka Mehra/Photo editor)
This Week in the News serves as The Quad's space for reflection on current events at and around UCLA. Every week, Daily Bruin staffers will analyze some of the most significant stories to keep readers up to speed.
As the start of May brings week six to a close, it also marks an ease in COVID-19 restrictions for Los Angeles County, an end to women's soccer's NCAA run, calls for police divestment during Abolition May and the Undergraduate Students Association Council election coming to an end.
After several months of COVID-19 restrictions, LA County has transitioned into the yellow tier – the least restrictive tier of California's reopening plan – Tuesday.
This distinction allows for expanded operations both indoors and outdoors for some businesses. Bars can increase indoor operations to 25% capacity or 100 people, whichever is fewer. Previously, under the orange tier, bars were only allowed to operate outdoors. Amusement parks can also operate at 35% capacity, an increase from the previous 25% capacity in the orange tier.
Other businesses including gyms, museums and live sporting events may also reopen at higher capacities, according to California's reopening plans.
No. 3 seed UCLA women's soccer's (13-1-3, 9-1-1 Pac-12) season came to an end Wednesday when it was upset by No. 14 seed Clemson (12-4-2, 5-3-0 ACC) in penalty kicks in round three of the NCAA Women's College Cup.
The Bruins maintained control in the first half, managing five shots on goal against the Tigers in the opening 45 minutes of the game, and held a 12-7 shooting lead at halftime.
After giving up a goal early in the second half, UCLA equalized with 3:07 left, and the game went on to overtime and penalty kicks. However, the Bruins were unable to find a winner.
"In the game of soccer, the most dominant team doesn't always win," said coach Amanda Cromwell. "This was some of the best soccer we've played all year and we deserve to be in this tournament still, so this is heartbreaking – soul-crushing."
In protest of campus policing, many UCLA faculty and students refused to work Monday.
Cops Off Campus Coalition, a national organization advocating to abolish campus policing, was joined by Divest/Invest UCLA Faculty Collective, a coalition of faculty advocating for a police-free campus, Monday in a call on faculty and students to refrain from academic labor for May Day.
Some departments, such as the Department of World Arts & Cultures/DANCE, the Department of Art and the Department of Chicana/o & Central American Studies, shuttered operations May 3 to show their support for the day of refusal.
Other departments, including the Life Sciences Division, the Department of Anthropology, the Institute of Society & Genetics and the International Institute agreed not to penalize students and faculty who refused to work for the day.
On May 25, Abolition May will come to a conclusion with an in-person and masked gathering for a day of abolition teaching at UCLA, said Hannah Appel, an associate director of anthropology and global studies and member of the Divest/Invest UCLA Faculty Collective.
The Undergraduate Students Association Elections Board temporarily suspended Elijah Simas from campaigning for spreading false allegations against his opponent over social media.
Simas is a second-year electrical engineering student and candidate for the Undergraduate Students Association Council Facilities commissioner.
In a Reddit post, Simas said that Jane Ni, his opponent and a current Facilities Commission staff member, benefited from an internal support survey circulated by the Facilities Commission to select Ni as the commission's preferred candidate.
Simas, who said he made the Reddit comment based off a conversation with the outgoing commissioner, was sanctioned an eight-day suspension of campaigning on April 26 by the elections board after it found that no such survey was circulated and Simas' comments could have damaged Ni's reputation.
Simas had previously been sanctioned three times.
Simas posted an apology statement to Ni on Reddit on April 25 for his false comments.
Moises Hernandez, one of the current undergraduate student government presidential candidates, apologized Wednesday after receiving criticism for his hesitancy to endorse the Black Lives Matter movement on behalf of an organization and for past tweets in which he used the N-word.
Screenshots of conversations between Hernandez, a third-year philosophy student, and another member of UniCamp, a nonprofit organization that helps children from urban communities, began circulating on Twitter on Saturday.
In the conversation, Hernandez said he was not sure if UniCamp allowed members to make a stance on BLM, citing internal policies.
Additional tweets Hernandez had made in 2015 using the N-word, which have since been deleted, also began circulating on Twitter.
In a statement Hernandez issued Sunday, the third-year explained his comments but did not provide an apology.
Current USAC President Naomi Riley, a fourth-year political science student, said Hernandez's statement did little to repair the harm that had been committed.
In an additional statement released Wednesday by Hernandez, the candidate apologized to those he may have harmed with his tweet and added that he supports the BLM movement. He said that he did not apologize in his initial statement in case people thought he was being disingenuous.