Week five: LA county COVID-19 improvements, protests by UCLA nurses, USAC elections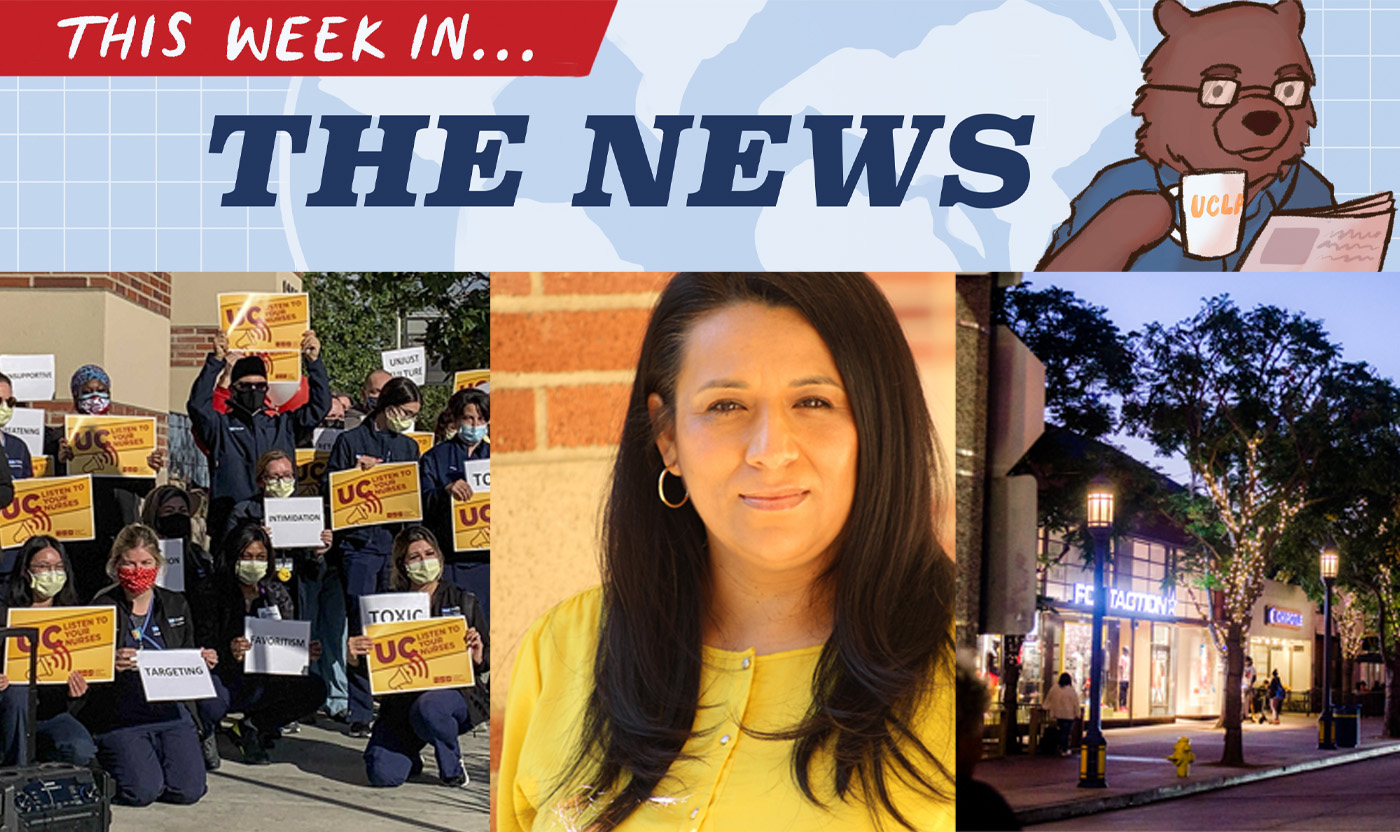 (Left to right: Courtesy of Danna Castro Galindo, Courtesy of Carina Salazar, Kanishka Mehra/Photo editor)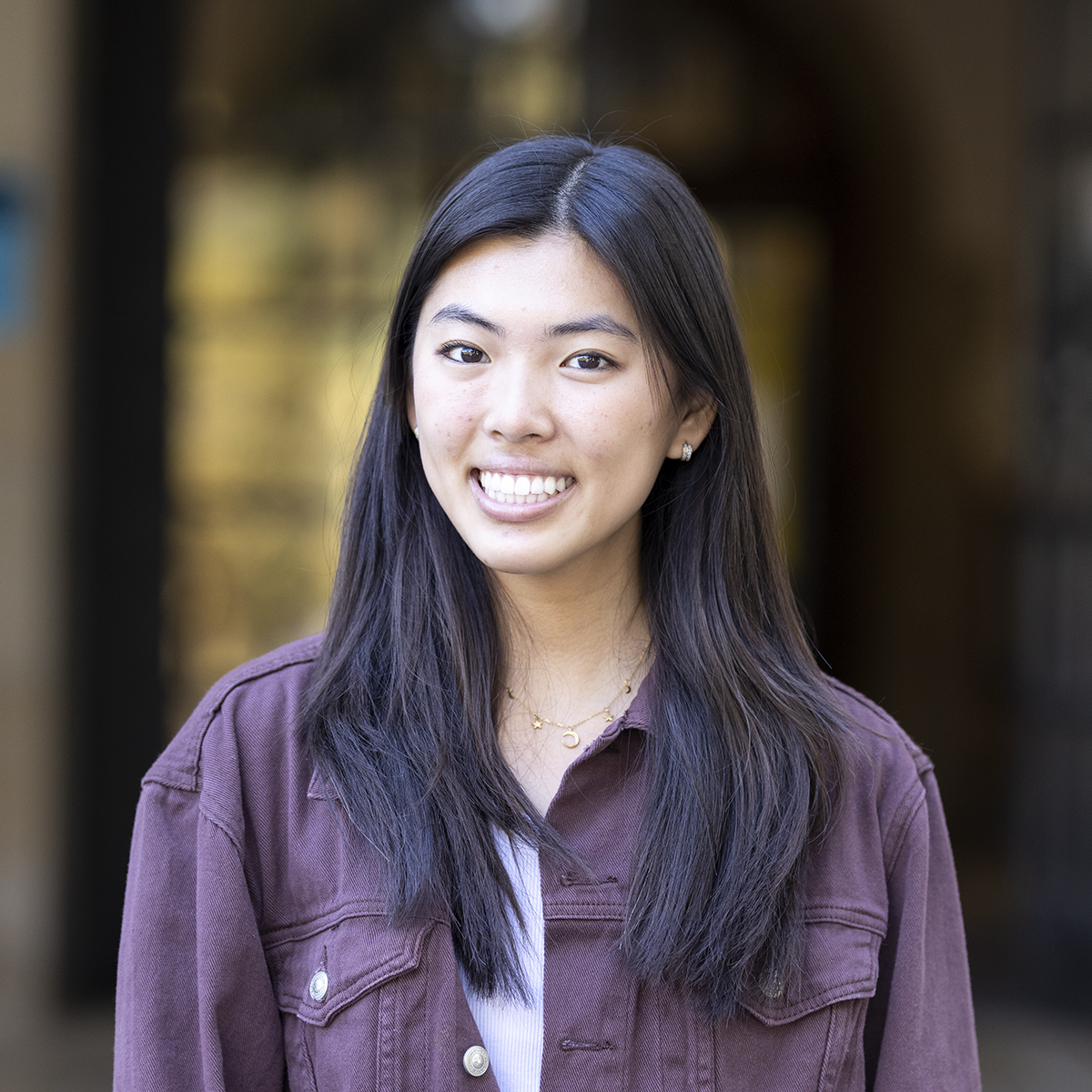 This Week in the News serves as The Quad's space for reflection on current events at and around UCLA. Every week, Daily Bruin staffers will analyze some of the most significant stories to keep readers up to speed.
Amid a hectic midterms season, week five news offers Bruins a chance to focus on something other than exams. From COVID-19 improvements in the county to new Bruin staff and upcoming USAC elections, there is plenty of fresh news to unpack.
Los Angeles County may transition from the orange to yellow tier, California's least restrictive COVID-19 tier, by next week, according to a public statement county officials announced Tuesday.
A statement by the Los Angeles County Department of Public Health released Tuesday revealed a drop in COVID-19 case numbers from 2.7 to 1.9 new cases per 100,000 individuals and a decrease from 1.4% to 1% positivity rate.
If the county continues to report low case and positivity rates for another week, the switch will become official and the county will join four other counties in yellow, the final stage of California's reopening plan. As of April 27, 13 counties remain in the red tier and 41 counties remain in the orange tier, according to a statement from the California Department of Public Health.
To remain in the yellow tier, the county must retain a rate of less than two daily cases per 100,000 people and a positivity rate of less than 2%.
Nurses at UCLA Santa Monica Medical Center gathered Monday morning to protest unsafe emergency room conditions and an increase in staff turnover, concerns that have been raised to UCLA management since November.
According to an emailed statement from Paul Waters-Smith, a labor representative for the California Nurses Association/National Nurses United, such issues have been unaddressed. In fact, Waters-Smith said nurses who signed a petition to their management of the unsafe working conditions are dealing with repercussions from UCLA Health.
Safety concerns among nurses are spurred by improper treatment of COVID-19 patients, some of whom have been left waiting out of nurses' sight without a call button, said ER registered nurse Benjamin Cioppa-Fong in a CNA/NNU press release.
ER conditions are worsened by high staff turnover. Graci Bebeau, registered nurse and chair of the Emergency Department Unit Practice Council at UCLA Santa Monica Medical Center, said as a result, remaining nurses must deal with short-staffing and inexperienced staff members while also worrying about retaliation from management.
Sociology transfer alumna Carina Salazar began her new role as UCLA Transfer Student Center director April 9, filling a position that had been empty for over a year. As the first permanent director since 2019, Salazar is leading the center and all related events for transfer students.
Following former director Heather Adam's departure in 2019, students and staff members had to put in extra effort to carry out the responsibilities of the TSC. Staff members said they believe Salazar's entrance to the team will help better distribute the TSC workload and allow for more leadership in various projects.
Salazar worked as UCLA Academic Advancement Program counselor for 17 years and senior associate director at the Career Center for 4 years. She aims to utilize her experience as a former transfer student to foster community, magnify student voices and support transfer students beyond academics.
UCLA football promoted former quarterback Jerry Neuheisel in January as the new wide receivers coach.
Neuheisel has been a part of the UCLA football program for seven years and will succeed Jimmie Dougherty, who served on the Bruin football staff for four years but took the position of assistant coach at Arizona.
Neuheisel used his experience in the offensive staff a season ago to help the team rank in the top half of the conference in passing offense and rank second in both total and scoring offense.
Rising senior wide receiver Chase Cota said Neuheisel's experience as a signal-caller will ultimately be beneficial, and considering his close ties to the receiver room, he expects no learning curve.
Undergraduate Students Association Council elections are just around the corner. From April 30 at 8 a.m. until May 7 at 2 p.m., the week-long election will take place entirely online. Two virtual USAC candidate debates took place Wednesday and Thursday in collaboration with the Daily Bruin.
Alfred Tun, fourth-year economics and political science student and USAC Elections Board chair, presented this year's spring ballot April 8.
The ballot features 39 candidates competing for 15 total positions, three constitutional amendments and a referendum: the Bruin Emergency Relief Fund.
Twenty of the candidates are supported by three slates — For the People, Bruin Solutions and Bruins Adelante Coalition — while the rest run as independents. The candidates vying for USAC President are Armaan Singh (Bruin Solutions), Breeze Velazquez (For the People), Moises Hernandez (Independent) and Rutik Shinglot (Independent).
As of April 28 at 3 p.m., there have been 19 violations among 10 of the candidates, many of which involved omitting disclaimers or tags on Instagram posts. More serious violations include spreading false information on Reddit and beginning early campaigning.
To participate in voting, students can go to MyUCLA and select the "Campus Life" tab, followed by "Elections" under "Surveys and Notices."
Pak is the 2021-2022 assistant Quad editor. She is a second-year English student at UCLA. She was a 2020-2021 Blogging contributor.
Pak is the 2021-2022 assistant Quad editor. She is a second-year English student at UCLA. She was a 2020-2021 Blogging contributor.