The Bruin Gastronomer: Chicken lettuce wraps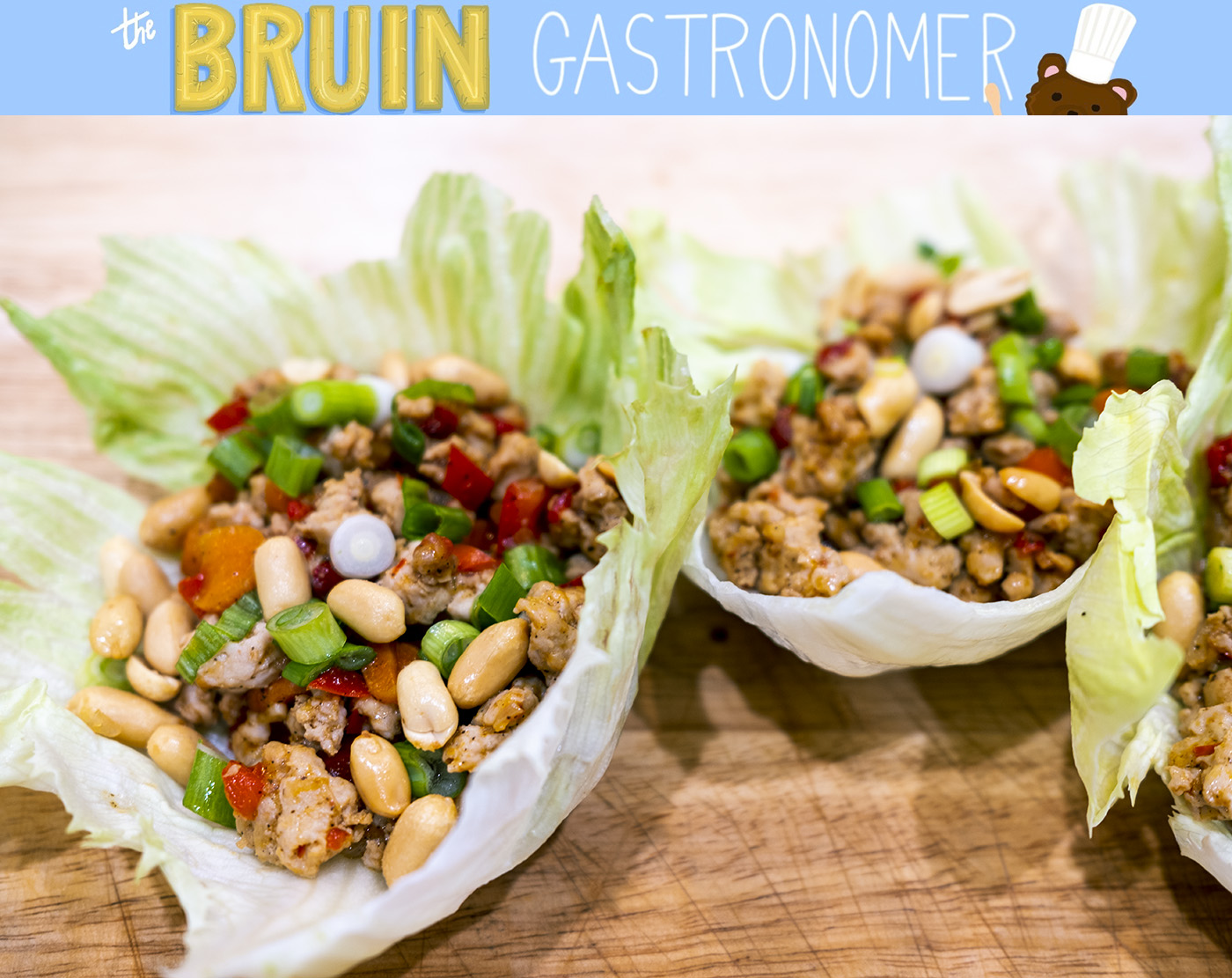 (Photo by Keaton Larson/Daily Bruin, photo illustration by Emily Dembinski/Illustrations director)
Cooking in college can be daunting. The Bruin Gastronomer aims to give students the knowledge and tools to cook affordable, simple and delicious meals that will fill brains and bellies alike.
Clear your fridge: chicken lettuce wraps
When leftovers start to pile up, lettuce wraps can be a wonderful solution to dealing with all the miscellaneous ingredients that are teetering at the edge of expiration in our fridges. Almost all vegetables are welcome, and the recipe calls for fairly common sauces (worst case, you can still make do with just soy sauce).
As great as it is to clear up fridge space, lettuce cups are also easy and quick to make. The process only takes about 25 minutes.
The recipe calls for chicken, but if you are using leftover chicken already cooked rather than chicken bought for the recipe, the chicken will not need to sit in the pan as long.
For a vegetarian twist on the recipe, I recommend substituting mushrooms or potatoes for chicken. Tofu could work as well, or any other one of your favorite vegetarian substitutions.
Ingredients
For chicken stir-fry:
– 1 pound ground chicken
– 2 cloves garlic, minced
– ½ onion, diced
– Vegetables of your choice that you can dice into small, bite-sized pieces (carrots, bell pepper, mushrooms, water chestnuts, cucumber, etc.)
– 1 tablespoon olive oil
For stir-fry sauce:
– 4 tablespoons oyster sauce or hoisin sauce (If you don't have either, you can mix up a makeshift sauce by combining soy sauce with a little brown sugar for thicker consistency – if you don't have brown sugar on hand, microwave soy sauce with a big pinch of white sugar until the mixture becomes a thicker consistency.)
– 1 tablespoon rice wine vinegar
– 1 tablespoon sugar or honey
– 1 tablespoon sesame oil
– 1 teaspoon ground black pepper
For assembly:
– 1 head of lettuce of your choice (I prefer butter lettuce for its soft texture and mild flavor.)
– Chopped green onions
– Sesame seeds
– Crushed peanuts or cashews
– Optional: fried vermicelli noodles for added crunch and Sriracha sauce for lovers of spicy food
Instructions
1. Combine in a bowl oyster sauce or hoisin sauce, rice wine vinegar, sugar or honey, sesame oil and black pepper.
2. Mince garlic cloves and dice vegetables of your choice into small, bite-sized pieces. Try to get them all around the same size so they all cook evenly.
3. Heat a medium pan for two minutes on medium heat. Once the pan has heated, pour in 1 tablespoon of olive oil.
4. Throw in your diced onions and saute until translucent. If the onion's edges start to brown, your pan is too hot.
5. Add minced garlic to the pan when the onions look translucent. Adding the garlic too soon may lead to burning.
6. Throw 1 pound of ground chicken into the pan and break it apart into small pieces. Cook chicken until pale brown, stirring occasionally.
7. Place your diced vegetables in and stir-fry until vegetables begin to soften, about three to four minutes.
8. Pour in your sauce mixture and stir until everything is well-coated and fragrant. Cook for another three to four minutes.
9. Assembly time! Wash and break apart a head of lettuce and spoon in however much of your stir-fry you would like into each lettuce cup.
10. Add toppings of your choice (peanuts, green onions, sesame seeds, fried vermicelli noodles, etc.) Enjoy!
Recipe contributions by Crystal Trinh.