Life and Hip-Hop: Artists increasingly dubbed industry plants for making use of labels, connections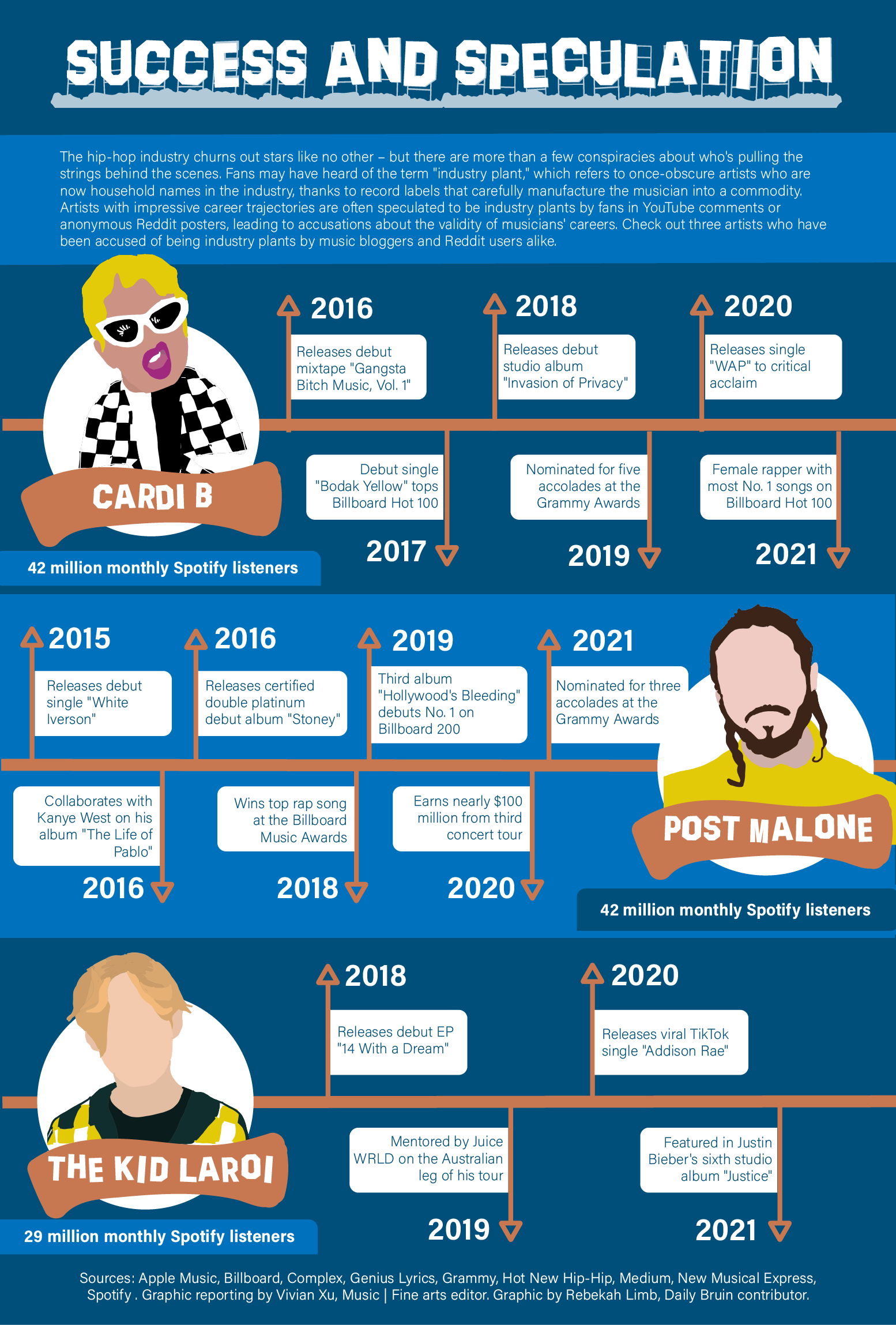 This post was updated April 18 at 5:55 p.m.
The impact of music extends far beyond the play and pause buttons. Formed in the 1970s as an underground movement, hip-hop has expanded into various art forms and musical subgenres – with rap specifically being one of the most popular musical styles among today's youth. In "Life and Hip-Hop," columnists Natalie Brown and EJ Panaligan explore and analyze how hip-hop intersects with and influences everyday aspects of life.

Conspiracy theories are king, and even hip-hop can't escape their allure.
Log on to any hip-hop Reddit page or browse the depths of rap YouTube commentary channels, and the phrase "industry plant" is bound to show up. One quick Google search of this term results in highly detailed threads outing some of hip-hop's most successful and influential artists from Drake to Cardi B as having major label influence, instead of homegrown organic success as their fans believe. While the paranoia the term "industry plant" creates is perceived as baseless, its frequent use within hip-hop circles raises many poignant questions about the need for a more transparent music industry.
Skyrocketing in mainstream usage and popularity recently, "industry plant" has a wide array of definitions and the existence of such plants is a common point of debate among music listeners and scholars alike. Music and culture journalist Grant Rindner said even though there are a variety of definitions for the term, a common thread connects these different interpretations.
"Largely, the term (industry plant) is used by someone who's trying to discredit an artist that they don't like, or they don't believe came up (by) legitimate means," Rindner said.
Some extremist online personas are quick to describe an industry plant as an artist with any form of label connection or greater network they took advantage of before becoming wildly successful. Artists with personal ties to the music industry, like Guapdad 4000, have been ridiculed online for being supposed industry plants. However, Rindner said while label-backing is not necessarily an essential ingredient for success, it shouldn't be criminalized. Even if artists take advantage of their personal and professional connections, he said these ties can only take them so far.
"You can force an artist onto people's radar," Rindner said. "But if they themselves don't have any compelling qualities, either as a musician or as a celebrity, then they're ultimately going to be a blip."
[Related: Life and Hip-Hop: Grammy Awards have long history of snubbing hip-hop, Black artists]
Young up-and-coming artists today can't obtain longevity in the cutthroat music industry without some sort of substance or distinction from their peers. Aside from being well-connected, industry plants are often regarded by hip-hop listeners as being copycats of a new sound or style. Rindner said artists who seem like they are basing their careers and identities off someone else tend to get branded as industry plants – whether their similar branding is intentional or not.
While Rindner said the paranoia that follows the idea of industry plants is a result of society's obsession with Big Brother-like figures, it also might be a response to a long-overdue desire from fans and young artists alike for more transparency and authenticity within the music industry. UCLA alumna and recording artist Avriel Epps-Darling said the music industry has much more influence on what is streamed than the average music listener would think, giving some validation to this industry plant theory.
With an increase in the popularity of AI-generated personalized recommendations on streaming services like Apple Music and Spotify, Epps-Darling said labels are figuring out how to use microtargeting and targeted advertising to their advantage. As a result of such a digitally dominated platform, she said artists who work with record labels have clear advantages over those who choose to produce music independently.
However, this comes at a price.
"With (a label's) investment in you as an artist, there is an expectation that you're going to return something on that investment and that the label is going to make money off the deal in some way," Epps-Darling said. "(Record labels) feel kind of entitled to make decisions to ensure that return on their investment."
[Related: Life and Hip-Hop: Global influences on genre unite artists to impact sound]
The idea of a record label calculatingly molding a young artist into what it thinks is most profitable often conjures the image of a puppet and puppeteer. However, it would be unrealistic to expect that any mainstream hip-hop artist has achieved great success without using even a small amount of the influence and resources big record labels provide, Rindner said.
While there certainly is a great need to have discussions about why certain artists are pushed over others in terms of racial and gendered prejudice, he said it is futile to try and define an organic rise – especially considering the ever-changing landscape of the music industry.
"In the past, being mysterious as an artist was really cool," Rindner said. "But now, in our hypersaturated world, (music fans) like to feel a connection and understand where artists come from."