Album review: 'UNLOCKED 1.5' is the intergalactic remix sequel nobody asked for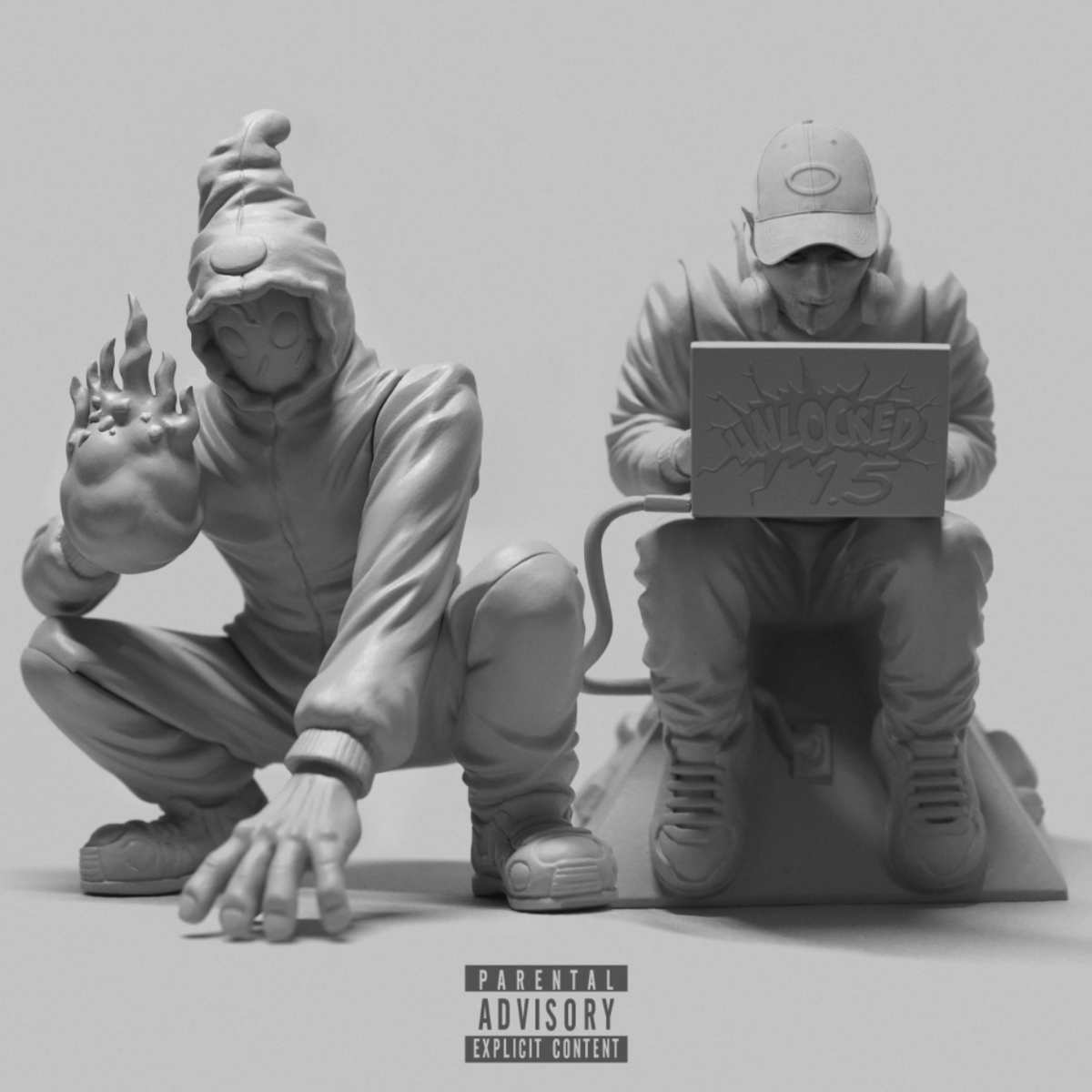 (Courtesy of Loma Vista Recordings)
"UNLOCKED 1.5"
Denzel Curry, Kenny Beats
Loma Vista Records
Released Mar. 5
Denzel Curry and Kenny Beats prove the sequel will never be as good as the original.
As the second collaborative album between Denzel Curry and Kenny Beats, "UNLOCKED 1.5" serves as a cosmic-sounding complement to their 2020 release "UNLOCKED." The almost-identical track list of "UNLOCKED 1.5" is a lo-fi electronic reimagination of the previous album, featuring new verses from several artists like Benny the Butcher, Joey Bada$$ and Smino. While the artists' mission to create a distinctly ethereal sound is noticeable, "UNLOCKED 1.5" doesn't seem to change much beyond switching abrasive instrumentals with a more soothing robotic background. Its minimal changes in politically rooted lyrical themes instead leave listeners thinking about the impact and meaning behind the first album.
Prior to the album's release, Curry and Beats dropped a YouTube trailer Feb. 18 as a teaser for the project. Parodying the structure of a superhero film, Curry reveals that he and Beats have been trapped in a cyberspace prison – and replaced by villainous aliens who are responsible for these unearthly sounding interpretations of "UNLOCKED." Their outlandish narrative perfectly encapsulates the futuristic aims of the new album but neglects to draw any thematic attachment between the lyrics and this overarching celestial theme.
Addressing the same subjects of race, success and family ties as the previous album, "UNLOCKED 1.5" juxtaposes the seriousness of the original subject matter of "UNLOCKED" with an intergalactic sound. While this contrast provides an ultramodern sonic landscape to absorb the album's messages, minimal lyrical or conceptual changes fail to elevate or expand upon the genius of"UNLOCKED."
[Related: Album Review: 'Life Support' features upbeat sound, falls short of reaching emotional depth]
Opening with "So.Incredible.pkg," Curry and Beats introduce the cosmic nuances they aim to imbue in this remixed album. The pair replaces the original track's harsh drum beats and uses a much softer and smoother background akin to soft jazz. Adding ethereal sounding female vocals in the background, this both creates and carries the song's melody, contributing to an unorthodox extraterrestrial sound. With a new lyrical addition, Smino's verse about his humble upbringing and finding wealth serves to reiterate the rags to riches message of the track, further seen when Curry raps, "I don't write rhymes, I write checks."
"'Cosmic'.4a," continues contributing to this intergalactic atmosphere with the integration of orb-like pulses and unidentifiable space sounds. Curry's hard DMX-like sound layered on top of a goofier, alien-sounding beat is certainly an unconventional fusion. However, its meaning beyond this is confusing and lacks a clear connection or artistic intent between the combination of two starkly different elements.
The confusing lyrical juxtaposition continues in the album's other tracks, including "DIET_1.5." In this track, Curry provides a different yet more timely lyrical take than the original "DIET_," discussing Trump's presidency and the Capitol riots that took place earlier this year. Rapping "All these racks in the ceiling got rappers back in they feelings, treat the game like Trump voters treat the Capitol building," Curry comments on the industry's idea of success as being similar to the bravado and force of Trump supporters. Carried by similar instrumentals as the original version of the song, "DIET_1.5" is distinctly defined by its much bouncier, funk-inspired bass line and fuller instrumentals.
[Related: Album review: Healy's latest release 'Tungsten' impresses with lo-fi sound, vulnerable lyricism]
These jazz-inspired instrumentals do make some appearances on the album's other tracks, however other songs on the album like "Track07" and two different remixes entitled "Take_it_Back_v2" feature minimal meaningful changes from their counterparts in the original album. Their inclusion in the release leaves the listener questioning the intention behind the overarching space galaxy concept because of the noticeable lack of the space galaxy themes integrated into both songs.
While some tracks like "So.Incredible.pkg" and "'Cosmic'.4a" do delve into a different type of futuristic sound not commonly explored in hip-hop music, "UNLOCKED 1.5" calls into question the necessity of the remix album. The attempt to bend genres and break away from the traditional confines of hip-hop is admirable, however, a more fully thought-out concept would have allowed this album to flourish.
Other than presenting a more futuristic background sound, the album brings nothing new to the table. It's almost as though the intergalactic-themed intentions would have made more sense being released as remixed singles, rather than as an incohesive second album. Of course, it's certainly a large task to try to reinvent an entire album. Perhaps with more time and a cohesive vision, Curry and Beats could have fully sold this outer space fantasy.
But with minimal thematic cohesion, "UNLOCKED 1.5" takes its place in a long line of mediocre sequels.