Week eight: Reopening campus activities, dismissal of student-athlete, extreme Texas weather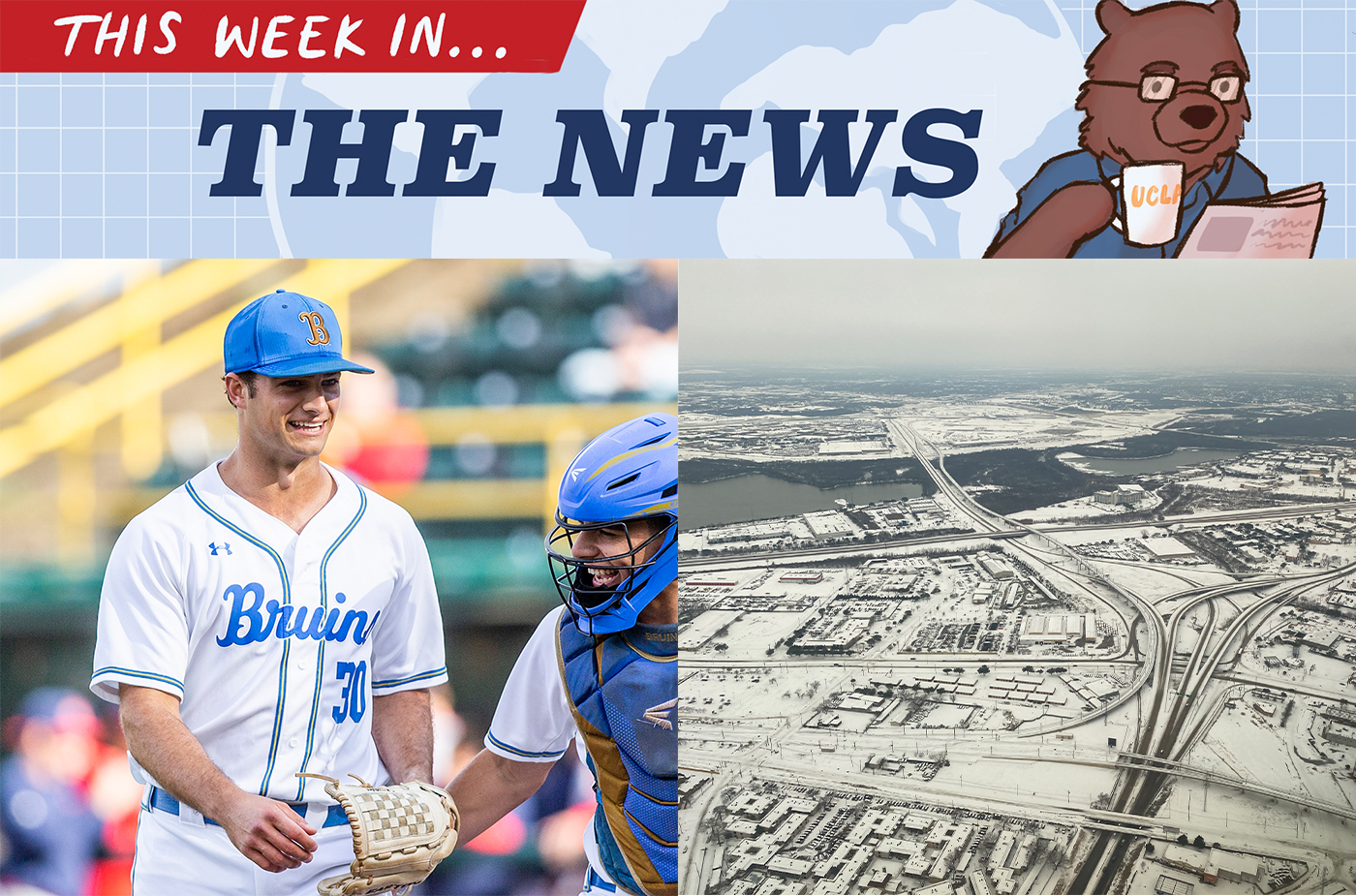 (Left to Right: Andy Bao/Daily Bruin and Courtesy of Divya Prasad)
This Week in the News serves as The Quad's space for reflection on current events at and around UCLA. Every week, Daily Bruin staffers will analyze some of the most significant stories to keep readers up to speed.
This week, Bruins learned of UCLA's plans to reopen some on-campus activities, the dismissal of a student-athlete from UCLA Athletics for racist language and baseball's first regular-season series loss in more than two years.
UCLA officials announced plans Wednesday to reopen some on-campus activities, such as performing arts studios, outdoor fitness facilities and outdoor study groups.
The Los Angeles County Department of Public Health released guidelines Monday permitting low-contact sports to begin again and certain indoor and outdoor activities to be resumed.
According to a campuswide email from Administrative Vice Chancellor Michael Back and former Academic Senate Chair Michael Meranze, intramural and club sports such as cross country, tennis, badminton, swimming and dance may resume.
In addition to this, LACDPH has released guidelines allowing art studios and film production facilities to reopen in small groups, so long as activities fulfill academic requirements.
Libraries will open at 25% maximum capacity, and occupants must follow social distancing rules.
Starting March 1, university employees will have access to the COVID-19 vaccine, according to Beck and Meranze's email. Access will widen to individuals ages 16 to 64 with underlying medical conditions March 15.
UCLA's in-person instruction is expected to return by fall quarter. Remote learning is planned to continue through the end of summer sessions, according to the email.
Cross country and track student-athlete Chris Weiland was dismissed Monday by UCLA Athletics after a video and text messages of Weiland using racist, homophobic and sexist language surfaced online.
The video and text messages revealing Weiland's behavior were first posted by @ucla_is_racist on Instagram. Weiland's personal Instagram account was deleted.
UCLA track and field/cross country coach Avery Anderson said Weiland was initially suspended from the team a few months ago. However, Anderson issued a statement Monday announcing the athlete's dismissal, adding that reinstating the athlete was not the right decision.
Several student groups including the UCLA Black Student-Athlete Alliance and Afrikan Student Union at UCLA expressed disapproval on Instagram toward UCLA Athletics' initial response to the incident. Following the release of BSAA's statement condemning UCLA Athletics, many student-athletes demanded that UCLA Athletics take action.
Former UCLA women's soccer defender Kaiya McCullough denounced Weiland in a recent tweet.
No. 8 UCLA baseball (2-2) started 2021 0-1 after two seasons of a perfect 16-0.
The Bruins lost the series to San Francisco (2-2), losing the finale 8-3 on Sunday. This was the Bruins' first season-opening series loss since 2016 and home series loss since April 2017.
UCLA started off strong with a lead at the end of each of the first six innings. Junior right-hander Nick Nastrini pitched 6.1 innings — his fastball topped 96 miles per hour.
Junior shortstop Matt McLain hit the eighth home run of his career and the first of the young season for the Bruins.
UCLA picked itself back up after defeating Loyola Marymount (1-3) 5-2 on Tuesday. UCLA will play UC Irvine on Friday at 5 p.m.
Freezing temperatures and snowstorms in Texas have forced many students to evacuate their homes.
Students in Texas have lost power, heat and water during Winter Storm Uri. The New York Times reported that nearly 4 million people lost power. At least 14 million people experienced disruptions in their access to running water, according to CNN.
Fourth-year psychology student Divya Prasad flew back to Los Angeles while her family evacuated to a hotel. She said that she and her family did not have access to water and power for several days at home.
Atmospheric and oceanic studies professor Gang Chen said the polar vortex is known to cause cold events similar to the one seen in Texas. Other scientists say climate change may also cause such extreme conditions.
During the storm, students struggled to complete their schoolwork. Some instructors have provided those students with accommodations including extensions to watch lectures and finish homework.
"It really felt like we had regressed 200 years or something," Prasad said. "No heating, no running water. It was very surreal."