UCLA baseball bounces back in 6th inning to secure victory against LMU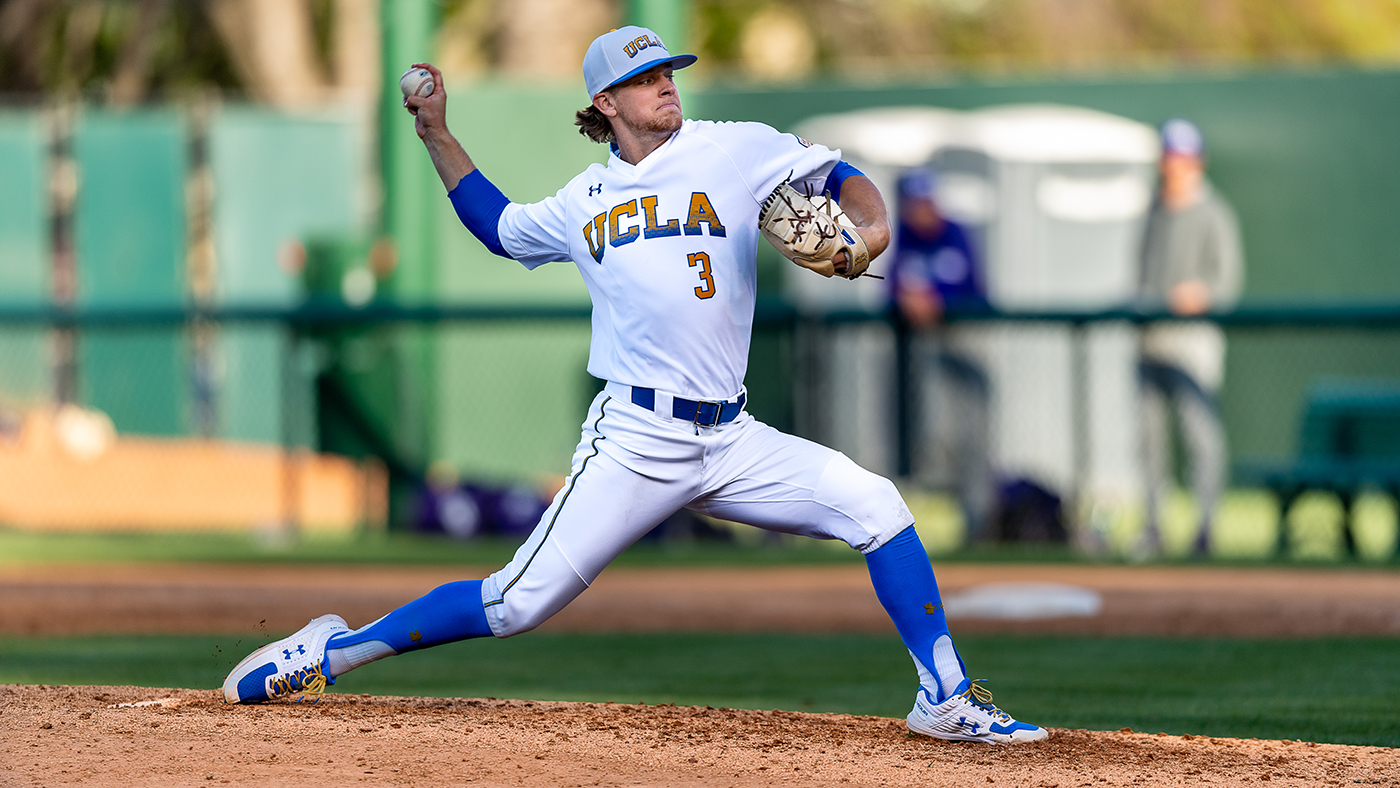 Junior right-hander Sean Mullen pitched a career-high 7 1/3 innings and punched out a career-high seven batters as No. 8 UCLA baseball got back in the win column Tuesday night. (Courtesy of Scott Chandler)
Baseball
---
| | |
| --- | --- |
| Loyola Marymount | 2 |
| No. 8 UCLA | 5 |
Sean Mullen toed the rubber in the Bruins' first midweek game of the season and brought his team back to the .500 mark.
The junior right-hander pitched deep into the night Tuesday as No. 8 UCLA baseball (2-2) defeated Loyola Marymount (1-3) 5-2 in an unearned run-filled game. Making his first start since April 30, 2019, Mullen impressed coach John Savage, who said he enjoyed being a part of the strong outing.
"It was just fun to watch – he was making a ton of pitches," Savage said. "I just liked his demeanor and his presence and confidence and conviction, and just, all those words were oozing, really, from him. It was just really fun to watch and call pitches because he was so committed."
Dealing into the eighth inning, Mullen allowed only two unearned runs on five hits and didn't walk a single Lion batter while striking out seven – a career high – in his 7 1/3 innings of work. Following a leadoff single in the top of the third, the junior enjoyed a stretch of retiring 12 straight Lions, lasting until a one-out single in the seventh to catcher Alec Cargin, who was quickly erased on one of the two double plays Mullen induced Tuesday.
The Bruin bats weren't able to capitalize on Mullen's strong start in the early innings, however, and it was LMU that opened the scoring in the second with an unearned run after a Lion reached base on junior shortstop Matt McLain's third error in the opening four games. A pair of hits later, and LMU extended its lead to 2-0, a score that stood until UCLA's breakthrough in the bottom of the sixth.
Mullen said despite the blemish, he felt confident in himself all night and was working the strike zone well.
"I was in attack mode for most of the outing, which is a place where I want to be," Mullen said. "(I was) composed, and I threw a lot of strikes tonight. Competitive with a lot of strikes is a good mix."
After trailing for four innings, the Bruins scratched a run across in the home half of the sixth. McLain led off with a base hit to left field and after two more singles by junior third baseman Mikey Perez and senior designated hitter Pat Caulfield, the Bruins were on the board.
Freshman right fielder Carson Yates – making his collegiate debut – laid down a sacrifice bunt which LMU pitcher Alex Burge successfully fielded, but the southpaw airmailed his first baseman, allowing Perez to score from third, tying the game at two runs apiece.
UCLA tacked on another pair of runs thanks to an RBI groundout and a wild pitch and carried a 4-2 lead through the first seven and a half frames.
"It took us a while to get going – we went down early, we went down two – but just being able to string quality at-bats together is our main emphasis, and being able to execute that is our main objective," said redshirt junior center fielder Kevin Kendall. "That's what we got to keep as the main priority, and that's what we did tonight and it worked out for us."
Before scoring in the sixth, the Bruins had multiple baserunners in three of the first five innings but could not find the big hit to get them on the board. They stranded two runners in the first after Perez grounded into an inning-ending fielder's choice, two runners in the fourth after Yates' hard line drive found the third baseman's glove and one runner in the fifth after sophomore second baseman Michael Curialle grounded into a double play with two on and one out.
In its eight offensive innings, UCLA left seven men on base, bringing the season total to 40 through the first four games.
"The good thing is there's guys on base, so we're one hit away from opening up innings – that was the case this weekend," Savage said. "We just got to stay above water, I guess you would say, for a little bit until we start coming up with some of those big hits."
After Mullen's departure in the top of the eighth inning, Savage gave the ball to senior right-hander Michael Townsend and redshirt senior right-hander Kyle Mora – his two most-used arms out of the bullpen a year ago – to get the final five outs.
The duo worked into and out of a bases-loaded jam in the eighth before Mora retired LMU in order in the ninth, earning the four-out save and locking down the victory for Mullen and the Bruins.
"I thought Mora was good and I thought Townsend was good," Savage said. "It wasn't the prettiest thing – the ninth inning was pretty clean – but they got back at it and did their jobs. They picked up (Mullen). (Mullen) needed to be picked up, and (Townsend) did a good job and (Mora) got the pop-up, so at the end of their day, they did their job."
UCLA will return to the diamond Friday for a weekend home-away-home series with UC Irvine. First pitch is set for 5 p.m. at Jackie Robinson Stadium.
Keilin is currently an assistant Sports editor on the baseball, women's soccer, cross country, women's golf and men's golf beats. He was previously a contributor on the baseball, women's golf and men's golf beats.
Keilin is currently an assistant Sports editor on the baseball, women's soccer, cross country, women's golf and men's golf beats. He was previously a contributor on the baseball, women's golf and men's golf beats.