Maker's Medium: Francisco Garcia uses video art, structure variety to express emotional impact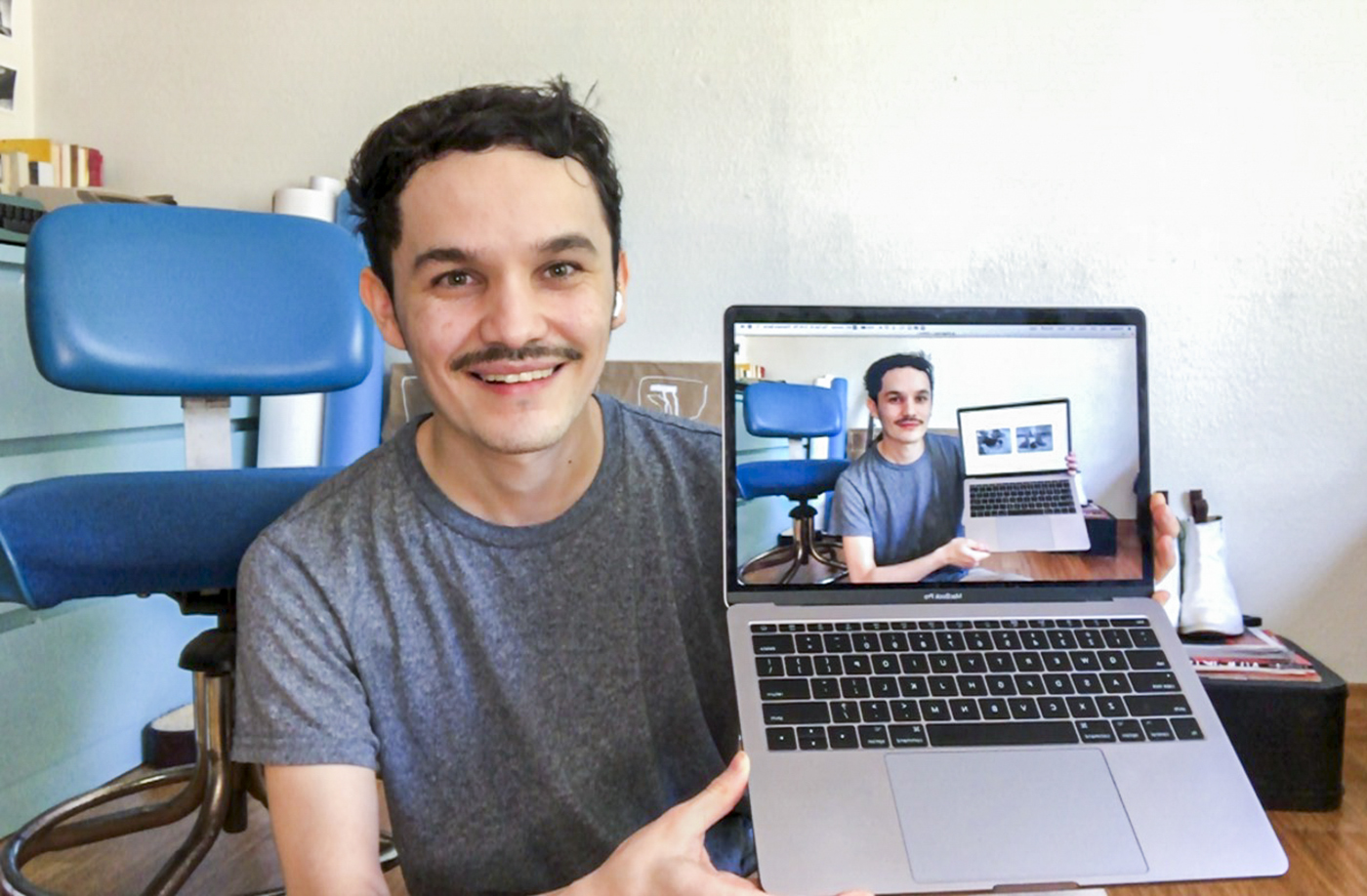 (Kanishka Mehra/Photo editor)
The mastery of materials is fundamental to the artistic process and the career goal of any artist in their chosen medium. Every method requires a different skill set and can evoke different reactions in viewers. Follow columnist David Egan in "Maker's Medium" as he highlights the mediums of the fine arts by profiling a different undergraduate art student each week.
Looking for Noam Chomsky, eating chips as Ricardo Magón – Francisco Garcia's video art is as idiosyncratic as it is intriguing.
The fourth-year art and Spanish student's first medium was Legos, which prompted an interest in architecture as a child. But throughout high school, he said he always had a camera on him and applied to UCLA with a portfolio of photography. Today, Garcia said he still approaches art with the eye and mind of a photographer, though he works in a variety of mediums, video art in particular.
"You can't have video without the history of photography," Garcia said. "I don't necessarily see (the mediums) as distinct in my own work."
Video art began as a movement in the early 1960s when video cameras became relatively cheap and accessible for consumers. Early pioneers like Bruce Nauman took an experimental approach to the medium, pulling from elements of conceptual and performance art rather than the narrative structures of traditional film. Though the terms video art and experimental filmmaking are often used interchangeably, new genres professor Mariah Garnett said she prefers the term moving images.
"(The medium) is so expansive," Garnett said. "(A video) could be an hour-long shot in an environment, it can be totally durational and invite you to walk in and walk out of the experience or it can be linear, asking you to sit down and watch it from beginning to end."
The timed element is essential to video art, said new genres assistant professor Vishal Jugdeo. While students initially tend to maintain an unchanging structure or format through a video, Jugdeo said he encourages students to choreograph changes in emotional impact and tone over the arc of a work by playing with narrative and editing.
[Related: Maker's Medium: Harlan Goldman-Belsma shares his view of the world through pen drawings]
Garcia has made videos both where the same scene plays perpetually, and also where there is more variety in structure. For the former, "Ricardo Flores Magón occupies Union Station (part one)," Garcia performs as the eponymous figure, who was an anarchist and Mexican social reformer. Meant to be looped, the 3:19 minute video features Garcia scrolling the Wikipedia page for the Magonista Rebellion of 1911 while eating a bag of chips. Garcia grew up in San Diego 15 minutes from Tijuana, which he said caused him to notice the contrast between the ubiquity of Magón's name in Northern Mexico and its obscurity in the States.
"I was thinking about the way you can record history," Garcia said. "I'm picturing this fantasy where (Magón) was taking the train to Union Station … (but) all you get to look at is just some kid eating a bag of chips."
Garcia's work captures the difficulty of trying to match political thoughts and impulses with political actions, Garnett said. Reading about a crucial moment in Mexican politics, Garcia takes on what she said is the important task of living up to history. But Garnett said this contrasts and coexists with the contemporary and casual elements: a Rihanna background screen and a leisurely snack.
Garcia again name-drops another leftist, anarchist political figure in a 2018 work titled, "I feel like you're using 'Noam Chomsky' as an accessory." This video includes interview footage of Paris Hilton and linguist, philosopher and political activist, Noam Chomsky. Text on the screen reads "Have you seen my friend Chomsky?" over clips of dogs running. For Jugdeo, this work exemplifies the type of video art he appreciates, which is animated rather than stagnate.
"There was so much idiosyncrasy that ("I feel like you're using 'Noam Chomsky' as an accessory") continued to open up for me and give more meaning," Jugdeo said. "(The title) sounds like the most mundane critique comment. I can totally hear a student saying that to another student."
[Related: Maker's Medium: Piecing together new meanings from existing works with collage]
In terms of how people form relationships with intellectual figures, Garcia said his Chomsky piece jokingly questions the implications of enshrining anyone with too much reverence. On a more literal level, he said this video shows him searching for the dog named Chomsky he had growing up. The work also features Paris Hilton talking about her seventeen dogs and a Chomsky clip overlaid with Hilton's voiceover – Garnett said the work captures what she likes most in video art: humor.
"I like seeing how people use and misuse the medium," Garnett said. "I grew up with television and films as … dominating what moving images were. I like (works) that are a funny perversion of what I perceive to be mainstream media."
Garcia appropriated popular media in clips from "Noam Chomsky" – an Ellen Degeneres interview and paparazzi footage – as well as in another piece, "muñeco," exhibited at the 2018 Undergraduate Juried Exhibition. In "muñeco," television commercials from Mexican stations are superimposed on a music video of "Pin-Pon," a popular Spanish-language nursery rhyme. Garcia said he draws attention to the performative elements in these media images – the humor of exuberant dancers singing "Pin-Pon," a moralistic song about a well-behaved cardboard boy and the idealized images of domestic life in commercials selling products as mundane as milk and bubblegum.
While these pieces are from 2018, Garcia said his current project is a video shot with his friend and roommate in Mexico. With remote learning, Garcia said he has been working on smaller projects rather than larger works intended to be exhibited. Though Jugdeo said the shift to online instruction has been difficult for new genres in some ways – especially with the performance and technical elements – a medium like video art lends itself to experimentation, whether in or out of isolation.
"Once I get (students) in the mode of trying things out, I think I'm pretty good at saying try anything and trust your instincts with the medium," Jugdeo said.