Editorial: True Bruin Values must be upheld in the face of Christian Secor's hateful rhetoric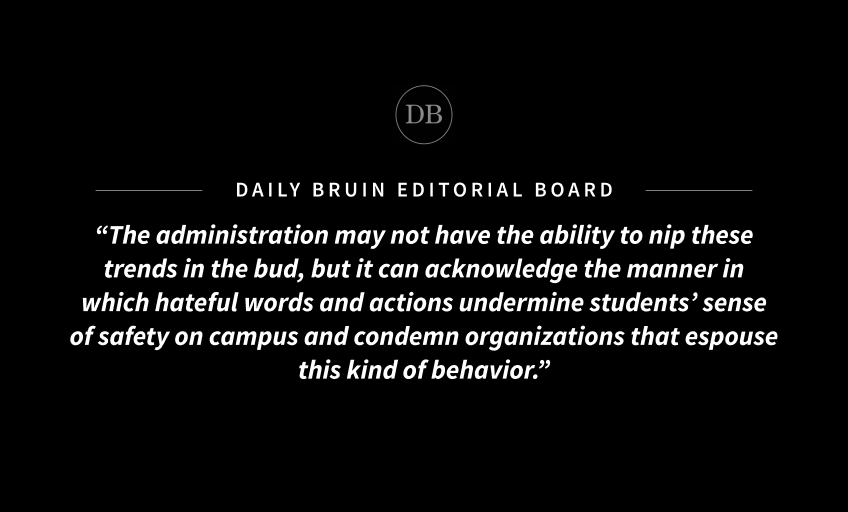 A UCLA student made national news this week for his involvement in the insurrection at the United States Capitol on Jan. 6.
To many Bruins, Christian Secor's involvement in the insurrection – and subsequent arrest by the FBI at his Costa Mesa home Tuesday – was no surprise. A Twitter thread circulating since March documented Secor's various racist, xenophobic and antisemitic tweets, including those in which he self-identified as a fascist. As recently as February 2020, Secor represented the Bruin Republicans at a CrossFire debate hosted by the Bruin Political Union – though, on Wednesday, Bruin Republicans tweeted that Secor had been banned from the organization in 2020.
This instance, regrettably, is not the first in recent memory in which a UCLA student was identified to have participated in similar acts. An aerospace engineering doctoral student was caught on video assaulting an unidentified Black man during the Charlottesville riots in 2017.
As a public university, UCLA may be limited in its ability to regulate its students' Twitter feeds – hate speech, however repulsive, is protected by the First Amendment. However, the Student Conduct Code allows the university to regulate and punish discrimination and harassment.
Secor's actions on Jan. 6 go far beyond mere discrimination and harassment. Espousing hateful rhetoric on the internet – as the Bruin Republicans have continued to do – is bad enough. Following through with conspiratorial plans to mount a far-right attack on the U.S. Capitol and breaching it for the first time in more than two centuries is another matter altogether and runs afoul of a laundry list of federal laws.
UCLA has to walk a fine line when it comes to regulating speech. What is more clear, however, is its obligation to the safety and well-being of students – especially those who are subject to the harm people such as Secor tend to spew.
Students have been warning the administration of Secor's behavior over the past year. In April, the Ha'am newsmagazine wrote about the rise of fascism on campus, specifically naming Secor and his organization. Despite those warnings, the university allowed America First Bruins – the far-right political organization founded by Secor – to continue unquestioned under the auspices of UCLA Student Organizations, Leadership and Engagement.
Now that the worst has happened, UCLA cannot wash its hands of Secor's behavior. It must take action to effectively combat such behavior.
The administration may not have the ability to nip these trends in the bud, but it can acknowledge the manner in which hateful words and actions undermine students' sense of safety on campus and condemn organizations that espouse this kind of behavior.
On the most basic level, it is an embarrassment for the administration to continue touting True Bruin Values without a serious commitment to upholding them.
In all likelihood, the university will punish Secor for his actions in the coming months. What is more important, however, is that the administration commits to a structural change, one which prevents university-sanctioned organizations – like America First Bruins used to be – from directly violating the Student Conduct Code and getting away with it.
The editorial board is not here to undermine the First Amendment – the right to speak in favor of decency remains as strong as any other.
All the board asks is that the university take action to protect its students from hatred where it is visible.
And here, it is more than apparent.