Maker's Medium: Harlan Goldman-Belsma shares his view of the world through pen drawings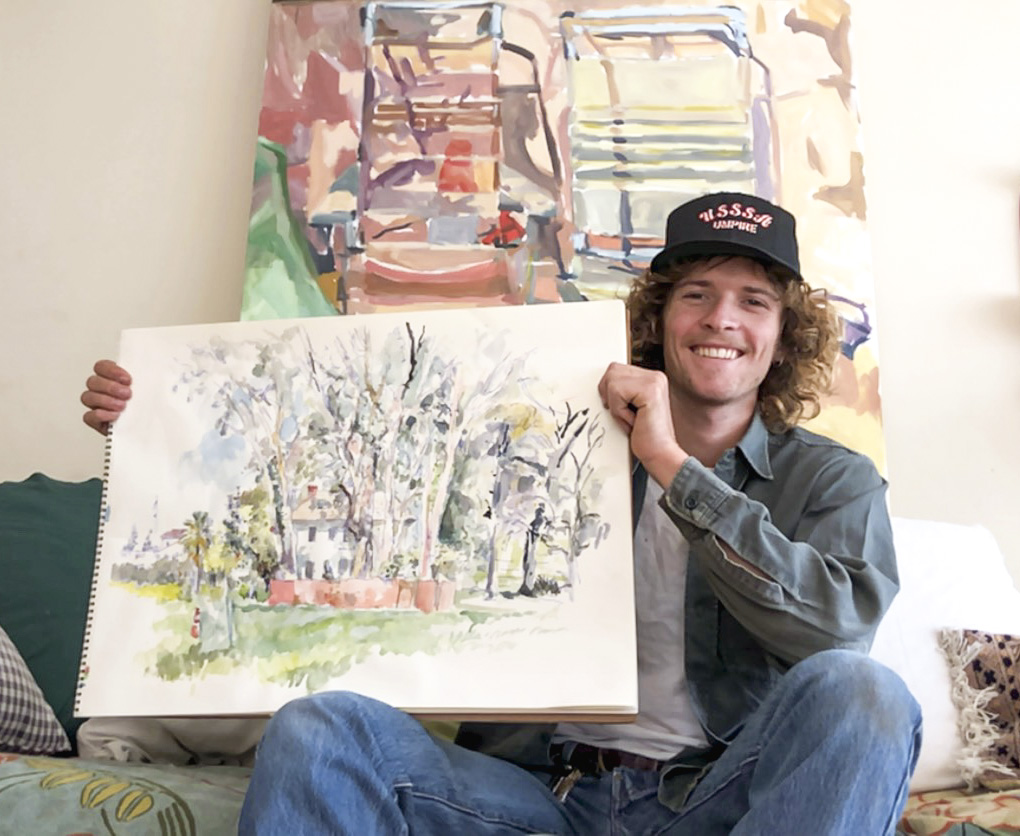 Fourth-year art student Harlan Goldman-Belsma specializes in pen drawings. The drawings intend to capture the world around him as it is, without any of his artistic judgments changing what he sees. (Ashley Kenney/Assistant Photo editor)
The mastery of materials is fundamental to the artistic process and the career goal of any artist in their chosen medium. Every method requires a different skill set and can evoke different reactions in viewers. Follow columnist David Egan in "Maker's Medium" as he highlights the mediums of the fine arts by profiling a different undergraduate art student each week.
Anytime, anywhere, Harlan Goldman-Belsma is drawing the world around him.
A Venice, Los Angeles native, Goldman-Belsma said some of his earliest memories are drawing the moon jellies he saw at Marina Del Rey when he was as young as three years old. Now, the fourth-year art and architecture student said he has learned how to pay close attention to his surroundings, his eye for observation coming across in his pen drawings.
"(Everywhere) you are surrounded by interesting compositions," Goldman-Belsma said. "And when I sit down to draw, that's usually what I'm trying to capture."
The medium Goldman-Belsma uses, pen drawing, simply requires paper and pen, but cannot be erased as pencil can. Ancient Egyptians and Romans made the first pens out of reed, a type of grass-like plant that was dried, cut short and shaped to a point. Later on, quill pens were used for writing and illustration from at least the sixth century AD to the 12th century, until they were replaced by the modern-day metal nib.
Since the pen is used ubiquitously, adjunct drawing professor Nick Lowe said he does not need to explicitly teach the medium – instead, students practice using the material in a unit on contour drawing. This style uses less shadow than other forms of drawing and translates the 3D world onto a 2D surface, focusing on the line that defines an object. Lowe said Goldman-Belsma came into his class sophomore year with a strong background in drawing and a distinctive style he was already developing.
"These pen drawings of (Goldman-Belsma's) – there is a lot of contour in them," Lowe said. "But there are also a lot of broken lines and (a) buildup of marks that create value. … The line that describes the tree starts and stops, and as a viewer, I can fill that in."
[Related: Maker's Medium: Nico Young uses sculpture to find significance in life's mundanity]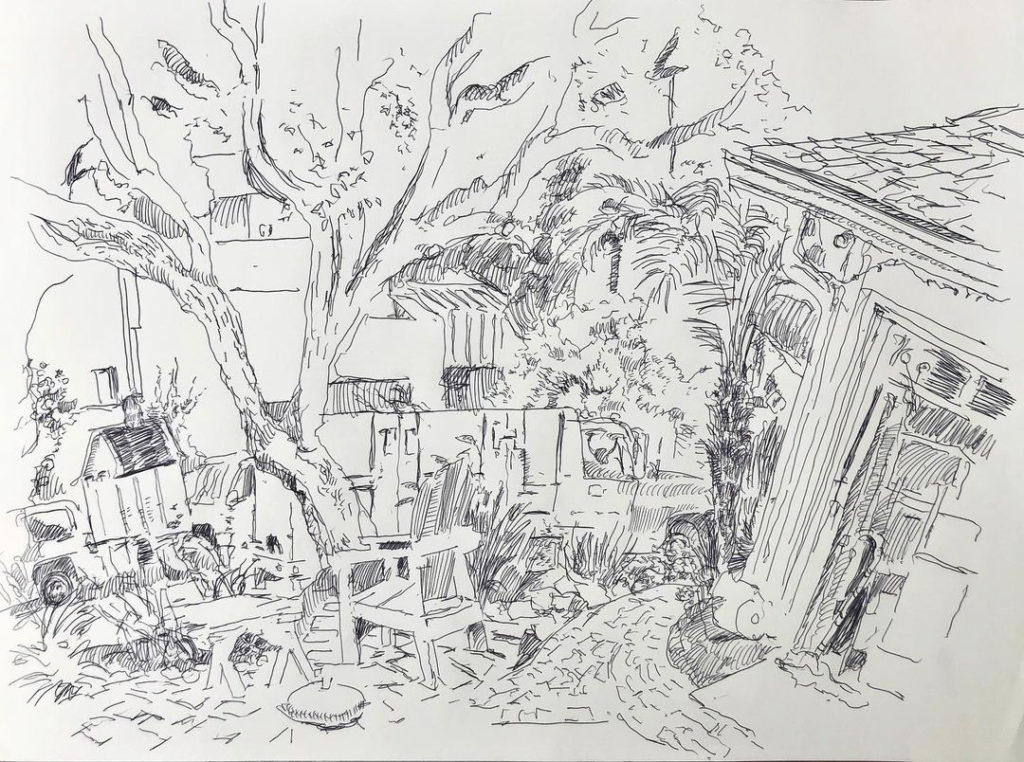 The tree Lowe describes is in one of Goldman-Belsma's pen drawings, described as "Dewey street with the truck in front of Sean's that never moves." The house in the foreground has a tilt, a component that Lowe said gives the backyard its distinctive character and a subtle funkiness. While vertical and horizontal lines provide the viewer with stability, he said the diagonal lines in this drawing give a sense of flux and fluidity.
Noting the fluidity, art professor emerita Barbara Drucker said there is gestural expression in Goldman-Belsma's drawings. She said the "Dewey Street" landscape consists of multiple little images: the world under the chair, the little house on the left and the gutter running up the side of the house on the right which mirrors the tree branches, Drucker said.
As with the landscape, Goldman-Belsma said he draws the world as he sees it and does not adjust his images on the basis of what he likes or dislikes. When he was drawing the truck and tree, he said he realized the composition was taken up by the big eyesore of a house someone built across the street – but it's part of the world whether he likes it or not. Similarly, Goldman-Belsma applied his observational approach to "Dad at Paintbrush Trail," a drawing of his father sitting out in the sun on a lawn chair.
"When you look at something, your vision is sucked into certain areas and you focus in on place," Goldman-Belsma said. "I get the general form in drawings but I like to hone in on certain areas. … The drawing of my dad grows towards the center … the lines overlap, and you see more texture and detail."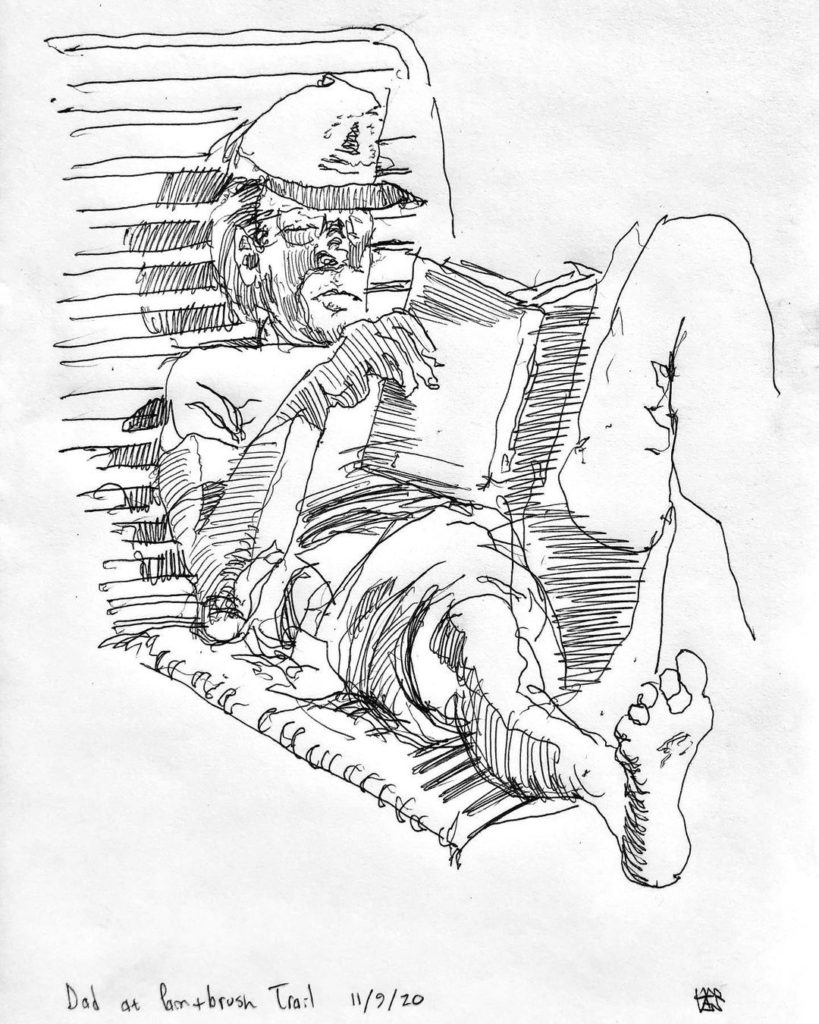 [Related: Maker's Medium: Piecing together new meanings from existing works with collage]
Goldman-Belsma's natural and representational approach reminds Drucker of the styles she saw popular in the 1980s when she began teaching at UCLA. The art of the 1980s was freer in style than the conceptual art of the 1990s and 2000s, with an organic character Drucker said she appreciates and can see in Goldman-Belsma's work. For Lowe, Goldman-Belsma's strength is his close attention to the world around him.
"The things that (Goldman-Belsma) notices are so specific," Lowe said. "And I think that adds to his drawing … what makes a great observational drawing is actually noticing the things in your world and depicting them. There's always a sense of recognition."
To capture everyday scenes, Goldman-Belsma uses an everyday material – BIC ballpoint pens. They are cheap, long-lasting and malleable in that the amount of applied pressure correlates with the thickness of line, he said. The most quotidian media can work best – the Crayola marker is the Cadillac of childhood art supplies, Lowe said Goldman-Belsma once wrote in an artist statement. As for pens, Goldman-Belsma said the Cadillac distinction would most likely go to fountain pens while the BIC ballpoint is more like a Toyota to him, cool in its own right and very reliable.
The ease of pen drawing can make the medium seem like merely a step before painting, though Lowe said many artists, including those as renowned as Rembrandt, made drawings that stand on their own. With Goldman Belsma grabbing a pen, seeing something in the world, and beginning to draw, Lowe said the work has a certain finished casualness. For Goldman-Belsma, drawing is a very spur-of-the-moment depiction of the world as he sees it.
"It's not about it being perfect," Goldman-Belsma said. "It's about showing … what I'm looking at as directly as I can."