Editorial: Environmental sustainability efforts should be supported, acknowledged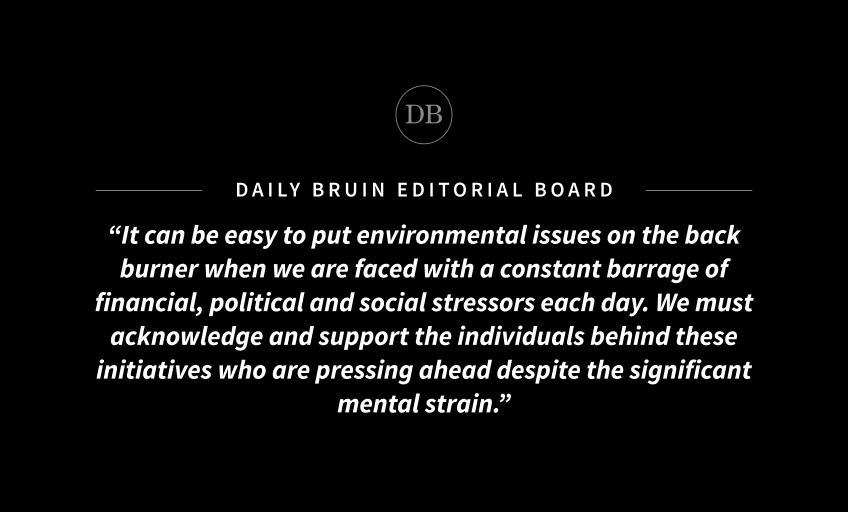 During times like these, it can be hard to keep up with looming existential crises.
Still, the threats don't stop being existential.
Just a few months ago, wildfires left behind trails of destruction all throughout California. The state reported more than 4 million acres burned in 2020, while more than 10,000 buildings were damaged or destroyed. Thirty-three lives were lost in the fires.
Currently, millions of people in Texas have no power and waning water supplies because of the incapability of electric grids in the state to handle massive temperature shifts, which are likely to continue.
Some students and professors studying environmental science have said they feel like they are shouting into a void. Numerous studies have confirmed the grim projections of a bleak environmental outlook, and many researchers feel frustrated and hopeless that they are not being listened to.
Because of the gradual progression of climate change, many people may not feel immediately alarmed by it, because they do not sense its impact on day-to-day life. But the danger is real and is not going away any time soon.
Thankfully, UCLA students and faculty are working to do their part to protect the environment.
A team of student researchers worked to install compost and recycling bins in the Charles E. Young Research Library in 2019 and successfully lowered the amount of waste sent to landfills. Clean Consulting, a student-run consulting organization on campus, worked to increase the amount of garbage composted and recycled at Powell Library.
The Undergraduate Students Association Council is also funding student-initiated sustainability projects through The Green Initiative Fund, which currently operates on a budget of more than $331,000 in the 2020-2021 fiscal year. TGIF recently created a new fund to support individual students working on green projects and to make sustainability work more equitable.
UCLA faculty, staff and students are also working through the Sustainable LA Grand Challenge to inform LA County's policy decisions to transition the county to use 100% clean energy and locally sourced water by 2050.
These are only a few of the many environmental projects UCLA community members have taken on to address the pressing issue of climate change.
The editorial board commends these students and faculty initiatives. It can be easy to put environmental issues on the back burner when we are faced with a constant barrage of financial, political and social stressors each day. We must acknowledge and support the individuals behind these initiatives who are pressing ahead despite the significant mental strain.
For the rest of us, the least we can do is to be mindful of our actions and their impact on the climate. It could be as simple as reminding ourselves what goes into the compost bin or avoiding the use of single-use plastics.
Whatever we do, we must not let these students' and faculty's valuable efforts go in vain.