TGIF committee creates fund to support students doing unpaid sustainability work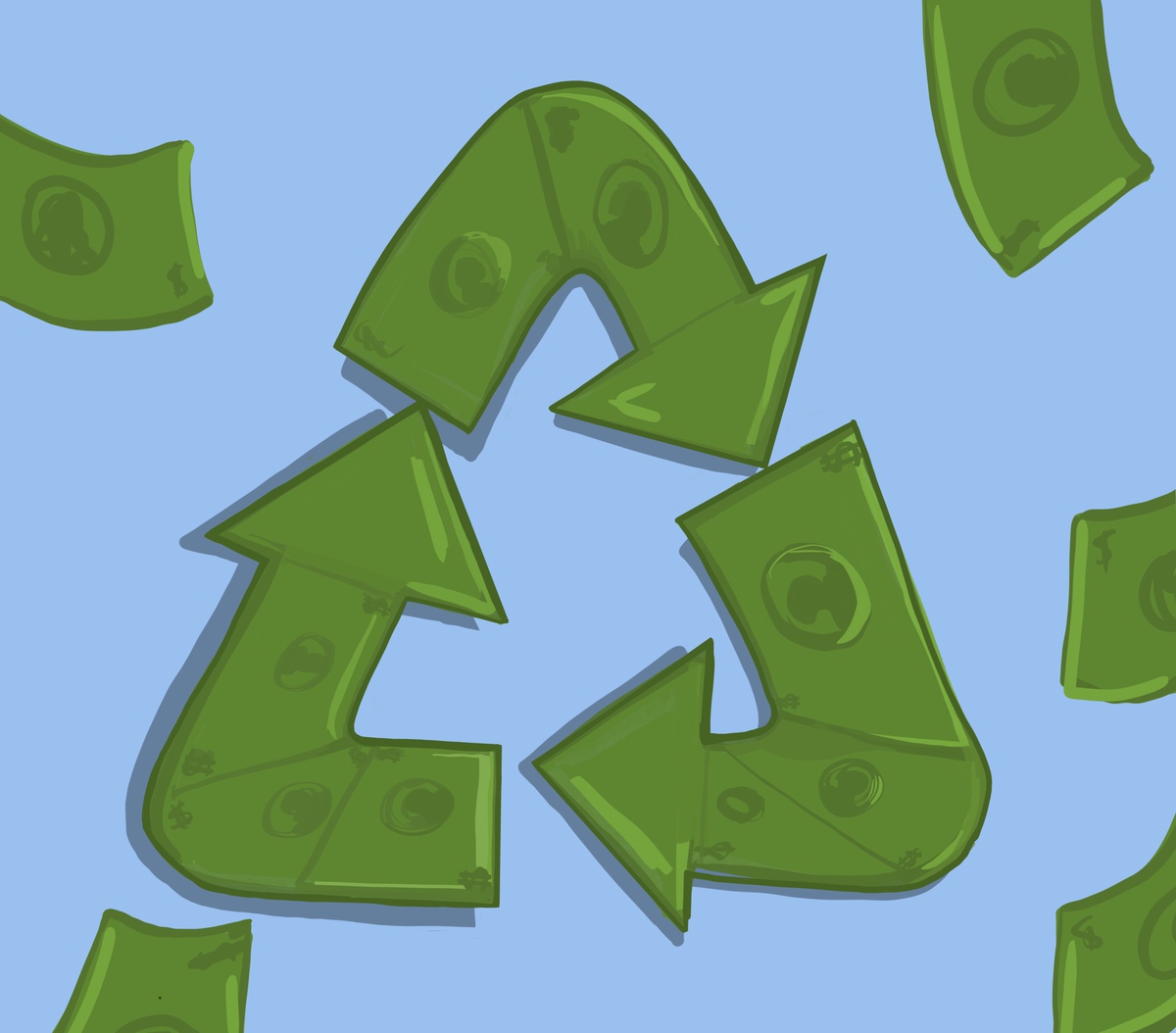 (Emily Dembinski/Illustrations director)
An undergraduate student government fund launched a pilot program in mid-January that will fund students focusing on sustainability on campus.
The pilot student support fund will give up to $300 in either UCLA Store gift cards or honorarium payments to individual students who are working in unpaid sustainability work at UCLA, said Sachi Cooper, the Undergraduate Students Association Council facilities commissioner and the committee chair for The Green Initiative Fund. TGIF is a fund created by a 2008 USAC referendum.
Cooper, a third-year geography student, said the TGIF committee plans to allocate up to $75,000 from existing funds to the new TGIF Student Support Fund. TGIF, which has a $331,625 budget for the 2020-2021 fiscal year, operates three other funds that sponsor sustainability projects from student organizations.
The TGIF committee established the new fund because the other three funds received a large number of applications, said Cheryl Ma, a TGIF committee member and third-year economics student. She added TGIF wanted the fund to streamline financial support for individual students, instead of only funding projects.
Ma said the student support fund seeks to change the campus culture by compensating students – who might otherwise need to prioritize paid work over unpaid work – for sustainability efforts.
"There definitely are many students who cannot prioritize their schoolwork, … their organizations or the random volunteering work that they do for sustainability," Ma said.
The TGIF committee broadened the fund's definition of sustainability in January to include social and economic sustainability, meaning students who work on social and economic sustainability will be able to apply to TGIF funds, Cooper said.
Sustainability should not only be viewed as protecting trees and animals but also focus on protecting humans by work against structures that restrict participation in sustainable works, Ma said.
Ma said she hopes the new fund will motivate students to work on sustainability on campus and appreciate the value in their work.
Erika Shen, co-director of USAC Student Wellness Commission EARTH, a committee that addresses environmental health and wellness on campus, said the pilot student support fund could make opportunities for environmental work more equitable.
Rhay Flores, a fourth-year ecology, behavior and evolution student and president of the Ecological Restoration Association at UCLA, an association dedicated to restoring ecosystems through sustainable practices, said students who are interested in sustainability but cannot sacrifice paid opportunities are unable to gain experience working in sustainability. Many ecology internships are unpaid, she added.
Linda Mitchell, a third-year public affairs student, said the amount offered by the student support fund may not be enough for some students.
"If you were to do a calculation (on) the time a student spends on something like this and their return on their investment of time," Mitchell said. "It's like, is $300 worth it? And it's like I said, it depends on the student's (economic) situation."
The TGIF committee plans to release a transparency report by the end of spring quarter to assess the success of the pilot student support fund, and the TGIF committee next year will be able to decide whether to continue the pilot fund, Cooper said.
The TGIF committee is accepting applications for the student support fund through its website and applications are due Feb. 26. TGIF will distribute funding starting spring quarter.
Cooper said the TGIF committee has seen an increase in applications for its sustainability funds, despite the COVID-19 pandemic.
"The remote environment and (COVID-19) was one of the reasons that we decided to implement this in the first place," Cooper said. "Seeing all of this work being done and understanding the circumstances, … we're still seeing these students do incredible sustainability work."
ERA stopped doing onsite restoration and instead focused on educational outreach during the COVID-19 pandemic, Flores said.
Mitchell said she thinks many students will be able to benefit from the fund.
"There's such a wide range of types of students that are on campus that are interested in sustainability that want to make a change in their community," Mitchell said.
The TGIF committee hopes that the pilot student support fund will continue to fund individual students in the future, Cooper said.
Cooper said she thinks sustainable opportunities should be available to anyone interested.
"We're really hoping that … we can … (not only) support students for the work that they're doing but also show to the campus community that sustainability is for everyone and everyone should have the means to be able to get involved in sustainability," Cooper said.