Her Campus UCLA celebrates female friendships at virtual Galentine's Day Party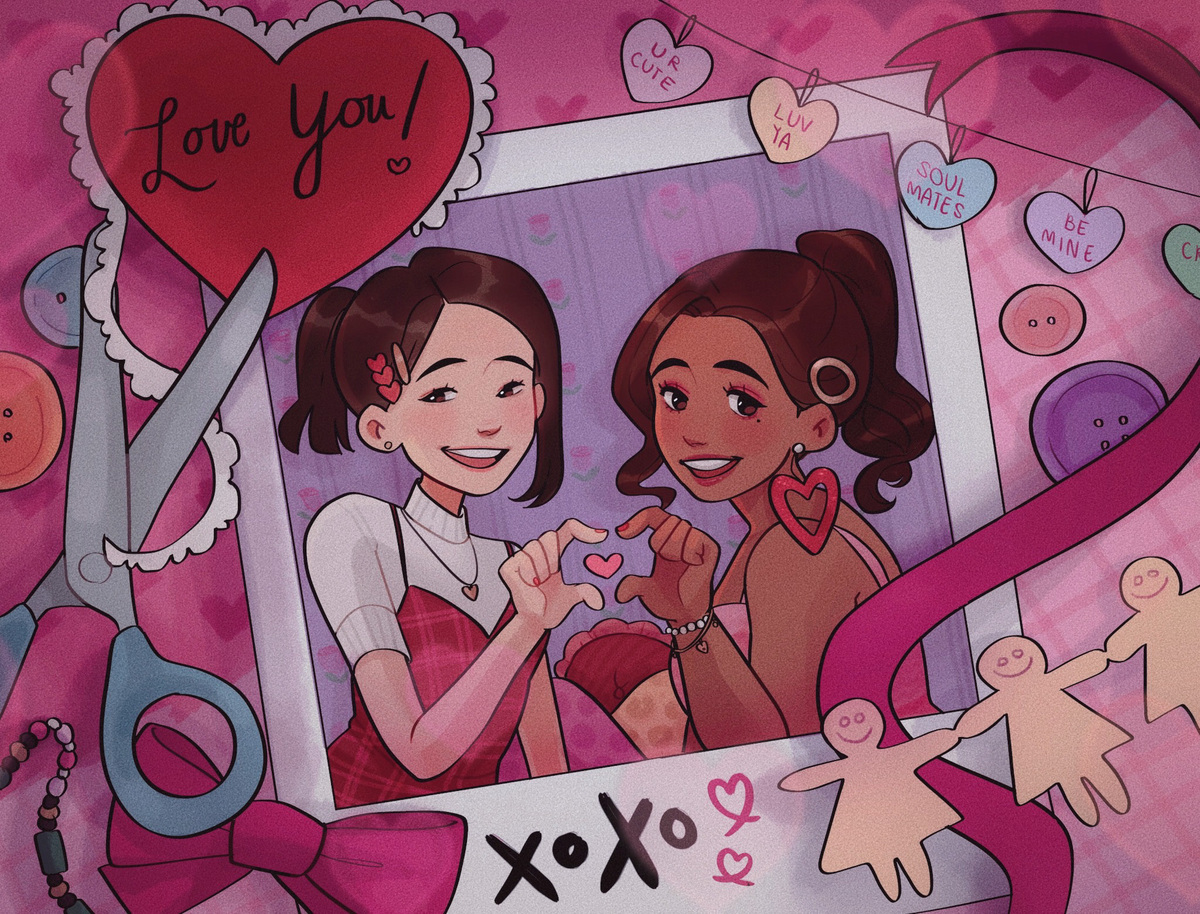 (Katelyn Dang/ Daily Bruin)
Valentine's Day celebrations extended beyond romance over the weekend.
UCLA's chapter of the online college women's magazine, Her Campus, held a virtual Galentine's Day Party on Saturday to bring students together during Valentine's Day weekend. The annual event is usually held in person at Rocco's Tavern in Westwood but took place in a virtual setting on Zoom instead. Once attendees joined the event, they were greeted with a variety of activities and breakout rooms to browse at their leisure for the duration of the party. Her Campus' Event Marketing Director Sophia King said one of the party's main goals this year was to help bridge the social gap created by remote learning.
The third-year communication student said the hope was to give women a chance to spend time with friends to show them they don't necessarily need to be with a romantic partner on Valentine's Day.
"We're just trying to give people a platform, especially virtually, to meet girlfriends, have an event to go to with friends and experience some of the things that we could be missing out on because of virtual experiences," King said. "So we're hoping to bring that to the wider campus, like we would have at Rocco's."
[Related: Student-run WACsmash event brings dance, art into digital space]
To start off, attendees were greeted with a trivia poll with questions centered around love and Valentine's Day. "Good as Hell" by Lizzo and Ariana Grande played in the background, setting the event's upbeat and girl empowerment-centric atmosphere. Participants were then invited to answer the prompt "What empowers you?" to spark conversation about sources of female inspiration.
Following the opening activities, participants were able to choose from a selection of seven breakout rooms each containing a different activity like DIY crafts, painting, drink-making and Skribbl.io. In the first room, students enjoyed clips from various HBO TV shows together, like "Friends" and "Gossip Girl." In between clips, event organizers provided links in the Zoom chat to BuzzFeed quizzes themed around the shows and participants shared their results, allowing for a more interactive experience. Meanwhile in another breakout room, students watched a presentation on graphic design tips that covered topics like text formatting and color scheme to provide some education during the party.
Madeline Song, one of the assistant directors of the event and a third-year communication student, said the premise of the event was centered around Her Campus' core mission to empower women to express themselves and connect with one another in meaningful ways.
"I think this event definitely holds in line with Her Campus values, because it's all about girls supporting girls and being there for each other," Song said. "That's kind of what Galentine's Day is about in itself."
[Related: Design media arts students reflect on projects in exhibition 'Metamorphosis']
But King said transitioning from an in-person tradition to an online event this year presented a new set of considerations. Trying to capture the energy that normally accompanies an in-person event, she said the team put together more activities than usual – offering booths that focused on more specific topics in order to create an engaging platform despite the virtual barrier. Song said another challenge was making the event appealing to students who are already burnt out from mandatory Zoom meetings for school. To achieve this, the team took advantage of the event's online format to introduce new activities they hadn't previously considered – like the TV show watch party.
For attendees, the event served as a way to enjoy some downtime. Second-year economics student Najma Nasir said she hoped the event would provide her with a source of relaxation.
"I came to this event to really take a break from everything," Nasir said. "I've been so overwhelmed between school and extracurriculars, so I needed a nice break. I'm hoping to de-stress a bit with this event, and so far it's working."
Through an evening full of bonding and enjoying activities together, assistant director Giselle Littleton said she hopes students were able to find community in the midst of the isolating online format of this school year. Despite the impact remote learning has had on traditional club gatherings, the third-year communication student said she hopes the Galentine's Day Party served as a way to bring students together and find meaningful exchanges nonetheless.
"I think with this year, it's been really hard to kind of connect with others, so I see Galentine's Day as providing a platform for women to connect with each other, … kind of like speed dating, but with friendship," Littleton said.