Design media arts students reflect on projects in exhibition 'Metamorphosis'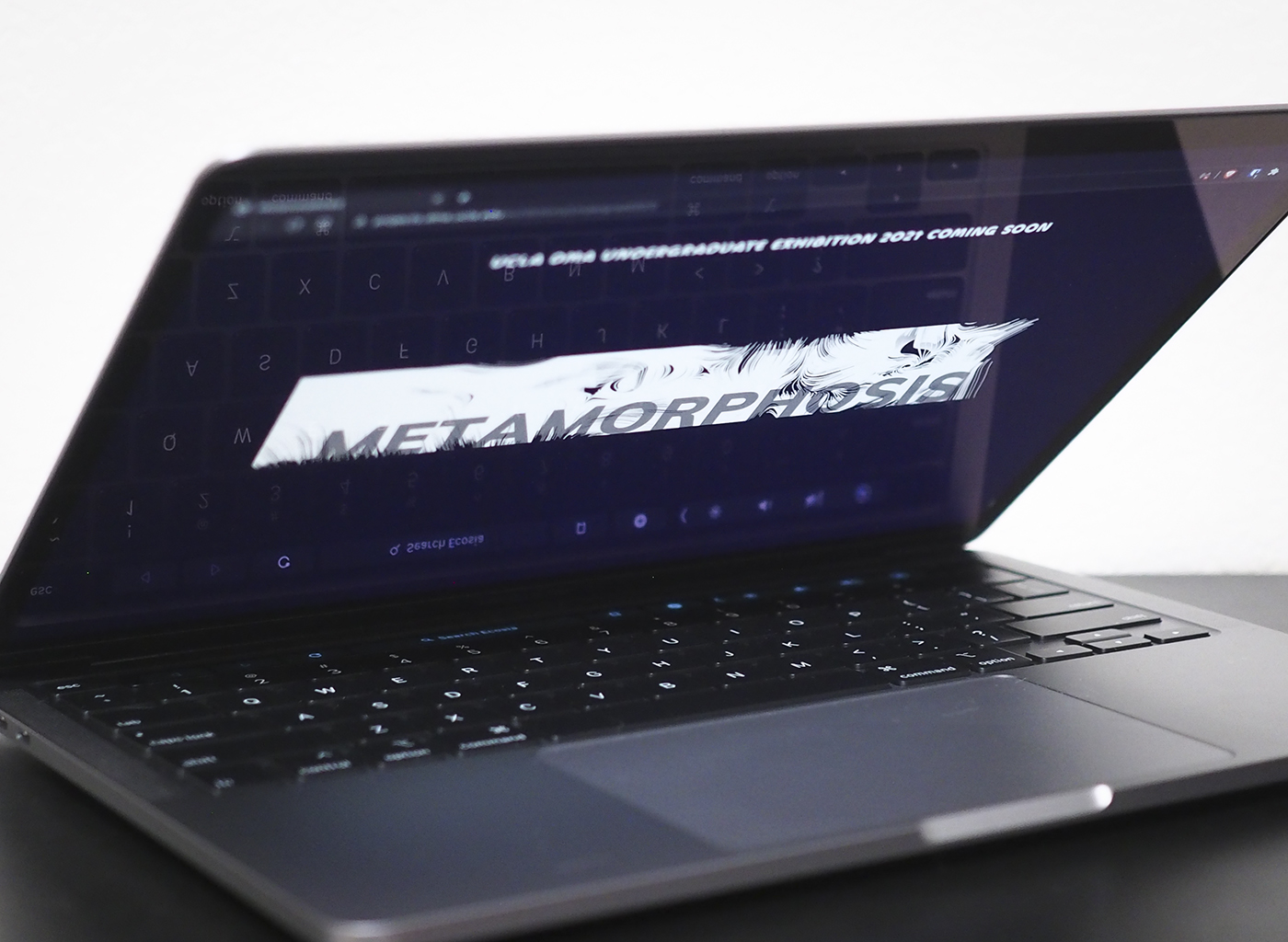 UCLA Design Media Arts is debuting its annual undergraduate exhibit Thursday. This year's theme is "Metamorphosis," and many student artists' pieces focus on the political and social change that has occurred in 2020. (Harold Lee/Daily Bruin)
During a time of metamorphosis, some students are turning to the one thing that has remained constant – art.
UCLA Design Media Arts is hosting its annual undergraduate exhibition Thursday, with this year's theme set as "Metamorphosis" to reflect the many changes that have occurred since the start of the new decade. While there is often a wide range of artwork, from sculptures to videos, the department transformed the exhibit into a digital show because of the COVID-19 pandemic, said design media arts student council president and fourth-year design media arts student Gustavo Tepetla. He said the idea of metamorphosis came after last year's exhibition theme of "Migration" led to open discussion about growth and change.
"We wanted to make these exhibitions our own," Tepetla said. "A lot of things that inhibit change come about from your surroundings, your environment, curriculum, professors – anything that changes you can inhibit growth."
For artists like fourth-year design media arts student Ivana Dama, metamorphosis meant not only change but adaptation as well. She said with the COVID-19 pandemic shaping an unpredictable future, she is seeing many pieces that reflect uncertainty and how to best adapt to the unexpected. Dama's project is an app that allows its users to create their own musical compositions by changing their geographic location, which she said gives them the opportunity to not only see their adaptation but to actually hear it as well.
"Even though COVID-19 is something we don't see necessarily, we can feel the consequences and influence of it on our lives," Dama said. "All the news and images about COVID-19 are blending into a noise. My artwork enables anyone to have control in creating that (noise)."
[Related: Digital art exhibit uses shared screens to share themes of humanity, isolation]
The most exciting part of designing her project was testing the audio sources, Dama said. In a virtual space, she said she was able to walk around and hear the differences between each musical note she was creating for each composition. With virtual settings being the new normal, more students like Dama have been creating their artwork with software.
Other students like Joy Chen, a second-year design media arts student, said she used computer programming languages such as Processing and p5.js to create an interactive book on the history of Chinese Americans. Inspired by the self-reflection she engaged in throughout the pandemic, Chen said her history was invaluable for her to learn, especially the events that were left to be forgotten about, such as the Chinese Massacre of 1871 in Los Angeles.
The book was also inspired by the lack of history taught in curriculums about Asian Americans as well as the recent rise in anti-Asian sentiment, she said. She believes education is the key to change, and she said she hopes her piece can educate viewers while serving as a project she can expand on in the future to represent other minorities as well.
"I think it's really important we acknowledge where we come from because otherwise, we can't grow as people, as creatives, without understanding what has happened before us," Chen said. "A really central theme to my piece is that change can be inhibited. It's up to us to continue to move forward if we want to see change and to see when metamorphosis happens."
[Related: Undergraduate art students post projects to Instagram page in virtual exhibition]
Comparatively, artists like first-year design media student Alex Wu said he used his platform to critique the current political climate in America through a series of news headlines and images. Wu's piece captures the shifts in American politics through photo collages, which he said considers the partisan divide that has been emphasized in recent political events. After scanning the internet for a variety of images on different political issues, Wu said he blended them together through Photoshop to compare and contrast viewpoints across the political spectrum.
"I like analyzing things," Wu said. "That's why I use photos specifically – it's removing myself from the process a little bit to then look at what's going on through a different lens."
Overall, Wu said there is a variety of different ways students are showing what metamorphosis means to them in the exhibit. He said the design media arts student council deliberately left this year's theme open-ended to give space to both political and introspective pieces. Tepetla said he hopes that this exhibit can serve as a place for artists to express themselves and their transformations.
"Even though we're in stasis, we're still creating change," Tepetla said. "One of the ways that we can push forward that change is by creating this artwork and expressing what we're all going through."