The Bruin Gastronomer: Single sheet pan recipe with sausage and veggies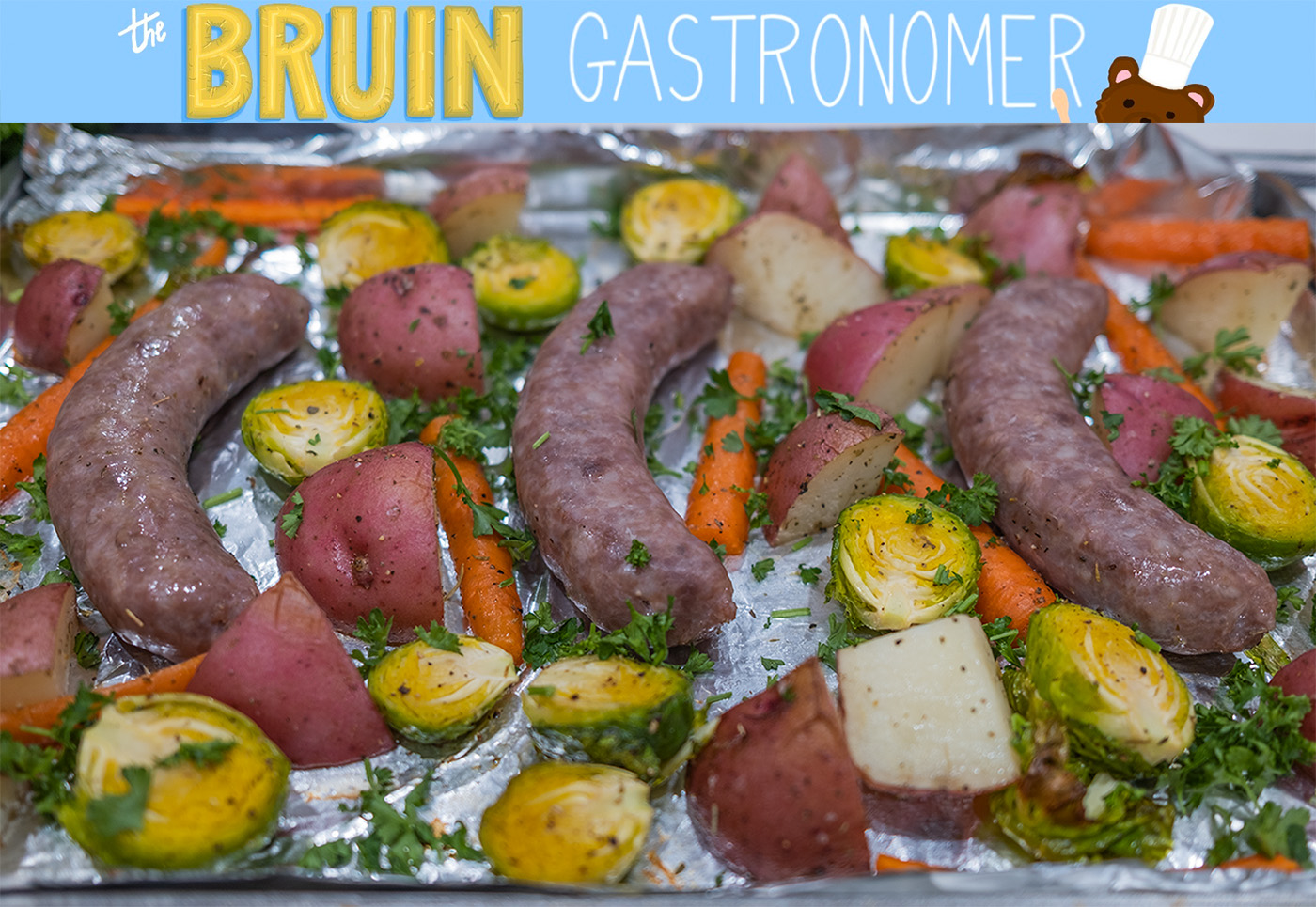 (Keaton Larson/Daily Bruin)
Cooking in college can be daunting. The Bruin Gastronomer aims to give students the knowledge and tools to cook affordable, simple and delicious meals that will fill brains and bellies alike.
Single sheet pan recipe: sausage and veggies
No one likes dirty dishes – especially not college students.
If you're cooking in a cramped kitchen with little space, the oven is the cleanest and most efficient way to prepare a filling meal. And with extra food left over, you'll have meals to last you through the mayhem of midterm season.
Sheet-pan recipes are a dime a dozen on the internet. There are different ways to cook meat and veggies depending on your preferences, but this style of cooking is great for experimenting.
When using a sheet-pan, make sure it has a rim or else liquids and ingredients may run off onto the bottom of your oven. Lining your pan with foil or wax paper will help save cleanup time too.
The stars of this recipe, however, are the seasonings and spices. Something as simple as Cajun spice or Old Bay – along with salt, pepper and olive oil – can work wonders. If you have an extra taco seasoning packet or some Italian seasoning lying around, those could make the recipe taste great as well.
Ingredients
1 pound of potatoes (baby red or fingerlings)
1 pound of Brussels sprouts
1 pound of sausages (substitute with shrimp for pescatarians or squash if you want to go vegetarian)
1 pound of carrots (the long ones, not baby carrots)
Salt, pepper and any other seasonings of choice
2 tablespoons (or more) of olive oil
1 lemon for serving
1/2 cup of cilantro or parsley for serving
Instructions
Preheat oven to 425 F.
Line a rimmed baking sheet with foil. This step will make cleanup easier.
Cut and discard the tough end of your Brussels sprouts. Pull off any discolored or wilted leaves and slice vertically to halve. Cut potatoes lengthwise as well into halves. Carrots can be cut lengthwise as well, from end to end.
Add the Brussels sprouts, carrots and potatoes to a bowl, drizzle with olive oil, and sprinkle with salt and pepper to taste (about 1 tablespoon salt). I love Old Bay, so I'll throw in enough to coat the vegetables as well. Toss the ingredients in the bowl and sprinkle more salt and pepper if not thoroughly coated.
Prick the sausages with a toothpick or fork; your vegetables will soak up some of the sausages' flavorful juices.
Transfer all to a sheet pan and spread evenly. Make sure vegetables are cut-side down.
Roast for about 15 minutes, or until the potatoes and sprouts have started to soften but still remain somewhat firm.
Remove the pan from the oven and toss or flip the ingredients – most importantly, the sausages.
Put the pan back in the oven for an additional 10 minutes or until veggies are golden and tender and the sausage is cooked through. Sausages are fully cooked when the internal temperature is 160 F.
Remove from the oven and drizzle lemon juice over the dish. Top with cilantro or parsley and enjoy!