Maker's Medium: Piecing together new meanings from existing works with collage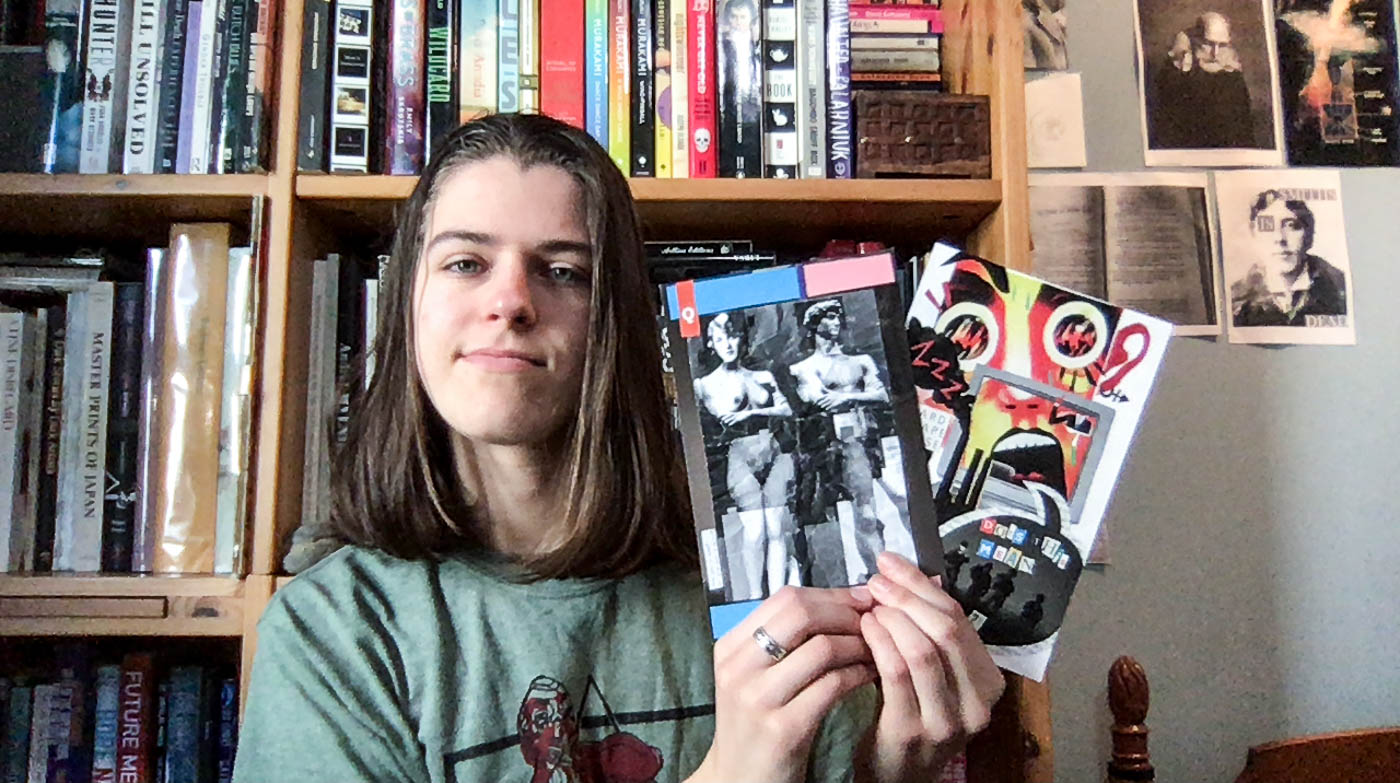 Second-year art student, Elliott Couts finds self expression in zines and collage work. Having dabbled in other forms before, Couts said they took to how collage work allows artists to take what the media gives them to extract new meaning. (Anika Chakrabarti/Daily Bruin staff)
The mastery of materials is fundamental to the artistic process and the career goal of any artist in their chosen medium. Every method requires a different skill set and can evoke different reactions in viewers. Follow columnist David Egan in "Maker's Medium" as he highlights the mediums of the fine arts by profiling a different undergraduate art student each week.

The personal overlays the political in Elliott Couts' collage work.
Couts said they have been making art for as long as they can remember, from using bamboo in their family's garden as a medium to dabbling in watercolor and acrylic at the arts high school they attended. As a second-year art student, Couts said they currently work in a variety of mediums; they used collage to create the zine titled "Goodnight Gen Z" for their beginning new genres class.
"(The zine is) me dabbling into topics I'm interested in (and) things I think are important to discuss," Couts said. "There's something attractive about taking … what the media has given you and twisting it to show some other truth or some other message."
Short for magazine, a zine is a small, self-published work of images and text that are original, appropriated or – in Couts' case – both. The format naturally gives way to collage, in which Couts said there is a freedom to compile and distribute artistic material at one's will. Collage is a product of cubism and was pioneered by either Pablo Picasso or Georges Braque in 1912, though Juan Gris was the first to exhibit a work in the medium.
New genres professor Marco Rios said he grew up attending punk shows and often saw people distributing the zines they produced. Rios teaches collage through a dadaist-inspired project in which students cut out, scramble and rearrange words from a newspaper into a screenplay. The title of the zine Couts made for the course's final, "Goodnight Gen Z," does not have one defined meaning and is meant to be interpretive, Couts said.
"I'm not claiming that our generation, Gen Z, is specifically asleep," Couts said. "But there's something about trying to answer that question of who is asleep … at this time. We all need to be awake … to be able to make any change in the world."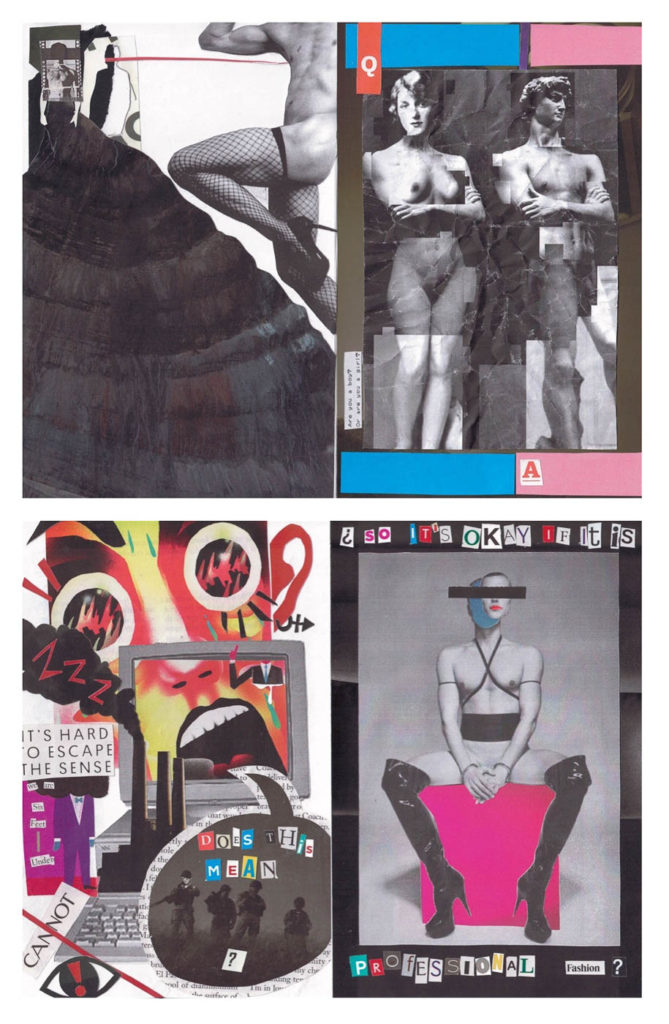 [Related: Maker's Medium: Art student explores precision, permanence through printmaking]
While Couts said it is an intuitive process for them to decide which themes to address in zines, LGBTQ+ topics come to the forefront. The first page of the zine places two idealized male and female figures next to each other with a purple sliver on the top banner that suggests a movement beyond the gender binary. On that page, a question on the side reads "Are you a boy? Or are you a girl?" This question, Couts said, comes straight out of the beginning question of the Pokémon game.
"In the queer community, … we all complain about that question because it's not inclusive," Couts said. "In some sense, it's funny to bring that up as a question that we all hate from a game because it's the question that is challenging in real life all the time."
In another spread, Couts places a Richard Siken poem – which they chose for its enticing emotional depth – next to a drawing in a style Couts uses for a series called "Beautiful Monstrosities." On the same page as the drawing is a poem written by Couts for a zine published by a queer-trans club at their high school. Rios said he appreciates the way the text is squeezed and forced into the negative space at the top corner.
"I always tell this on the first day," Rios said. "For me, it's not that complicated. … I'm either moved or I'm not moved. And Couts' work always just moved me. It was very honest. It was poignant. It was challenging. … You surrender to the imagery."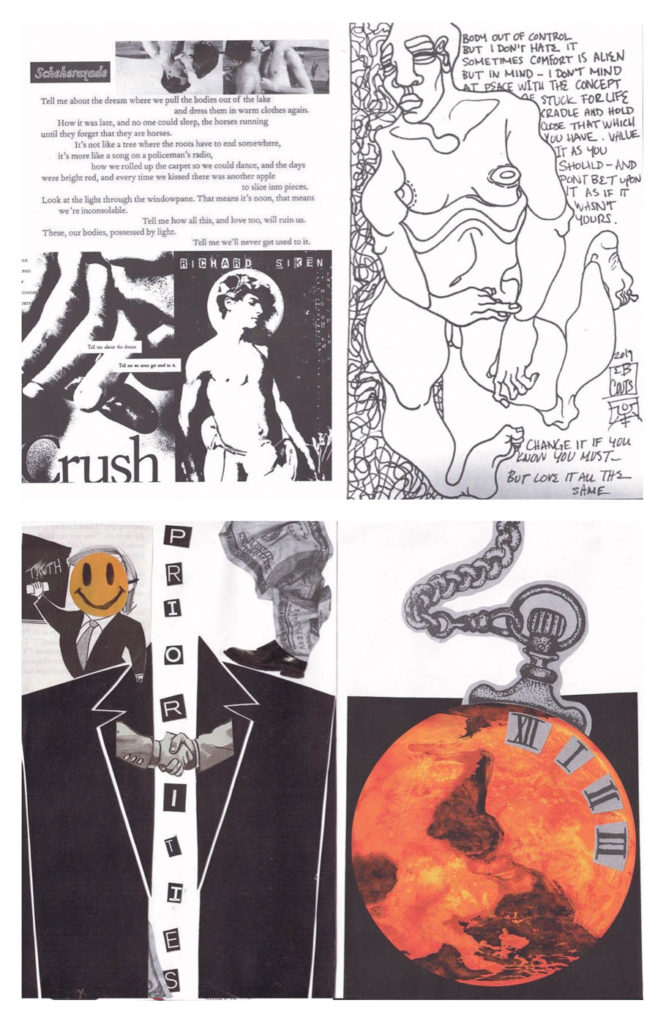 [Related: Maker's Medium: Student uses black and white photography to explore psychological spaces]
Considering the originality of collage – or lack thereof – Couts said artists take references from a variety of sources and collage simply takes that practice to the extreme. Couts also used a collage approach in a photography class taught by professor Matt Lipps. Being inundated with pictures constantly provides a wealth of information to reference, which Lipps said creates a remix culture of artists taking one source and applying it to another.
The personal becomes political in collage with the act of cutting and pasting, Lipps said. Distributing a zine purveys foresight and urgency. The most explicitly political pages in Couts' zine question the priority that the American government places on money and the role humans can play in protecting the planet against global warming. The history of collage is filled with people whose desires are not reflected in the world around them, Lipps said. For instance, he said collage artists like Hannah Höch, Barbara Kruger and Martha Rosler started to build worlds the way they want to see them.
"The first step of enacting and actualizing is in part having a vision of what it can be and then working towards it," Lipps said. "We're cutting, and we're mixing, and we're blending … together in order to get to a better place."
Collage is a medium that reminds a viewer of the tactility of making art, as its roots lie in crafts, scrapbooking and vision boards, Lipps said. In this, Couts said their work remains personal, even when it explores bigger themes of gender and sexuality.
"I'm not that outspoken about politics or my opinions," Couts said. "And this zine format, especially with collaging, has allowed (me) that voice."