Editorial: UCLA's self-praise for applicant demographics obscures focus on admissions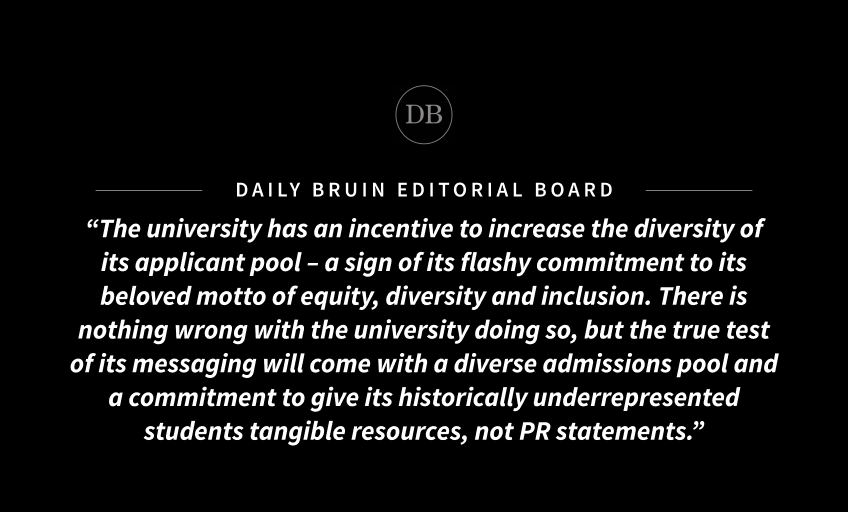 This post was updated Feb. 11 at 5:43 p.m. to reflect clarified statistics about racial demographics at UCLA during 2018 and 2020.
They'll never let you hear the end of it.
Despite the raging COVID-19 pandemic and economic crises, first-year and transfer applications to UCLA – the most applied-to university in the U.S. – soared to a record of almost 168,000 compared to about 135,000 last year.
Even more impressively, the numbers of African American and Latino applications rose by 48% and 33%, respectively, while Asian American, American Indian and white student applications saw similar increases. The number of first-generation and low-income student applicants also grew by around 25%.
The admissions office has credited this feat to its community partnerships and outreach efforts with high schools in marginalized communities, as well as the University of California's suspension of the standardized testing requirement for all incoming freshmen until fall 2024.
But in spite of the university's self-congratulatory messaging, these numbers don't mean anything until admission decisions are finalized.
The university has an incentive to increase the diversity of its applicant pool – a sign of its flashy commitment to its beloved motto of equity, diversity and inclusion. There is nothing wrong with the university doing so, but the true test of its messaging will come with a diverse admissions pool and a commitment to give its historically underrepresented students tangible resources, not PR statements.
So far, the university's track record is mediocre at best.
The university provided lip service about the importance of the Black Lives Matter movement while the LAPD detained Black Lives Matter protesters on UCLA-leased property. UCLA defunded an English language tutoring program that supported university employees who are non-native English speakers.
Pride in its application demographics clearly does not translate to a commitment to the students that make up those groups.
But with this year's unprecedented pool of applicants, UCLA has the chance to put its money where its mouth is.
UCLA's 2018 student profile shows that African American students made up 4% of the 2018 admitted freshman class and 3% of the admitted 2018 transfer class. For multiracial students, those numbers were only 6% and 5%, respectively. The 2018 student profile includes international students, who are not classified by race or ethnicity by UCLA. In 2020, African American students made up only 5.3% of the 2020 admitted freshman class, not including international students.
The university has room for improvement, and now is a better time than ever to begin. Despite the disappointing defeat of a ballot measure that would have promised affirmative action, UCLA has the chance to prove itself as a leader in equity, diversity and inclusion by admitting and graduating more students from underrepresented groups.
It is outwardly self-righteous that administrators are bragging about UCLA's diverse applicant pool when it has no effect on admissions – the numbers and percentages that actually matter.
But now that the university has done an ample job of patting itself on the back, it's time to get to work.