The Quad: Students, faculty warn against activism infographics sacrificing accuracy for style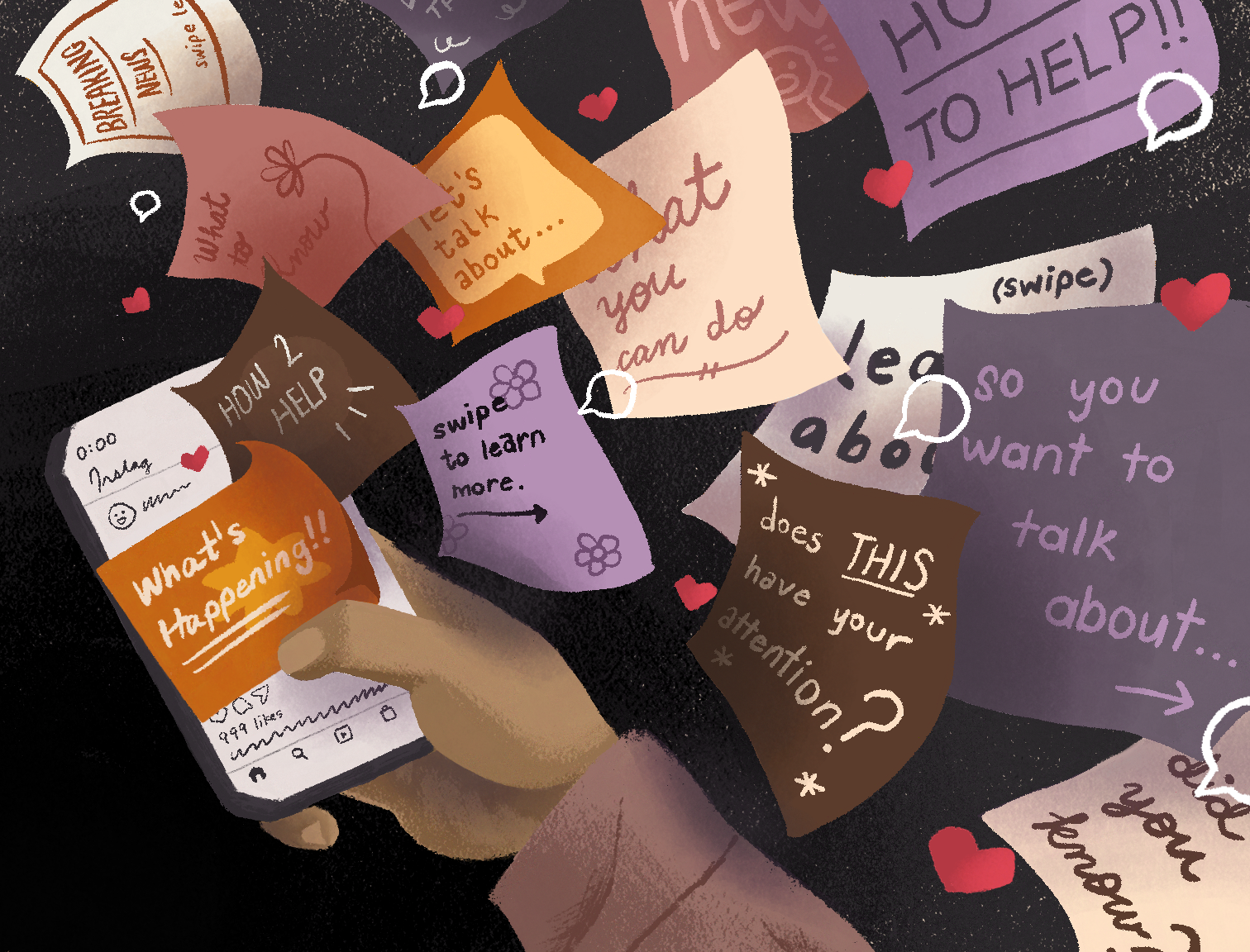 (Dani Nalangan/Daily Bruin)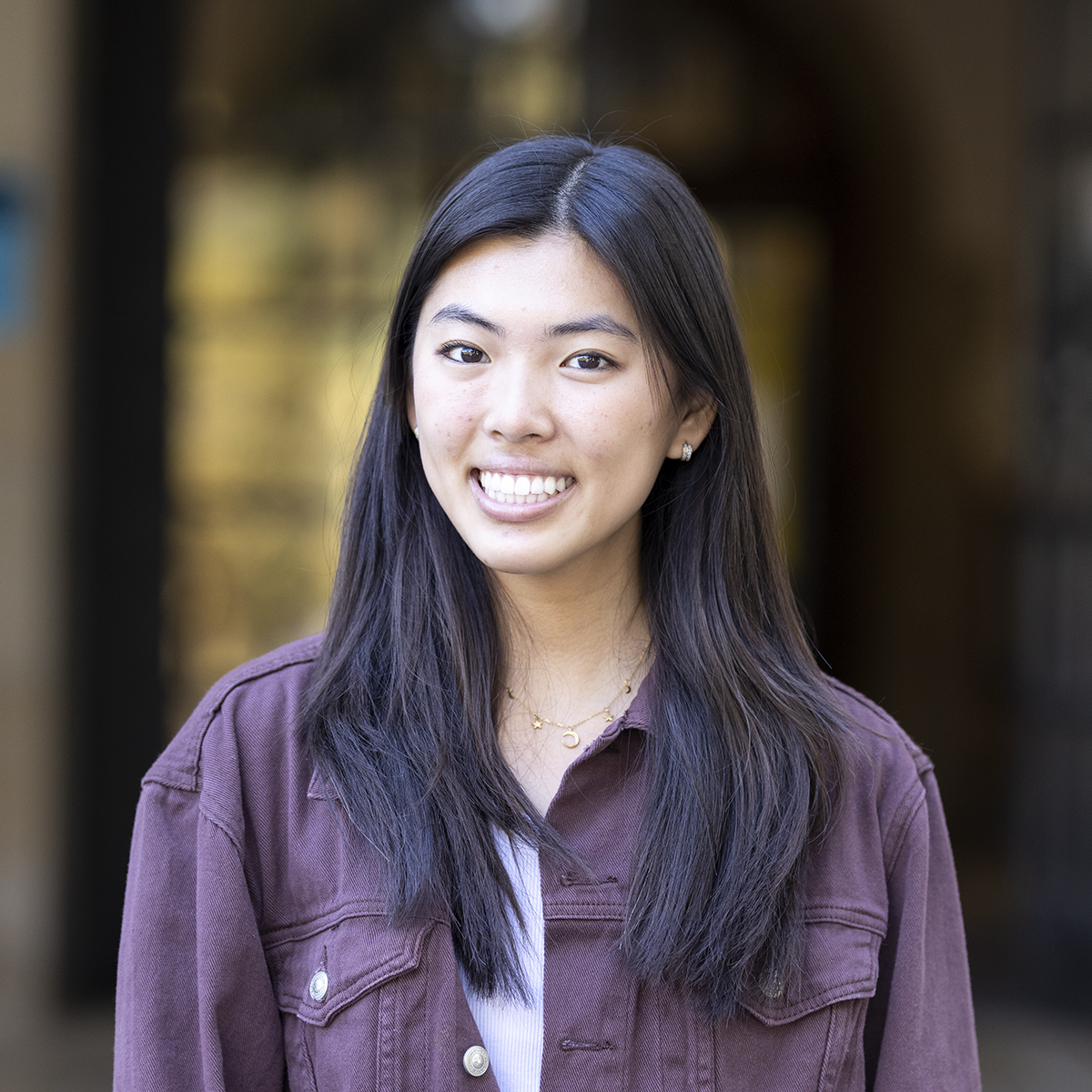 A majority of American adults have exercised civic activism through social media in various ways, according to a Pew Research Center report. Recently, social media has found itself increasingly marked by a new form of political activism: aesthetically pleasing slideshows and infographics.
The question is, where do we draw the line between style and substance?
Second-year design media arts and digital humanities student Joy Chen said as the co-president and creative director of the fashion magazine META MAG at UCLA, finding a balance between accuracy and visuals is essential when creating news-related content.
"It's up to people who do create content like us to be able to give accurate information but also to give helpful information that can help enact change on a smaller level such as on social media," Chen said. "(Visuals are) also quicker content to consume. … You can easily just share a colorful post that tells you what's going wrong in the world."
The magazine's Instagram page, for which Chen said she designs, features artistic voting guides to California's propositions and posts on climate change among the magazine's fashion-oriented photos.
Chen said maintaining well-researched reporting on online posts, however visually pleasing they may be, is important considering how frequently users turn to social media as a primary news source.
In 2018, 20% of American adults said they often get their news on social media, surpassing the number of adults who turn to newspapers for news, according to a Pew Research Center report. The same report found that 36% of adults between 18 and 29 years old said they often get their news on social media.
Third-year communication and film student Brooke Sagun said her experience as the social media director for Her Campus at UCLA gave her insight into how social media graphics can be a great starting point in improving one's education on a topic.
"If I have a platform with a lot of followers and influence — even if it's micro — I think it's definitely useful to post infographics to inform and educate people, especially (people) our age that tend to use social media as a source of news," Sagun said. "Since everyone's on (social media) already, I think it's a great option to start the conversations."
But exploring multifaceted topics in a brief social media post has its drawbacks. A Pew Research Center analysis found that American adults who rely mostly on social media for political news tend to be less likely to investigate major news stories, such as the 2020 presidential election and the COVID-19 pandemic, compared to other news consumers. Associated with this is the tendency to be less knowledgeable on these topics in general.
"My goal whenever I do post infographics, or just as a consumer of social media, … is I hope that sparks someone to go dig further into that news," Sagun said. "I think it's really important to go elsewhere just besides social media."
And while most posts focus on important topics, many can be factually inaccurate, hyperbolic or purposely skewed toward a particular argument — which may leave readers unaware of their own misinformation, according to Vox.
Co-president and editor-in-chief of META MAG at UCLA, third-year anthropology and film student Tiffany Hue said she works with Chen to tag all sources in their infographics to ensure viewers know where the information is sourced from. Hue said this approach also carries over into her own social media practices.
"I tend to only repost news accounts now, actual newspapers, or I will screenshot from articles," Hue said. "I stray away from infographics and other social media posts that might not be providing all the information they can when it comes to where they got their information."
Communication professor Tim Groeling said he urges social media users to differentiate between credible informational posts and emotionally inciting ones.
"If something is designed to engage you emotionally, I wouldn't trust it as much, because that as a primary intent should make you suspicious that you're being manipulated," Groeling said. "It might be that somebody has selectively edited things to make it more enraging and cut out, again, some of the complex details that reality almost always has."
[Related: The Quad: Art can be a form of activism in an age of political turmoil]
Like every news story, there are always two sides. Groeling said these posts can be both beneficial and harmful.
"I like it when we can sort of all gather around (posts that) unify the country," he said. "But an awful lot of these things are designed to make people hate their fellow Americans."
Hue also said she stresses the importance of posts that encourage people to go beyond just being aware of an issue.
"It's one thing to have the information about what's happening, but it's another thing to let consumers and audiences know what needs to be done in order to help so they don't feel as disconnected to the problem," she said.
Now that social media is outpacing print newspapers as a news source in the U.S., it's likely that infographics are here to stay, nestled between birthday photoshoots and outfit flexes.
"You're almost always going to get more attempts to use emotion or partisanship or group affiliation to try to mobilize people," Groeling said. "I think that's the future."
Pak is the 2021-2022 assistant Quad editor. She is a second-year English student at UCLA. She was a 2020-2021 Blogging contributor.
Pak is the 2021-2022 assistant Quad editor. She is a second-year English student at UCLA. She was a 2020-2021 Blogging contributor.