Labor unions voice their concerns on the UC's proposed curtailment policy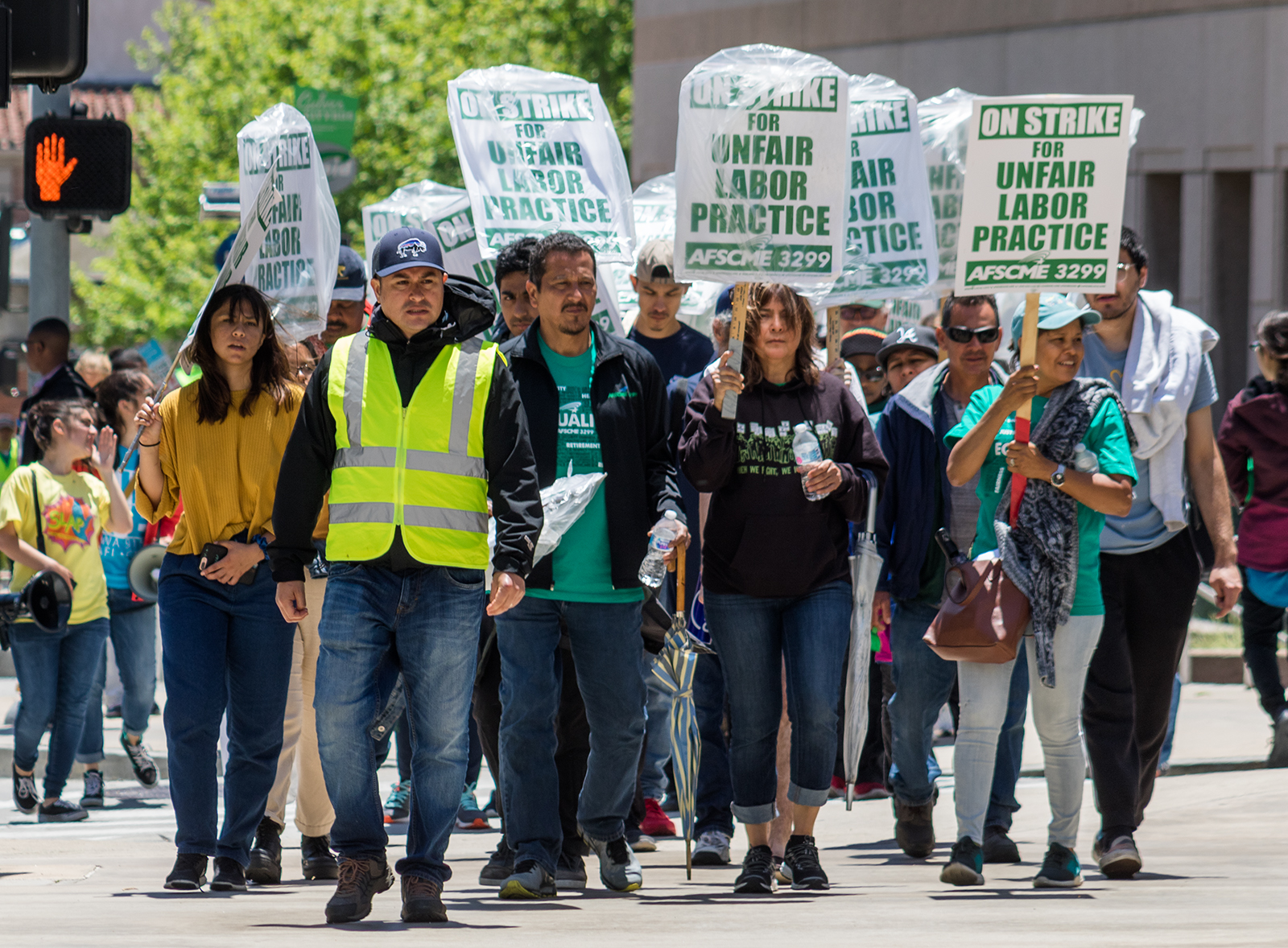 The American Federation of State, County and Municipal Employees Local 3299 went on strike over insurance insecurity and temporary labor outsourcing issues in May 2019. In October, the University of California Office of the President proposed a plan that would require workers to take up to five workdays off unpaid. However, UC labor unions think the plan is detrimental to employees who are already struggling. (Daily Bruin file photo)
The proposed University of California policy to furlough five workdays from workers is detrimental to already struggling employees, UC labor union members said.
The proposal, which the UC Office of the President introduced in October, plans to remove five paid days from a worker's schedule. This act of shortening an employee's workload, which results in a loss of income, is known as curtailment. The proposal intends to add a curtailment period to the one that UC employees typically take during the holidays, between around Christmas and New Year's.
UCOP's proposed curtailment plan will separate employees into several tiers based on their salary. Under this plan, lower-wage employees can use their leave days to compensate for curtailed days, meaning they can still receive income in exchange for their leave days. Higher-paid employees must take off all five curtailed days without pay.
The UCOP designed the initiative to protect employees and mitigate the UC's severe COVID-19-related budget deficits, UCOP spokesperson Stett Holbrook said in an emailed statement.
[Related link: UCLA reports highest COVID-19 related financial losses out of all UC campuses]
Individual UC campuses will tailor any cost-cutting measures such as furloughs, curtailment and reduced pay cuts to their specific circumstances, Holbrook added.
UCLA spokesperson Katherine Alvarado said discussions about the systemwide curtailment are ongoing and UCOP has not finalized any decisions.
In November, the UC Union Coalition sent a letter to the UC Board of Regents to protest the curtailment proposal. The letter states that the curtailment program would do little to achieve savings for the UC, while causing hardships for more than 80,000 UC employees. Ten labor unions – including the American Federation of State, County and Municipal Employees Local 3299, the Council of UC Faculty Associations, and Teamsters Local 2010 – signed the letter.
According to the letter, many workers do not have access to leave days or have already used up their leave balances for child care, illnesses or to attend to sick family members, which means they could not use their leave days to compensate for curtailment as stated by the guidelines.
The curtailment proposal will detrimentally impact low-wage workers and women the most, especially women of color who need both income and time off for child care, the letter read.
John Branstetter, the president of the University Council-AFT Local 1990 and lecturer in the political science department, said the curtailment proposal would impact many part-time faculty members in his union, who are already paid less compared to full-time and tenure-track faculty.
Part-time faculty members do not have vacation days, meaning the curtailment will hurt workers with lower incomes, he added.
[Related link: UCLA lecturers and other nontenure faculty face low wages and job insecurity]
Jesse Mathus, the organizing director of Teamsters Local 2010, said it is inappropriate for the University to ask employees who make the least amount of money to take an additional five-day curtailment when there are other options that the University could take to address losses.
Mathus said Teamsters Local 2010 sent petitions and testified at the Board of Regents to fight the proposal. At least a half-dozen people testified against the curtailment proposal in every meeting, he added.
The UC could use its reserves, take advantage of low interest rates by refinancing UC debts and reduce the excessive compensation given to the UC's management and executives, he said.
Stephanie Watts-Parrish, an organizer for Teamsters Local 2010, said the UC has a liquidity of more than $10 billion that it could use, making the curtailment proposal unnecessary since it would only save $132.6 million.
Watts-Parrish said that it hurt workers when they see the reserves that the UC has set aside and the amount of money that the UC pays to coaches and executives.
"It's a bad time to be targeting workers when we work in these types of industries, serving the community," Watts-Parrish said.