UCLA lecturers and other nontenure faculty face low wages and job insecurity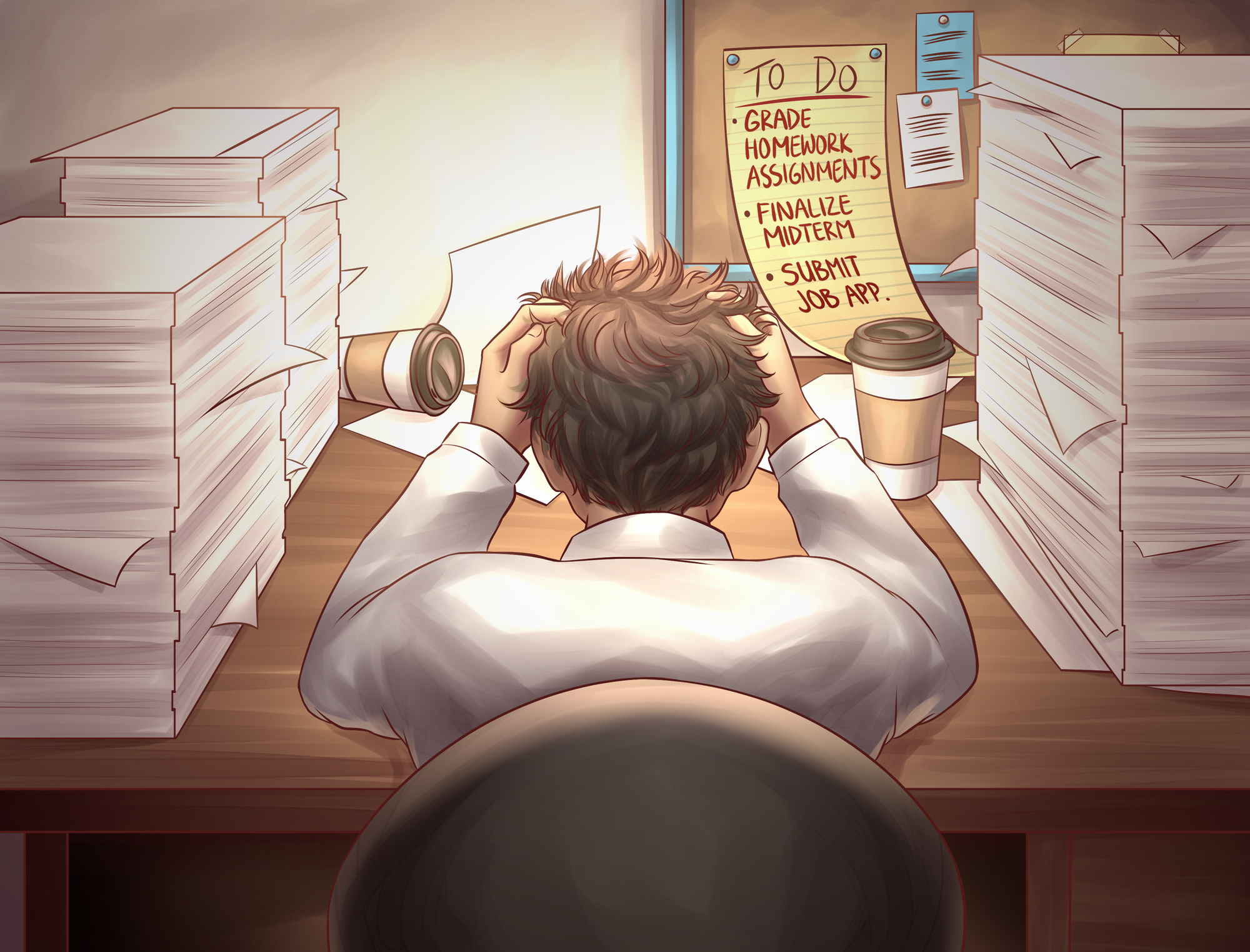 Correction: The original version of the graphic titled "Lecturer Job Security" incorrectly labeled the y-axis of the bar graph as years. In fact, the y-axis was meant to be labeled as terms.
This post was updated July 29 at 10:43 a.m.
Lecturers are speaking out against low wages and job security at UCLA.
About 3,000 lecturers teach at the University of California each term and about 5,000 lecturers teach at the UC in a year, according to the University Council American Federation of Teachers.
UC lecturers make a median salary of $19,900 a year, said Mia McIver, the UC-AFT president. UC-AFT is a UC employee union that represents around 360 librarians and 6,500 nontenured faculty systemwide. McIver said the $19,900 median salary only includes part-time lecturers who are hired on an annual contract and does not include those with secure employment.
Lecturers are teachers who are hired on a contract and are paid to teach at a fixed rate per class. On the other hand, tenure-track professors are hired for research, departmental service and teaching. Tenure is a permanent position offered to professors on the tenure track after six years.
Adjunct professors and lecturers are nontenure-track faculty, which means they cannot be considered for tenured positions.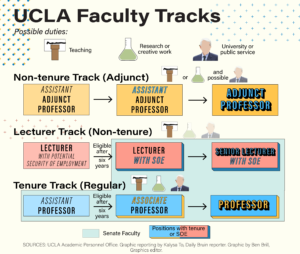 Lecturers and adjunct professors at universities across the nation face low wages and lack of job security, according to a report from the AFT.
John Branstetter, the UC-AFT Local 1990 president, said the union proposed a lecturer hiring model to the UC to increase job security. Under the proposed model, the University would evaluate lecturers' performances after one year, and if they do well, evaluated lecturers would be considered for a two-year contract. After the subsequent two years, lecturers would be re-evaluated for a three-year contract. UC-AFT Local 1990 is the union chapter based at UCLA.
Branstetter said the union's proposal would increase job security from the current system, wherein lecturers must reapply for their job each year, regardless of job performance.
The union is currently negotiating with the UC over these issues, but is currently prioritizing job security over pay raises because of systemwide COVID-19 financial struggles, Branstetter said.
However, the UC has been unwilling to review their demands, Branstetter said.
UCLA is working with the UC bargaining team and has heard the UC-AFT's requests, said UCLA spokesperson Ricardo Vazquez in an emailed statement.
Having both tenure and nontenure track positions grants universities flexibility in developing academic programs, Vazquez said. For example, universities can hire entrepreneurs from nonacademic backgrounds to teach business classes under the nontenure-track model, Vazquez said.
However, nontenure-track lecturers must often work additional jobs, such as teaching at other universities, to financially support themselves, McIver said.
McIver previously taught at Loyola Marymount University in the morning and UC Irvine in the afternoon. The universities are more than 44 miles apart, which extended both her work and commute time.
"(Lecturers') part-time work also forces people to cobble together side hustles … when (the position) really should be a career that really dedicated teachers can throw themselves into," McIver said.
Many lecturers said they also experience anxiety over whether they can keep their jobs and feel stigmatized for being teaching-oriented. Lecturers are typically expected to focus on teaching, whereas many professors also emphasize collecting research.
"At the UC, (a lecturer) who … focuses exclusively on being a great teacher can be considered a second-class citizen because they're not doing research," McIver said.
However, Hung Pham, an assistant adjunct chemistry professor, said while UCLA is primarily a research institution, he does feel that his teaching work is valued. Pham said he thinks the chemistry department cultivates a strong teaching environment, and that teaching is given significant time and consideration.
As chemistry faculty transitioned to remote teaching, the department was helpful and supportive, Pham said. The chemistry department supplied faculty with useful online resources and materials, he added.
McIver has to share an office with up to six other lecturers, forcing her to hold conferences and office hours at locations outside her office, like coffee shops. Tenured professors, on the other hand, have their own office spaces and do not need to look for other locations to do their work, McIver said.
McIver said lecturers also often take on extra work at UCLA to demonstrate their dedication, such as conducting research, participating in first-year orientations and mentoring graduate students.
Many political science lecturers have to conduct unpaid research in order to be considered for a professorship in the future, said Branstetter, a political science lecturer.
Lecturers applying for tenure-track positions who conduct research are disadvantaged relative to outside hires because there is less focus on teaching in the tenure-track roles, McIver said.
"If it's work that's expected but not paid for, then that's just exploitation," McIver said.
The average lecturer teaches at the UC for less than two years, according to UC Office of the President reports sent to UC-AFT, McIver said. There is constant turnover between teaching faculty, as experienced faculty are replaced by less experienced applicants to reduce university payrolls, McIver added.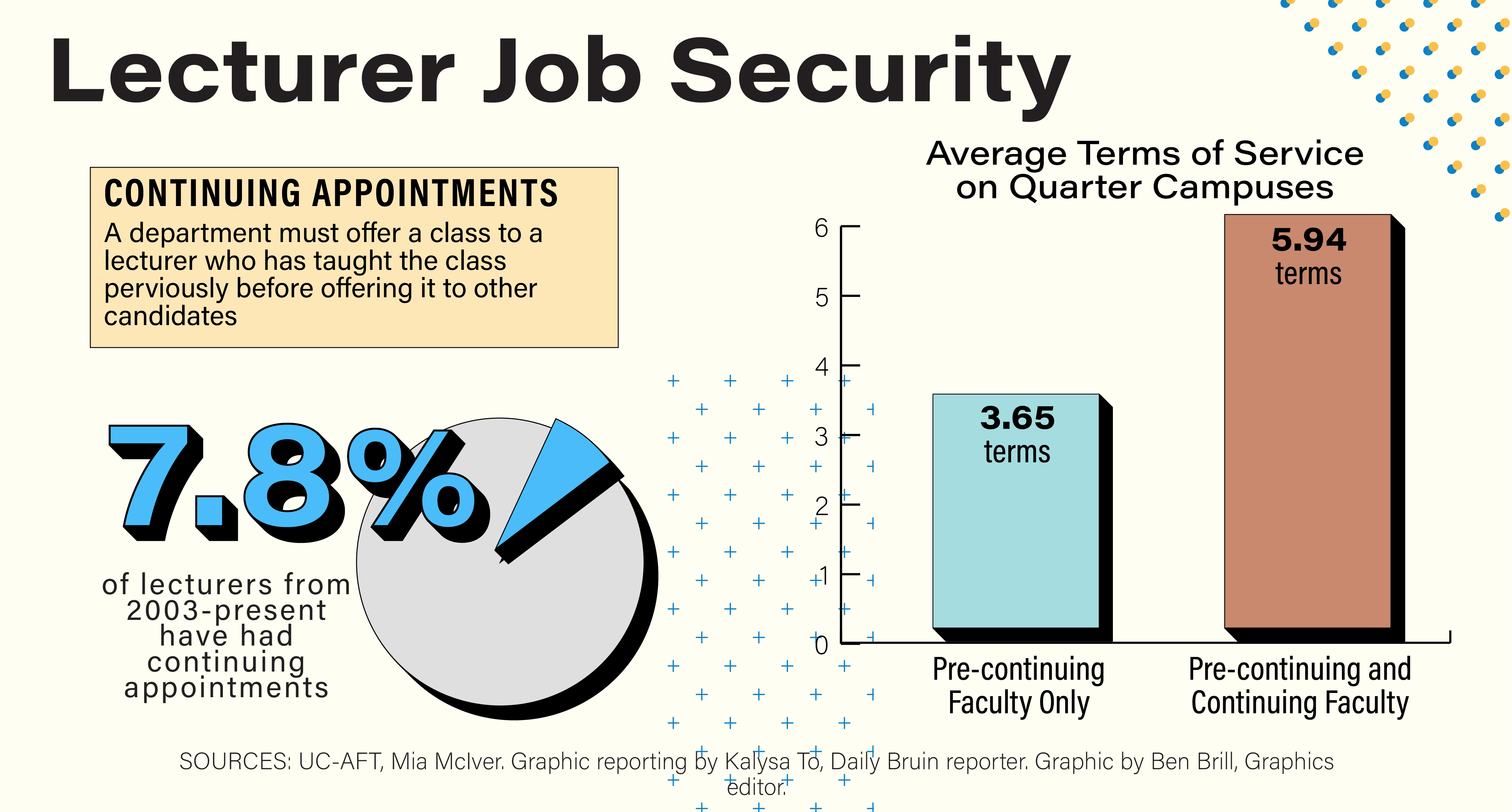 Vazquez said in an emailed statement the reason a lecturer does not return to teach may depend on a number of personal or professional considerations. He said UCLA does not centrally track the end of lecturer appointments.
Lecturers also may not have enough time to incorporate student feedback because of the constant turnover, said Alyssa Lizarraga, a fourth-year human biology and society and psychology student.
"If you only have a year in front of you, and that's all you can be sure of, I don't think your priorities are then making sure that you're preparing for the next year," Lizarraga said.
The University gives lecturers continuing status once they have taught for six years, which increases their job security, Branstetter said. Continuing status means if a department plans to provide a course the lecturer has taught before, the lecturer will be offered the course before the University considers other candidates. However, it is difficult for lecturers to reach continuing status, because the closer lecturers get to the six-year milestone, the likelier it is for them to not be rehired, he said.
Branstetter said that it was difficult for him to be energized for his students while waiting to find out whether he was rehired for the following year.
The lack of job security for lecturers ultimately places students at a disadvantage, said Karl Lisovsky, a continuing writing programs lecturer. Greater job security for lecturers improves the relationship between students and lecturers, added Lisovsky, the former UC-AFT Local 1990 president.
Lizarraga said she would have been hesitant to develop a mentorship with a lecturer if she had known that they would not be available throughout her college career, especially if she were hoping for a letter of recommendation.
McIver said students can benefit from having faculty as mentors, and the constant turnover in staff prevents these close mentorships from forming. Strong mentors can provide support and encourage student retention, Lisovsky added.
"That's the tragedy of the way that the UC runs things – it's just depriving students of really, really great teachers," McIver said.
Lisovsky said many lecturers love teaching and working with students, and the university should be more willing to meet the union at the bargaining table.
"We are teachers, and we believe in student progress, student success," Lisovsky said. "So of course we're … going to … (put in) efforts that you're technically not getting paid for. But you do them because you love the work, and we do love the work, and we just want to be recognized for that."