Opinion: UCLA Health should dismiss waiver to increase nurse-to-patient ratios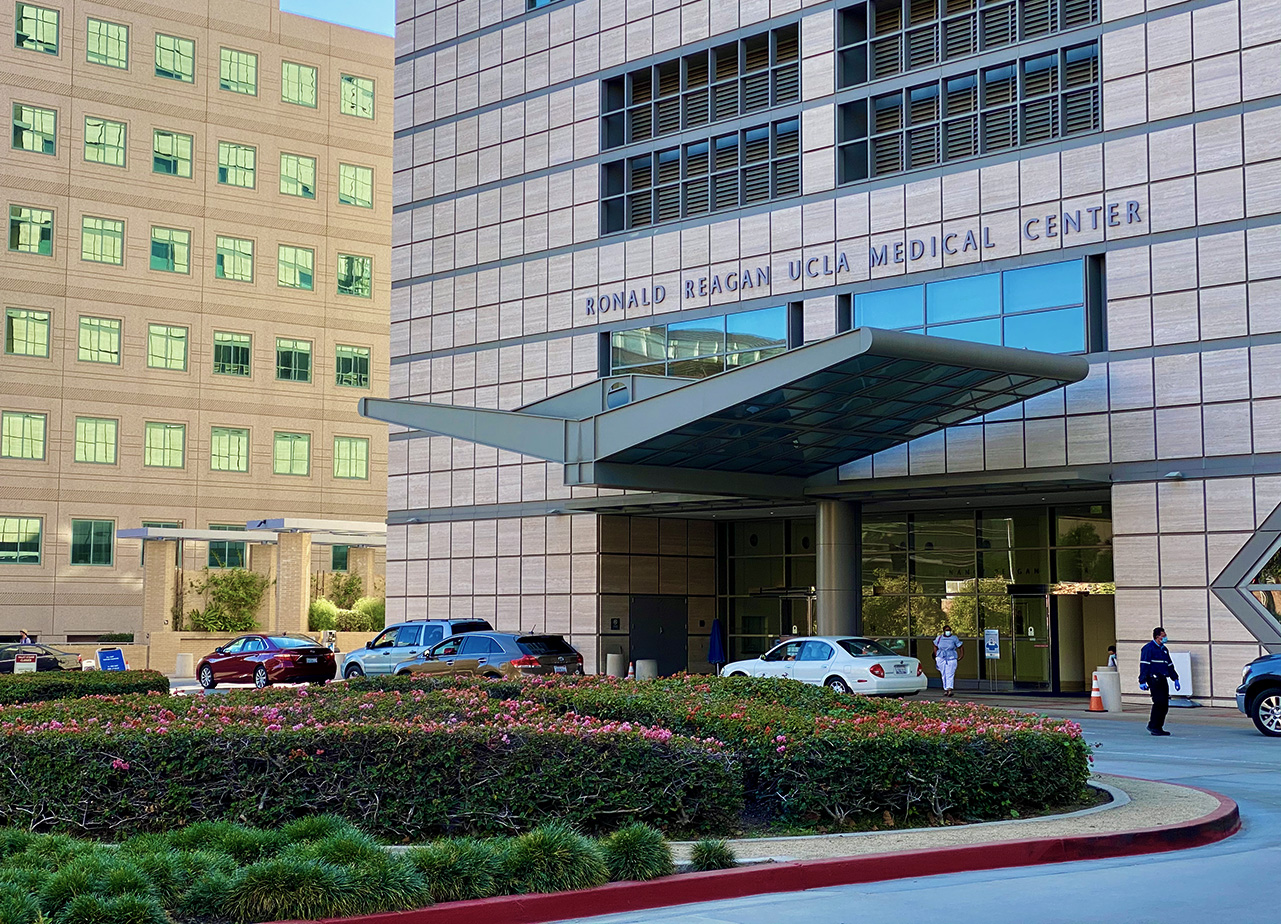 UCLA Health should not invoke a state-approved waiver that will increase patient-to-nurse ratios. An increase in caseloads, even one that's minor, can be disastrous for both nurses and patients. (Noah Danesh/Daily Bruin)
Since the beginning of the pandemic, nurses in intensive care units have provided a safety net for Americans.
And when nurses start protesting conditions that could jeopardize their health, the people they work for have an obligation to listen.
California became the first state to legally require nurse-to-patient staffing ratios with the passage of Assembly Bill 394 in 1999. These ratios protect both nurses and patients by decreasing the number of patients assigned to nurses, allowing for more individualized attention while preventing burnout.
Most California nurses agree that this bill has had a positive impact on the quality of care, according to a University of Pennsylvania study.
However, recent surges in COVID-19 cases that have strained ICUs are now causing health officials to rethink this protection of nurse and patient rights.
The California Department of Public Health released waivers to hospitals that would allow them to bypass the state-mandated ratio of one ICU nurse to two patients. UCLA Health applied to waive the ratio, and the CDPH approved the application on Dec. 11.
Shortly after the approval, UCLA nurses protested the decision and demanded UCLA Health administrators meet their concerns about working conditions and changes in the staffing ratio.
While UCLA Health has not put the waiver into effect, it must listen to the nurses who continue to risk their lives fighting a pandemic that has killed more than 17,000 people in LA County alone and definitively discard the approved waiver.
If nurses' protests go ignored, ICU staff will endure an unsustainable level of strain. The majority of ICU nurses work long shifts, and increasing caseloads in the middle of a pandemic will endanger the lives of patients and the nurses who take care of them.
"Oftentimes when we have too many patients and we're so spread out, we're not really quite able to (do) all the things that we need to be able to do in the 12-hour shifts that we have and to do it in a safe manner," said Jasmine Wong, a UCLA nursing alumna who works in an ICU in the Bay Area.
Wong, who interned at the CDPH while she was a student and researched the effects of different staffing ratios on nurses, said nurses with higher patient ratios tend to have higher rates of occupational injury, illness and burnout. According to the American Journal of Nursing, lowering nurse-to-patient ratios can address burnout by allowing nurses to spend more time and energy on individual patients.
California recently experienced its deadliest month of the pandemic, with nearly 15,000 deaths from COVID-19 in January alone. It's no question that each patient needs to receive all the time and energy they can get.
Increasing caseloads certainly won't help with that.
"In cases (of) having three or even four patients for an ICU nurse, it can be really dangerous," Wong said.
A University of Pennsylvania study found each additional patient assigned to a nurse was associated with a 7% increase in patient mortality within 30 days.
The COVID-19 vaccine is still not widely available to most Californians. Until more people have access to the vaccine, hospitals can prevent further deaths by following the state-mandated ratio of one ICU nurse to two patients.
Marcia Santini, an emergency room nurse at the Ronald Reagan UCLA Medical Center, said in an emailed statement that as a nurse, she knows proper staffing saves lives.
Unsafe staffing will lead to increased infections in hospitals, resulting in more deaths of patients and nurses, Santini said. She added that with more infected nurses, there will be fewer people who can care for patients at the bedside.
That is not a future that LA County health officials – and hospital administrators – should be willing to embrace.
Phil Hampton, the UCLA Health director of communications, said in an emailed statement that the waiver provides flexibility in preparing for COVID-19 surges, but UCLA Health has not had to invoke the waiver since its approval in December.
It's clear to see why flexibility adds value to the fight against the pandemic. LA County has the highest number of COVID-19 cases in California, and hospitals are undeniably stretched thin. It's easy to believe the additional strain from one or two more patients would do more good than harm.
In reality, this is far from true.
"I know for me in the ICU, having two patients alone is a lot," Wong said. "We're doing hourly charting, (and) we're constantly in the room … because patients are so, so critical."
When it comes to critical care, quality is more important than quantity. Protecting the nurses who serve as the last line of defense needs to be UCLA Health's as well as LA's top priority.
Nurses deserve nothing less.

While LA County is currently reporting a decline in COVID-19 cases and hospitalizations, there still lies a chance of resurgence in the future given new re-openings. If that ever happens, UCLA Health must not invoke the waiver that bypasses the state-mandated ratio for the sake of nurse and patient safety.
Nurses protect the members of their community every time they go to work. It's time their communities return the deed.