Student chronicles her trauma, growth in self-published poetry and prose collection
Cameron Mouton is self-publishing her new poetry and prose collection, "Mixed," on Saturday. Collecting work she wrote in old journals and notes, the third-year American literature and culture student said the book chronicles her trauma and growth from an adolescent to a young adult. (Sabrina Wu/Daily Bruin)
With her vulnerability on full display, Cameron Mouton passes the pen along to her readers and encourages them to write their own narrative.
The third-year American literature and culture student minoring in African American studies is self-publishing her new poetry and prose collection, "Mixed," on Saturday, in which she recounts her experiences with racism and sexual assault. She said distributors have already picked up her book for purchase, including Amazon, Barnes & Noble and several independent bookstores in the LA area – notably The Last Bookstore and Book Soup. Aware that the traditional publishing route could become long and costly, she said she used the self-publishing platform Blurb to reduce expenses and hasten the process.
"For me personally, wanting to get my poems and prose out there as soon as possible was the best route for me to take," Mouton said. "I decided to self-publish just because I know it can be expensive to find a publisher and send in manuscripts; … it's a very tedious process"
[Related: Student sees success sharing study tips on YouTube channel with 650K subscribers]
During the editing process, Mouton said she collaborated with her mother because of her prior experience reading movie and television scripts for ABC Studios and Von Zerneck-Sertner Films as an executive producer's assistant. Mouton also sought unbiased input on her writing from her mother's friends at Walt Disney Studios, she said.
Chronicling her trauma and growth thereafter from an adolescent to a young adult, Mouton said most poems in "Mixed" are from those she wrote in old journals and notes. She said she explores themes of rape and self-harm because she wants to challenge the stigmas surrounding depression and help her readers with their mental health.
"I really wanted to focus on the negative aspects of my life and show potential readers … that these topics shouldn't be taboo," Mouton said. "They don't define (them) as a person."
Before the collection's release, Mouton said physical copies of the book were sent to some of her close friends and relatives as a gesture of gratitude for supporting her love of reading and writing over the years. One of them, Mouton's uncle and UCLA alumnus Frank Serrato, expressed his pride and surprise upon reading "Mixed." Taking note of the different ways people from previous and current generations approach mental health, Serrato said he admired his niece's transparency in her book.
"I grew up in a very different era where … you didn't talk about being sad," Serrato said. "You just kind of woke up, you put on a happy face, and you walked out and then you came back home. I'm very impressed, you know … (she put herself) out there, saying, 'You know what, I went through this. I've dealt with this and I'm OK.'"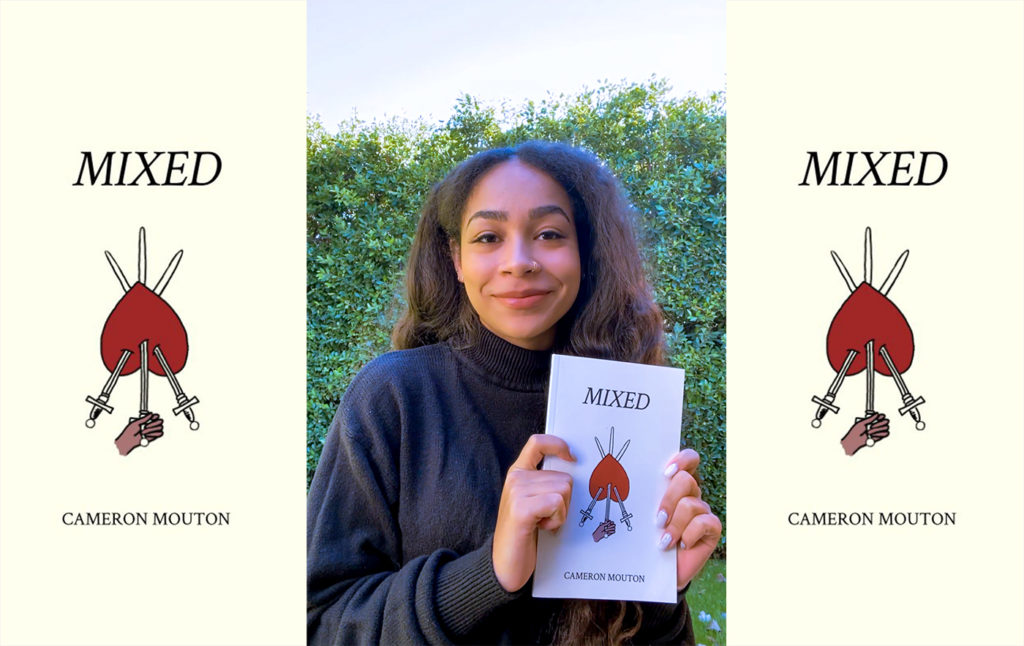 [Related: Readers learn to focus on life's central perks instead of mistakes in alumna's book]
Because much of the book's content is written based on Mouton's past experiences, she said her authenticity is reflected through her genuine writing style. Her honest approach in her work exposes her personal attributes – a sentiment that her long-time friend, Alexa Kendell, who is a student at UC Davis, shares. Mouton's loyalty in particular shines through in her poetry collection, Kendell said.
"You can definitely see the type of person she is through her writing," Kendell said. "I think that the hard work and the care she gives is reflective in (the way) she really incorporates the audience within her writing, … she writes it for more than just herself; she writes it for other people as well."
Feeling a sense of catharsis upon writing her prose and poetry, Mouton said she acknowledges that her book does not have the usual lighthearted subject matter that her contemporaries write. However, she hopes readers – especially those who are experiencing hardships in their lives – will find the comfort and courage to sort through their own personal lives as she revisits some of her darkest moments.
"I wanted to make something that a lot of people can relate to; … I don't talk about (my traumas a lot)," she said. "(But) I wanted to show other people that if you went through (similar experiences), you're not alone. You can definitely grow from (them)."