Maker's Medium: Student uses black and white photography to explore psychological spaces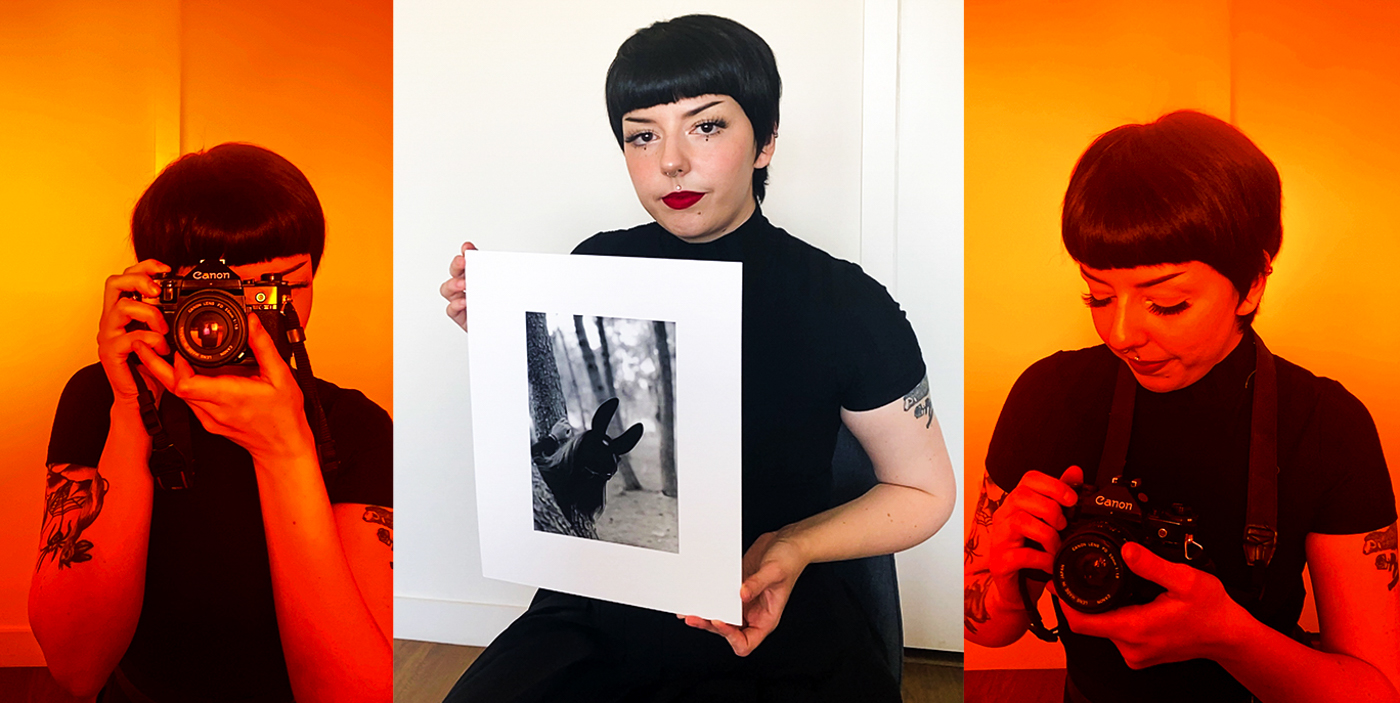 Fourth-year art student Allison Poerschke specializes in black and white film photography. She takes inspiration from surrealism and most of her work focuses on psychological spaces. (Sakshi Joglekar/Daily Bruin staff)
The mastery of materials is fundamental to the artistic process and the career goal of any artist in their chosen medium. Every method requires a different skill set and can evoke different reactions in viewers. Follow columnist David Egan in "Maker's Medium" as he highlights the mediums of the fine arts by profiling a different undergraduate art student each week.
Allison Poerschke is slowing down for introspection with black and white analog photography.
A fourth-year art student, Poerschke said one of her earliest memories is playing with a disposable camera her mother gave her when she was a child. She has been interested in art her whole life, and after beginning to create more art in high school, Poerschke realized it was something she wanted to pursue more seriously. She said she is a perfectionist and found she could articulate what she wanted to say more easily with photography as compared to other mediums like drawing or sculpture, which never turned out exactly how she wanted.
"I experimented with a lot of different mediums and eventually found photography," Poerschke said. "It sort of clicked. I just felt that was the most accurate way of expressing myself."
Poerschke said she fell in love with black and white analog photography – also known as film photography – when she took a community college class in the medium. Analog photography uses chemical processes to capture an image on transparent plastic film, which is covered with light-sensitive silver halide crystals. When a photo is taken, the crystals absorb light to create transparent images with inverted colors called negatives. Light is exposed through the film in a darkroom, creating a photograph that is developed through immersion in chemicals. Various scientists and artists contributed to the invention of photography until George Eastman created modern-day film in the 1890s.
[Related: Maker's Medium: Student artist exemplifies powerful potential of charcoal through her drawings]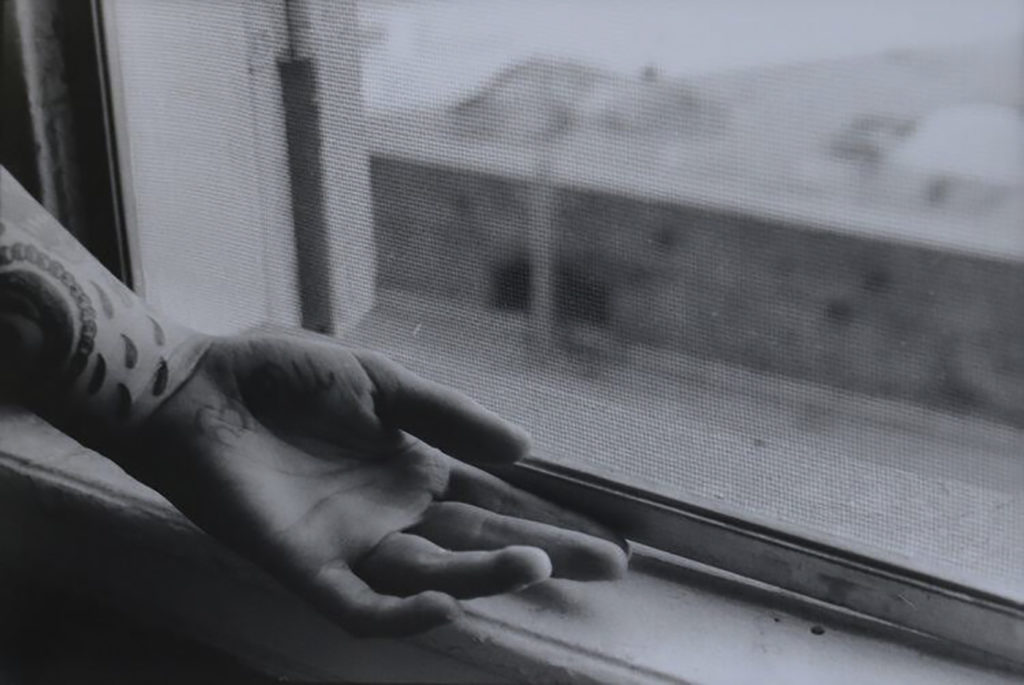 There is a warmer quality to film that digital photography can lack, Poerschke said. She enjoys printing in the darkroom, which she said is a different experience compared to sitting on a laptop editing photos. Photography Lab Supervisor Valerie Green said students developing film in the darkroom learn to focus and to be present with the physicality of the process. While traditional film photography was once considered superior to digital, Green said that is not so much the case anymore.
"(Both analog and digital) exist together and they inform each other and there's different characteristics of each," Green said. "I think what really matters is the image and the content and the concept … (film photography) slows you down, and you think about composition more."
The majority of Poerschke's work focuses on psychological spaces, identity and her experiences as a person with bipolar disorder. She said she is inspired by the surrealists of the early 1900s and uses techniques the movement revolutionized, including layering two negatives on top of each other. Photography comes down to curating an atmosphere, which she said can be done by manipulating exposure time. Art history professor George Baker said he sees the influence of surrealism on Poerschke's work, which focuses on identity as an idea more than on portrait as a category.
"Surrealism was deeply interested in the fact that photography was tied to real bodies, real spaces (and) real objects," Baker said. "But (surrealists) could make us see them in a different way, or see them as being beyond just their realness."
[Related: Maker's Medium: Art student explores the wonders of watercolor through familial portraits]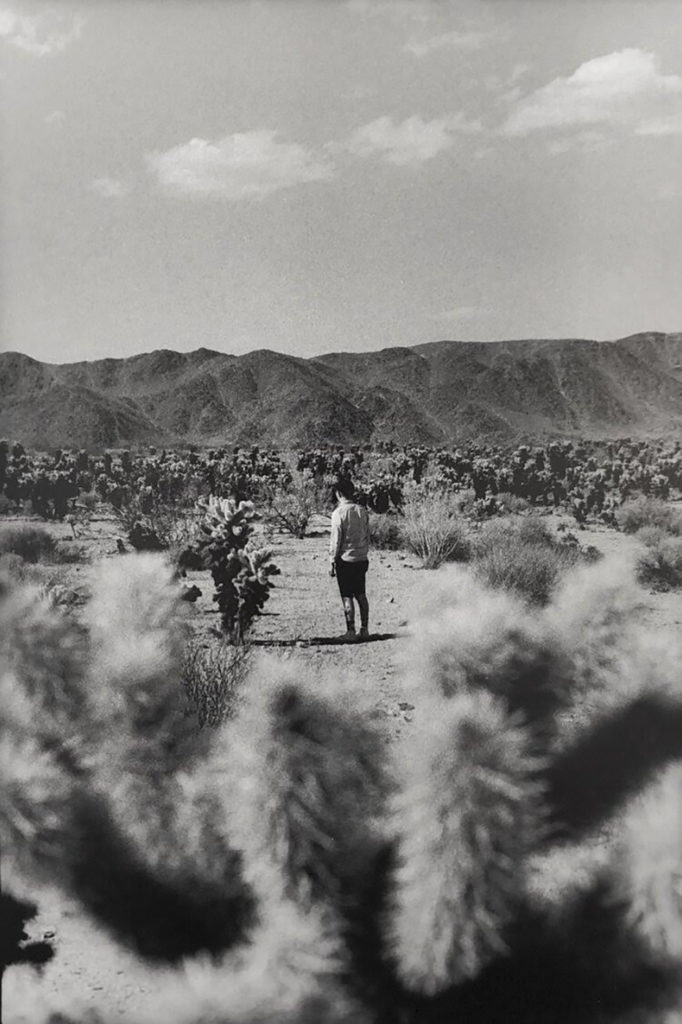 In particular, Baker said Poerschke's photograph, "Tender," evokes the surrealist artist Man Ray. With this image, Poerschke said she was focusing on light, shadow and the geometry of figures. The organic shapes of the hand mimic the sharp lines of the buildings and window sill while still remaining natural. Green said there is a connection between a physical plane and a pictorial plane in "Tender," where the window is used to frame the landscape in the background. The composition achieved through framing is important for Poerschke's work as it can create visual interest and atmosphere.
"Visually (framing) can create a little more intrigue," Poerschke said. "In the photos I have from Joshua Tree, having the figure centered but also really far away … (with the) organic yet sharp forms in the foreground somewhat abstracting the landscape."
This image, titled "Joshua Tree," is evidence that Poerschke knows how to use depth of field, foreground and background to play off each other, Green said. The influence of surrealism is also present in "Joshua Tree," a desert landscape that seems beyond normal everyday life, Baker said. Alternatively, images taken indoors can be a metaphor for the space inside one's mind, he said. While a photograph may question reality in its themes and through manipulation in the darkroom, Baker said film photography maintains a direct physical connection to the world.
The medium is even further stripped down in Poerschke's work, which she said is absent of color to highlight her psychologically charged themes. Poerschke invites introspection with her themes as well as with her uniquely laborious medium of analog photography. Worldwide, people have taken a total of over one trillion photographs – a staggering quantity that Green said might push people toward the slower, more manual practice of analog photography.
"I don't think you can ignore the way an image is produced, but at the same time, when it comes down to it, it's about the final image that you're seeing," Green said. "I think the medium, or the technical process, is always part of the concept."