Gyza Gold promotes wellness with vegan skincare, metaphysical products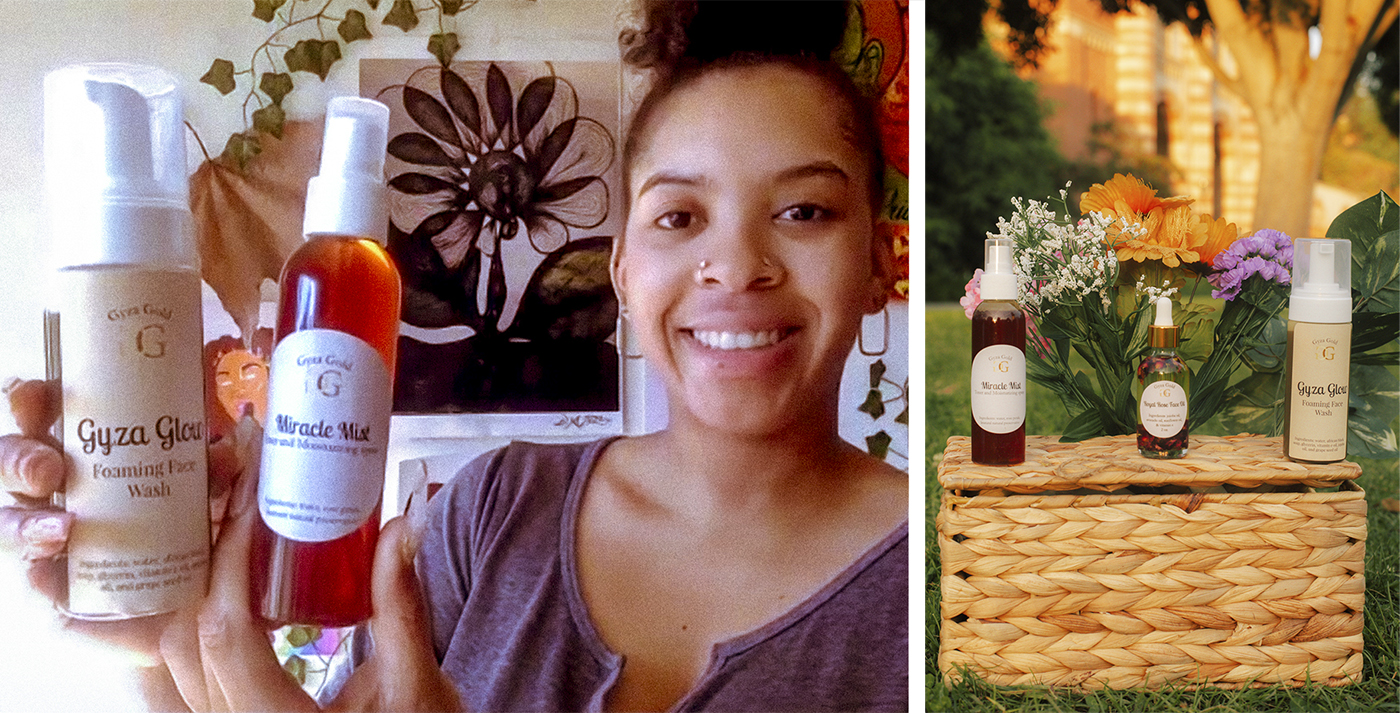 McCruter said she oversees every aspect of Gyza Gold, including product development, graphic and web design, social media and shipping. While establishing the brand, she said she took inspiration from the Pyramids of Giza for its name to pay homage to being a Black woman – but changed the spelling and pronunciation. (Left to right: Harold Lee/Daily Bruin, courtesy of Sydney Cattouse)
Gia McCruter is bringing environmental awareness to often mindless skin care routines.
The third-year sociology student said she founded Gyza Gold, a natural, homemade skin care line and metaphysical online store because of her desire to find products that would not irritate her sensitive skin. In June, she adopted a vegan diet to help her skin, and since she couldn't use products with fragrance, she started making her own – leading to the creation of Gyza Gold. As the owner and CEO, McCruter said she oversees every aspect of her company – including product development, product launching, graphic and web design, social media, photoshoots and shipping.
"(The name) Gyza Gold is supposed to be like all my products are golden products," McCruter said. "Treat your skin care like gold; treat yourself like gold."
[Related: Student creates jewelry business to honor heritage, relieve stress]
Since the inception of the brand, Sam Mazariegos, a third-year human biology and society student, has been one of McCruter's supporters. She first purchased the peppermint lavender body butter, which she said is her favorite item because she likes the way both scents come together and how it makes her skin feel. She also has been able to see McCruter incorporate new ideas into her brand, Mazariegos said.
"It's been really inspiring to see (McCruter) put everything together because she'll literally come up with 30 different ideas, and one way or another, she's going to get all of them done," Mazariegos said. "So it's just been really cool to see her build up her brand and watching it grow."
As she develops her brand, McCruter is continuing to make homemade products with natural ingredients while transitioning to offering exclusively vegan products. She said plant-based products are more sustainable and have health advantages like containing more vitamins and being better suited for sensitive skin, according to Today. It is also important to her that her company is mindful of what kinds and quantities of resources are used in the production, she said.
McCruter's carefully packaged skin care products range from face washes, oils and toners to lip oil. She has also launched The Glo-Up Line Kit, which includes a face wash, toner and face oil, and The Fall Collection, which includes candles, body butters, a lash and brows serum and a scrub. She said the peppermint lavender body butter – her personal favorite and first product that she produced – and the Rosey Lip Oil – a roll-on, four-oil blend – are her best selling items. Customers also have the opportunity to ask for their products to be fragrance-free at checkout, McCruter said.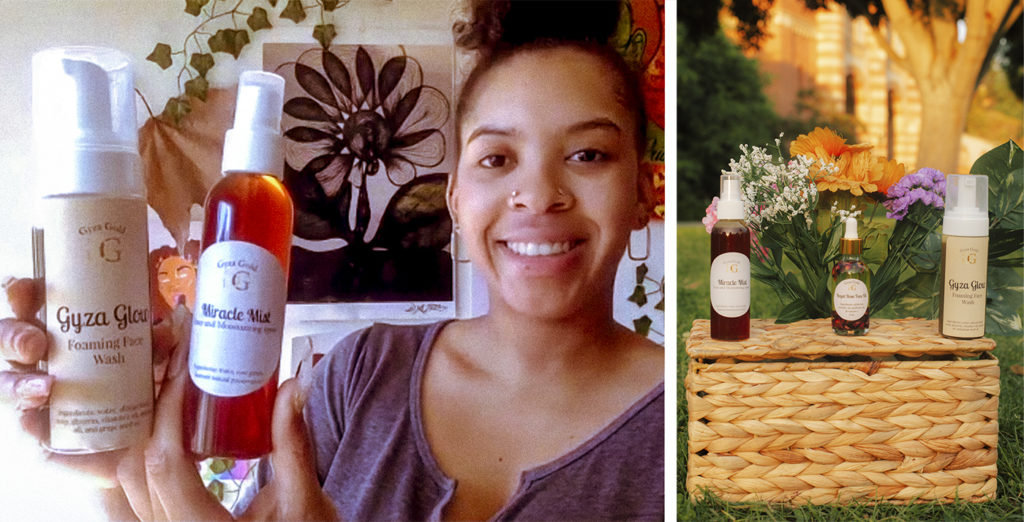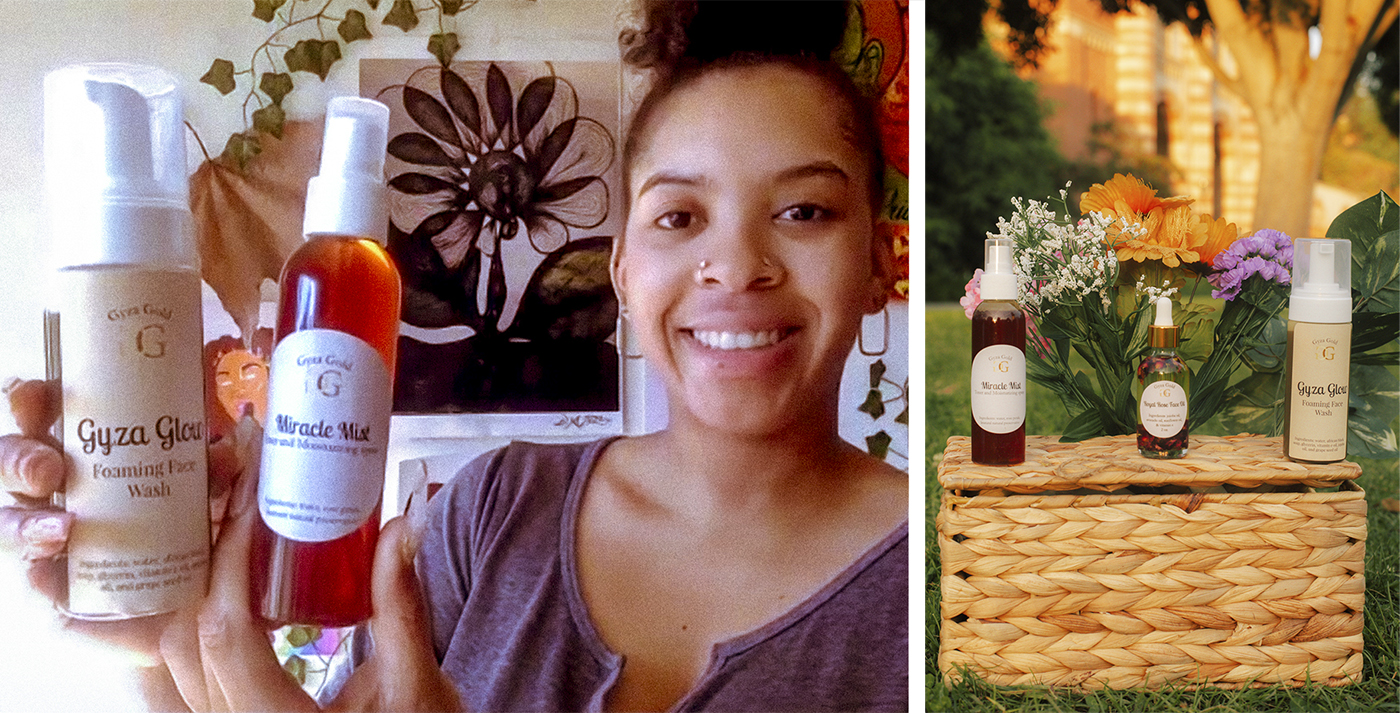 [Related: Student combines art with business to create, sell personalized stickers]
While the brand has a variety of customers, many are UCLA students. Aseniq Shahid-Williams, a third-year human biology and society student, has purchased many products from Gyza Gold and uses them every day. She said her favorite products are the rose facial oil, which moisturizes her dry skin, and the shea butter because of its consistency and durability.
"I love her brand," Shahid-Williams said. "I love that it's Black-owned … (McCruter) works really hard at her marketing and she puts a lot of her work into it. It's really important to support small businesses, especially the ones owned by college-aged Black women, especially because she's doing this at the same time as school and everything, (which) can be a little hard."
Gyza Gold does not limit itself to skin care items, however, as its metaphysical products include handmade crystal jewelry, candles and sage sticks – each with its own distinct purpose and benefits. For example, McCruter said lighting a candle can help set monthly intentions, and the crystals and aromatherapy aid with the body's natural healing process.
As she grows her brand, McCruter said she is developing new products stemming from her interest in herbs, like herbal mixes, which can be used for tea.
Each aspect of McCruter's brand was made with intention – from the products to the name. McCruter said she created her brand's name, Gyza Gold, by starting with the logo – two interlocking Gs. She said she chose Gyza from the Pyramids of Giza to pay homage to being a Black woman but changed its spelling and pronunciation as she liked how it sounded. She also wants all her products to be valued like gold and for customers to know there is meaning behind each one, she said.
"(The name Gyza Gold) gives value, not only to me and my company but also my products," McCruter said. "Everything that I'm making I view as valuable, so I just want other people to view it as valuable too."