Life and Hip-Hop: Global influences on genre unite artists to impact sound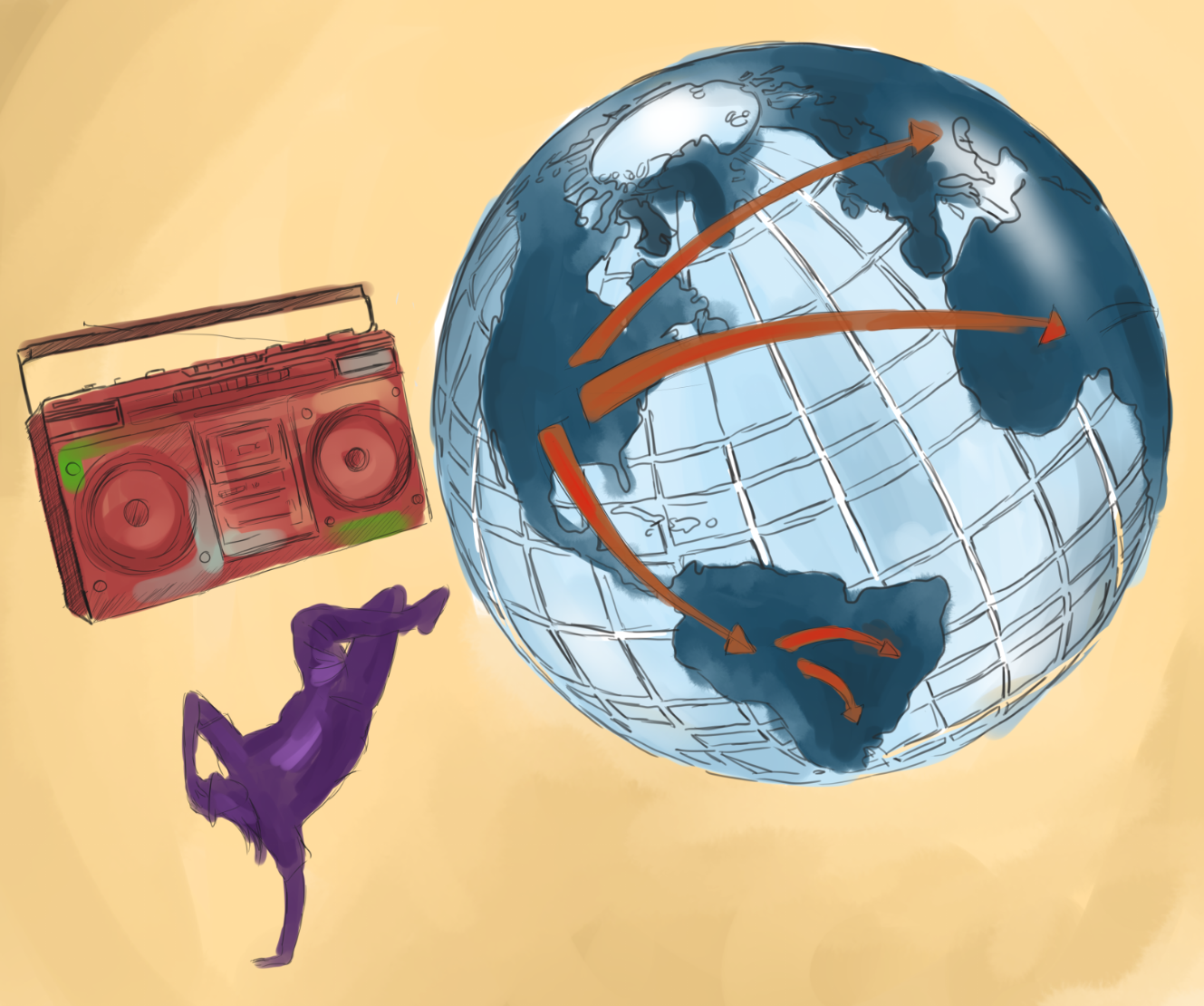 (Vaibhavi Patankar/Daily Bruin)
The impact of music extends far beyond the play and pause buttons. Formed in the 1970s as an underground movement, hip-hop has expanded into various art forms and musical sub-genres – with rap specifically being one of the most popular musical styles among today's youth. In "Life and Hip-Hop," columnists Natalie Brown and EJ Panaligan explore and analyze how hip-hop intersects with and influences everyday aspects of life.

Hip-hop is everywhere.
Traversing the world's oceans and landing upon almost every continent, the cultural phenomenon of hip-hop manifests itself in numerous aspects well beyond music. Originally an American movement, hip-hop has left an impact on the regional musical stylings of many countries and vice versa. In both the United Kingdom and Senegal, hip-hop artists are tailoring the genre to speak to their experiences for a broader international audience.
British hip-hop journalist David Bennun said the spread of American rap music to the U.K. was twofold, disseminating itself both commercially and culturally. Early on, many artists who were popular in the United States were not promoted by their respective record companies in the United Kingdom – to obtain American hip-hop records across the Atlantic, listeners needed to visit a specialist record shop. With British hip-hop artists like The Ruthless Rap Assassins and labels like Kold Sweat rising to popularity in the early '90s, Bennun said it took a while for the U.K. music industry to capitalize on rap's profitability.
"It wasn't until the mid-'90s, when you (got) those blockbuster stars coming out of the States and record companies realize that this (music) can work on a global market, that you actually see the music industry getting behind rap music globally," Bennun said.
Up until the mid-'90s, much of U.K. rap was derivative of American rap. Only in the last 15 years has the U.K. been able to develop a distinctive rap sound, he said. With the exception of trip-hop's popularization, the most well-known export of British rap music is grime. Characterized by its jagged tone and distinct Black British accent, Bennun said grime music paved the way for many British artists to achieve success within the American music industry without having to imitate an American sound.
"(British) rappers became confident using their own voices – both literally and metaphorically – and confident talking about their own worlds and experiences," Bennun said. "In this century and since the mid-'90s, (British hip-hop has) become very confident, very assertive, very self-consciously British and that has been a really big change."
[Related: Life and Hip-Hop: Young artists discuss impacts of social media on music journeys]
Aside from the U.K., Senegal is another country where American hip-hop music has made a large impact. Interviewing local Senegalese rappers for the documentary "United Nations of Hip Hop," co-producer Esther Baker-Tarpaga said the spread of hip-hop was physical – traveling through the airwaves to other countries.
"There's always been the circulation of sound in the Black Atlantic like (historian) Paul Gilroy talks about, so it's just a matter of how it was distributed," Baker-Tarpaga said. "(This hip-hop sound traveled) mainly through cassettes and the radio."
Similar to the phenomenon of U.K. hip-hop artists emulating an American sound, there was an initial resistance from early Senegalese hip-hop artists to incorporate their own culture into their music, Baker-Tarpaga said. However, as the popularity of hip-hop began to increase, she said there was greater incorporation of the local stylings of Senegal's many different ethnic groups. Artists began to rap in various languages like Wolof and incorporate traditional instruments like the West African kora, tamak drum and sabar drum into their music.
Though popular hip-hop artists with Senegalese roots such as Akon have been able to succeed in the American music industry, Baker-Tarpaga said there is little artistic crossover from people who are born and raised in Senegal. She said the language barrier accounts for the predominantly local Senegalese hip-hop listenership. The colonial histories of Senegal and other African countries also dictate to where exactly each regional form of hip-hop is spread.
"Today you see a lot of Nigerians and English-speaking artists coming into (the American and British music industries), but the French-speaking artists (from previous French colonies like Senegal) will go to France," Baker-Tarpaga said.
[Related: Life and Hip-Hop: Nipsey Hussle's legacy of resisting gentrification in birthplaces of music]
This difference in language is not the only thing that halts the flow of international music, said graduate ethnomusicology student Lucas Avidan. The reluctance of American consumers to listen to non-American artists affects the spread of local hip-hop stylings as well. One of the ways audiences are inspired to access other hip-hop scenes is through mainstream artists, such as Drake, collaborating with international artists, he said. Through their consistent collaborations with American artists, international rappers, like Bad Bunny and Skepta, have gained a large following of American listeners.
However, regardless of country or regional specificity, Avidan said there is a common thread that unites hip-hop together: a progressive youth-oriented voice. This voice encourages listeners and artists alike to take a stock template of youth identity and craft it into their own sounds and concepts, he said.
"Locally, hip-hop is popular because it speaks to a love of culture, but internationally, it has this general (anti-authoritarian stance)," Avidan said. "That's why (hip-hop) appeals to so many listeners."