Op-ed: USAC EVP office calls for a California budget more committed to student needs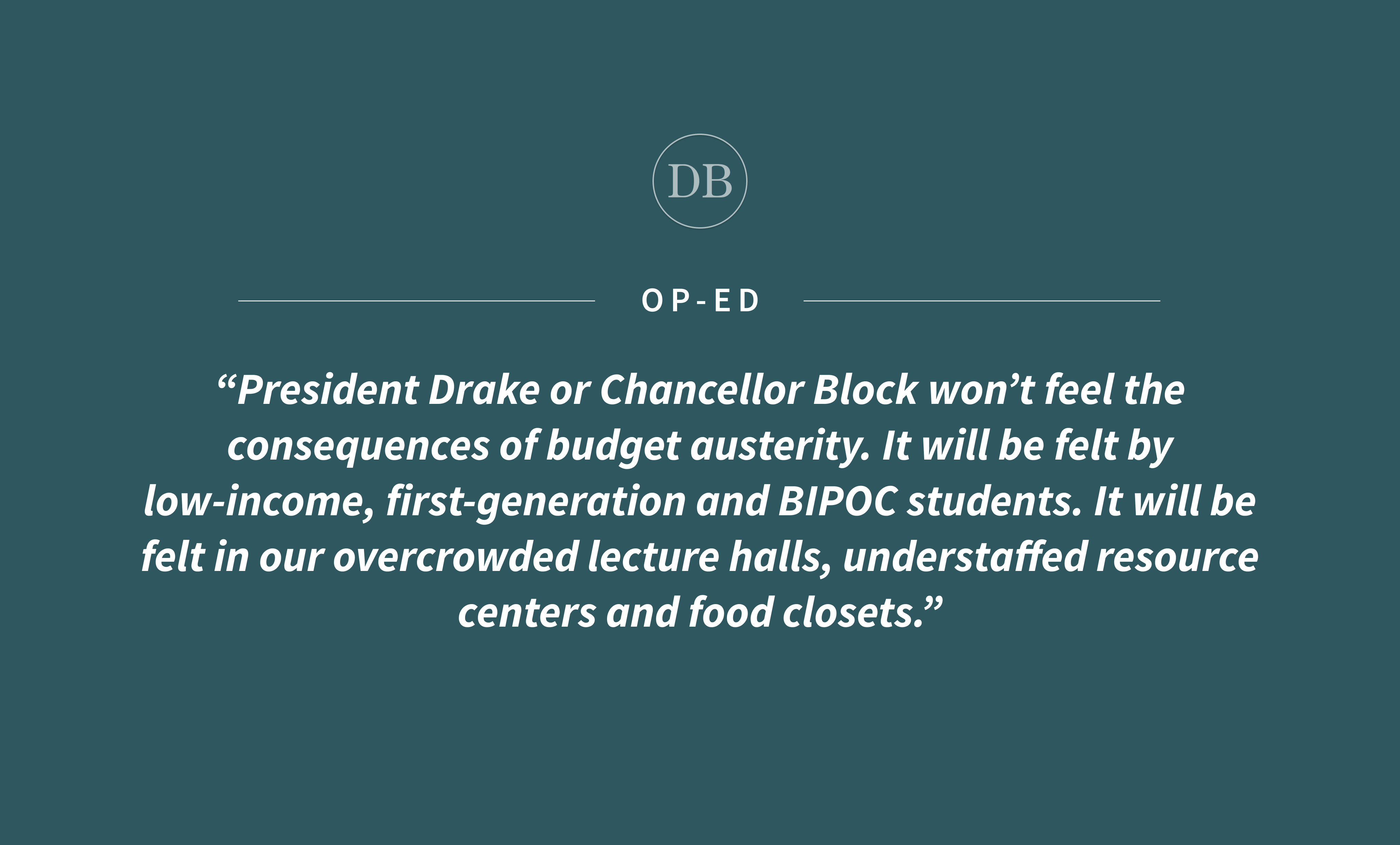 Project Students for Progress in Employee Language Learning, Bruin Excellence and Student Transformation Grant Program and First To Go were just a handful of UCLA community programs whose operating budgets were slashed last year when the California Legislature stared down a $54 billion COVID-19-induced deficit.
Now, we call on Gov. Gavin Newsom and state legislators to craft a state budget that not only reinvests in these community programs, but also fully invests in combating our three epidemics at the University of California: COVID-19, rising tuition and systemic racism.
Newsom's recently unveiled fiscal year 2021-2022 budget proposal is a promising start. At the Undergraduate Students Association Council Office of the External Vice President, we are pleased that Newsom's proposal incorporates many of the EVP and UC Student Association priorities we have been advocating for in recent lobby meetings with state legislators and legislative staff.
The budget framework offers remedies for current financial, technological and health insecurities. Newsom's proposal appropriates ongoing funding for Native American medical services, student basic needs, including digital equity and mental health, and one time investments in emergency and summer financial aid.
Higher education advocates have lauded these novel investments as a first step in the right direction. Maybe, Sacramento has, at last, warmed up to the idea of investing in student access and success.
But it's a baby step – one that our campus advocates have long been agitating for. These systemic and compounding issues are not new for students of color at UCLA. It appears that lawmakers only walk the walk when confronted with a once-a-century pandemic, global racial reckoning movement and financial crisis all in the same year.
Our EVP office will continue to pressure lawmakers to incorporate line items not listed in Newsom's proposal. Financial aid explicitly earmarked for undocumented students, especially our non-Deferred Action for Childhood Arrivals and non-Assembly Bill 540 peers, will provide critical relief for students who are ineligible for many types of state and federal aid, and who have disproportionately shouldered the burden of our health and financial crises.
In the wake of the failure of Proposition 16 in 2020, our office is also advocating for greater ongoing investment in the Student Academic Preparation and Educational Partnership Programs, which close K-12 achievement gaps in underserved California communities to improve educational equity and dismantle access barriers to the UC.
At the end of the day, the state legislature must also substantially restore funding cuts to the UC's base operating budget, the largest chunk of our systemwide funding. The proposed $136 million, or 3% increase in the General Fund is an encouraging start, but when contextualized in the UC's unprecedented 2020 budget woes, is subsistent. Amid rising operating costs and nearly $2 billion – with a "B" – in revenue shortfalls during the first five months of remote learning, the legislature added insult to injury when it gouged the UC's 2020-2021 budget by more than $300 million.
Newsom's 3% core increase for FY 2021-2022 is like slapping a Band-Aid on a bullet wound. It's also, frankly, myopic. Greater funding would not only offset short-term budgetary deficits, but also provide long term and stable funding to address historic inequities in higher education. Lawmakers could permanently open the doors of Project SPELL and First To Go, which support English as a second language workers and the retention of first-generation Bruins. They could also prevent tuition hikes as low-income Californians reel from the effects of this recession for years to come, and additionally, they can work to restore confidence in campus mental health resources through actionable legislation.
UC President Michael Drake or Chancellor Gene Block won't feel the consequences of budget austerity. It will be felt by low-income, first-generation, Black and Indigenous students and students of color. It will be felt in our overcrowded lecture halls, understaffed resource centers and food closets.
This upcoming budget cycle is a litmus test of genuine care and concern toward students for lawmakers, regents and campus administrators.
To the five UC chancellors who supported tuition hikes in December: Students should no longer foot these bills. For years, the state has abdicated its responsibility to the safety and success of our most marginalized campus communities. It's time for Newsom and the legislature to put our money where their mouths are.
That starts with a 2021-2022 California budget that reflects greater commitment to digital access, health equity and affordability in higher education.
Feiner is the director of state relations for the USAC Office of the External Vice President and a second-year political science and economics student.
Saginaw is a state relations staffer for the USAC Office of the External Vice President and a third-year political science student.