Maker's Medium: Student artist exemplifies powerful potential of charcoal through her drawings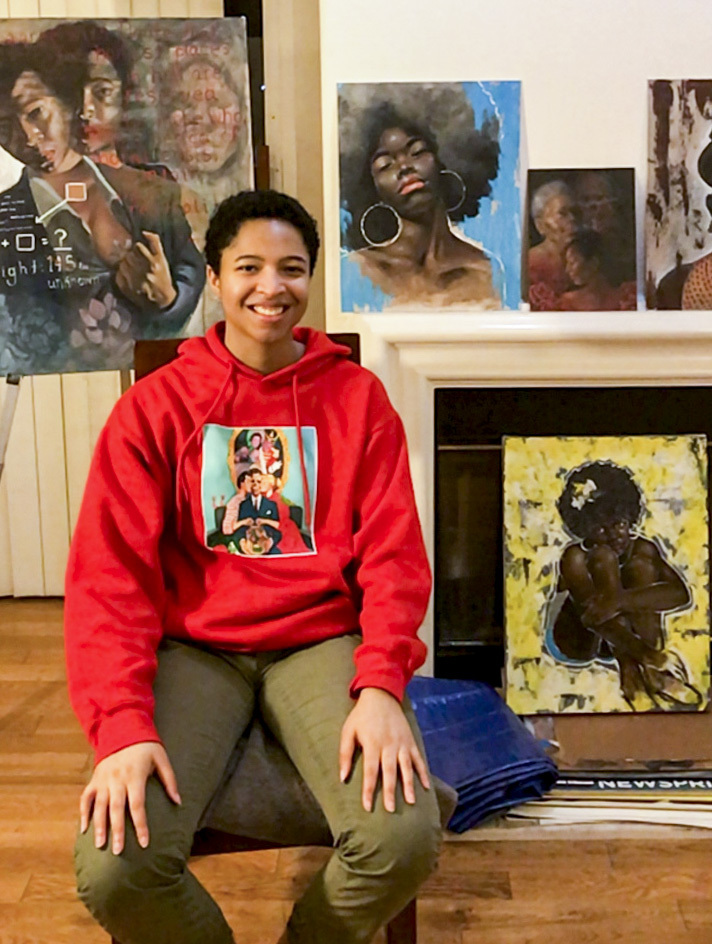 Second-year art student Ana Belcher uses charcoal as her medium of choice. The material is capable of creating sharp contrasts between light and dark, a technique known as chiaroscuro. (Ella Barnes/Daily Bruin)
The mastery of materials is fundamental to the artistic process and the career goal of any artist in their chosen medium. Every method requires a different skill set and can evoke different reactions in viewers. Follow columnist David Egan in "Maker's Medium" as he highlights the mediums of the fine arts by profiling a different undergraduate art student each week.

Ana Belcher is recasting light from the fire that created her charcoal.
A second-year art student, Belcher said she has been interested in art since second grade when her mother enrolled her in classes focused on teaching the techniques of the Old Masters. The classes taught her the fundamentals of charcoal drawing when she was in fourth grade, and she has been using the medium ever since. A recipient of the UCLA Department of Art scholarship award, Belcher has made portraits with charcoal during her time as a student.
"I really enjoy using charcoal (and) the depth you can achieve with the medium … (in) contrast, shadow and light," Belcher said. "It's really enjoyable, but at the same time it's kind of hard. … If you apply it too hard into a sheet of paper, … it's going to be harder for it to come off with an eraser."
Most charcoal – including the vine charcoal Belcher uses – can be erased if applied lightly enough. This is because it is composed of large particles with no binder substance. Charcoal is elemental, the debris of animal and vegetable substances – wood, bone or twigs – slowly burnt in a vessel with no oxygen, and its use has been confirmed in prehistoric cave drawings from Altamira and Niaux. Printmaking lecturer Jacob Samuel said Belcher's use of charcoal creates a sense of drama, and contrasted her work to drawings in the same medium made by 20th century artists Henri Matisse and Pablo Picasso.
"When you're looking at … work in the early part of the century, the artists are deliberately leaving traces of their (artistic) process," Samuel said. "(Belcher) isn't really doing that. She has a very good idea of what she's going for, probably because she is working from a photograph."
[Related: 'Made In L.A. 2020: a version' to feature work by local artists in 2 LA exhibits]
Belcher indeed worked from photographs, including for her pieces "03/03/03" and "Self-Loathing Self-Portrait." The former shows her twin sisters – whose birthdays give the drawing its title – while the latter depicts herself four times, twice in front and twice faded out in the background. She said the figures are representations of her subconscious, warped – they do not look like her, but she sees them as herself. Belcher used charcoal for these drawings because she said there is a certain seriousness in the medium.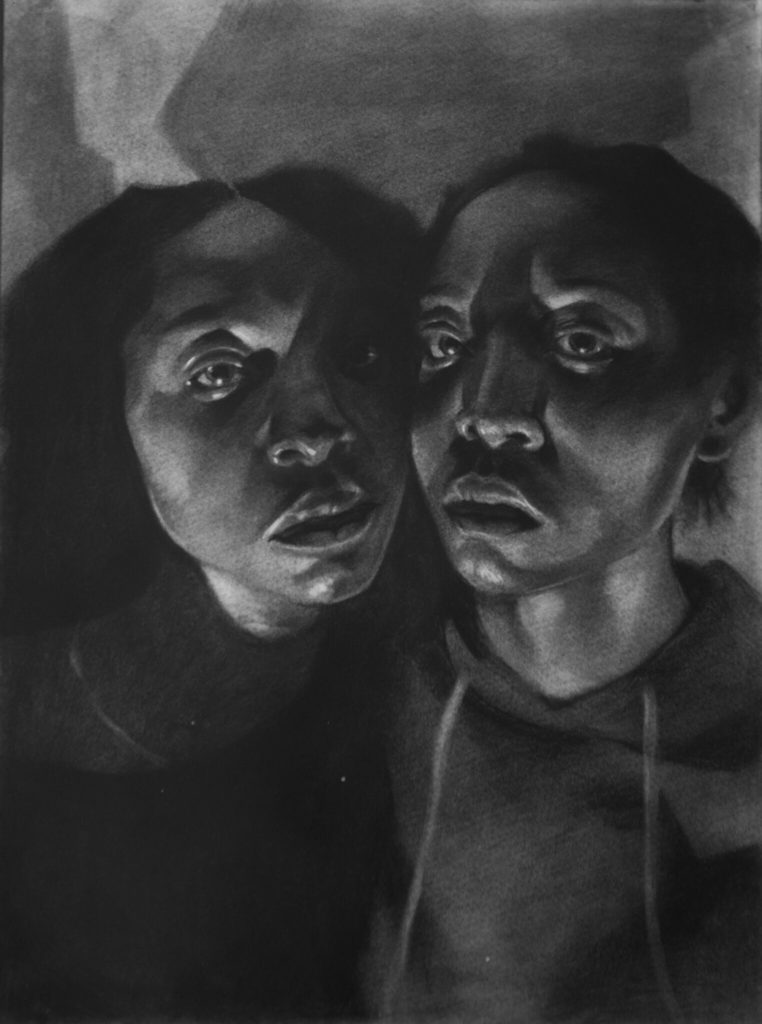 Charcoal drawing is an effective way to create dramatic lights and shadows, said mixed media assistant professor Candice Lin. Student artists who use charcoal on white paper can sometimes miss middle values on the lighting scale, she said. Charcoal allows artists to be more selective of where to place highlights when starting with a toned paper or covering the paper with an initial shade of gray as Belcher seems to do, Lin said.
"There's such a haunting use of shadow and light to create a sense of mysteriousness," Lin said. "In ('03/03/03′) it looks like (the subjects are) witnessing something by candlelight; … there's a lot of emotional impact that I get when I see them."
This treatment of light, Samuel said, is a classic technique called chiaroscuro, employed by artists like Rembrandt and Leonardo da Vinci. Lin said charcoal drawings are powerful for setting a mood that is evoked through a sense of light. The chiaroscuro is done powerfully in Belcher's work because it foregrounds expressions of solemn witnessing, Lin said – the figures, with the seriousness of their expressions, are not letting what they see pass by unmarked.
[Related: Maker's Medium: Art student explores the wonders of watercolor through familial portraits]
Belcher said her drawings tend to come off as dramatic, and while she does not mind this, she said she risks taking herself too seriously and becoming narcissistic in what she tries to express. Because Belcher is not a serious person in her everyday life, she said she finds that outlet in her artwork, which covers themes of identity and her self representation as African American. The medium is the message, too; as Belcher said, the application of charcoal itself gives insight into what an artist's emotions are and what they are trying to convey.
"Application is everything," Belcher said. "It's different for every person. I feel like nobody can apply charcoal the same way as somebody else – it's almost part of your identity."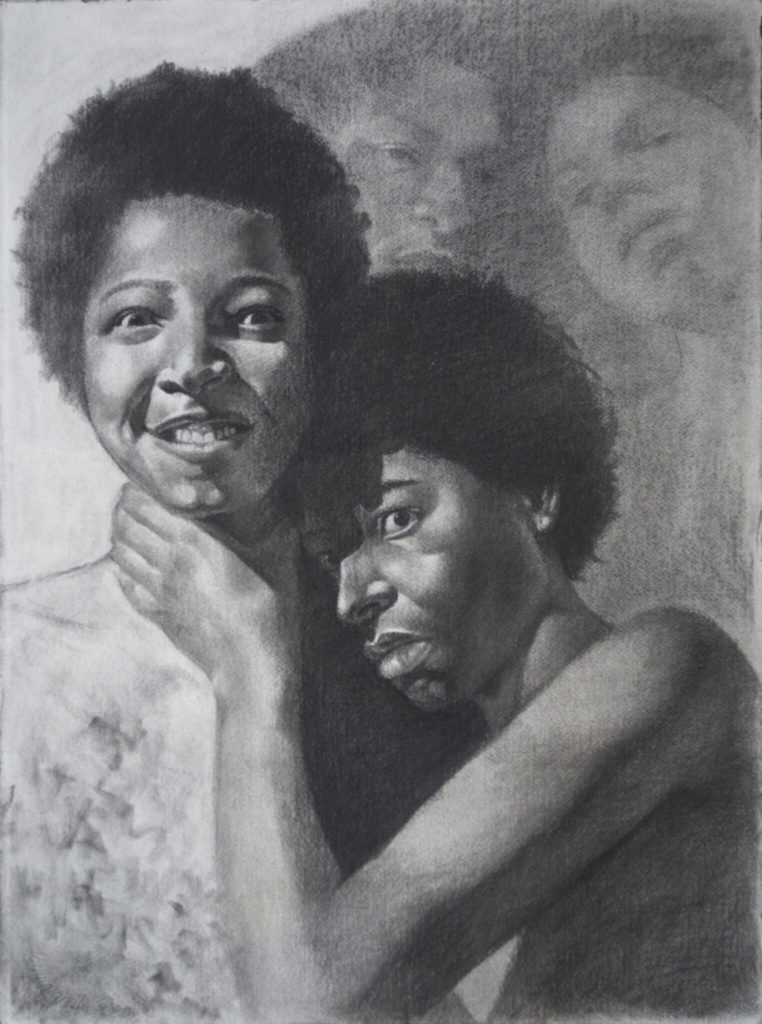 In terms of the application of material, Samuel compared charcoal to graphite, another medium for drawing, saying work produced using both materials depends on how an artist touches the paper, he said. Touch can be learned, but it is also a gift. To have consistent touch requires an extraordinary amount of concentration and physical control, Samuel said. Belcher has that degree of control – while still experimenting, she highlights and shapes the form in a way that is very traditional, he said.
Charcoal can also be easily made at home, Lin said. During the isolation of the pandemic, she said many students are considering the elemental nature of the art materials they use. Lin said it is valuable to consider what context certain materials are connected to, and for artists to create images that question those histories.
"This time period has been a time of reconnection for students, not only to their priorities in life and what matters, but also what it means to be an artist," Lin said.