The Bruin Gastronomer: Cacio e pepe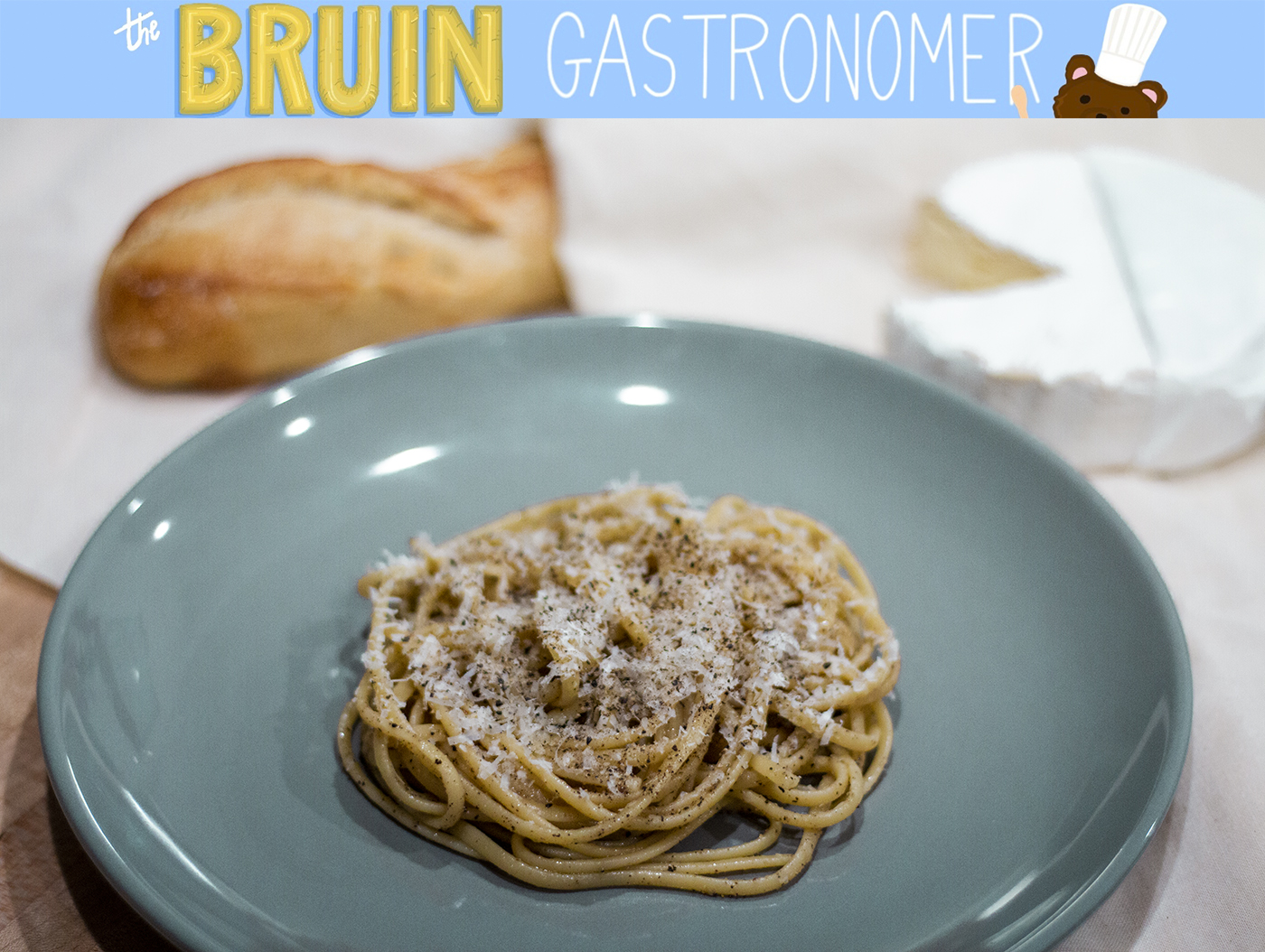 (Photo by Keaton Larson/Daily Bruin, photo illustration by Emily Dembinski/Illustrations director)
Cooking in college can be daunting. The Bruin Gastronomer aims to give students the knowledge and tools to cook affordable, simple and delicious meals that will fill brains and bellies alike.
Cacio e pepe
There is simply nothing better than the comforting, carb-filled glory that is pasta. Well, maybe there is, but our love for pasta leaves us aloof to new foods fighting for their spots on the mantel.
Though there are specific rules and guidelines understood in the culinary world — for instance, using tagliatelle for meat sauces and angel hair for lighter dishes — college students like myself resign to our sole urge for a satisfying meal without the fuss. Cacio e pepe (which translates to cheese and pepper) is the perfect dish to achieve this goal, with only a handful of ingredients and a cook time of 15 minutes.
But first, there are a few tips that can make any pasta you cook better, and you'll be grateful to know them.
The first tip is salt. This ingredient is invaluable when making pasta. When preparing the pot of water to boil pasta, add a generous amount of salt – perhaps two large palmfuls – to start.
Here's where the second tip comes in. Tasting everything while you cook is important. Your pot of water should taste as salty as the ocean (don't worry — not all of this salt ends up in the final product). But the taste testing doesn't stop there. It should be done at every step of the cooking process: taste the sauce, taste after adding your pasta and taste when you add ingredients like cheese or different acids.
The final tip is to use acidic ingredients like vinegars or lemon juice. Adding a little acid to your pasta when it's almost ready can help the dish pop and liven up. For example, adding a capful of red wine vinegar to a meat sauce or white wine vinegar to a lighter one can be the cherry on top.
Ingredients
1/2 pound of your favorite long pasta
1 cup Murray's grated Pecorino Romano cheese (found at Ralphs)
1 teaspoon ground black pepper, plus more for garnish
3 tablespoons olive oil (the better the olive oil, the better the dish)
1 capful white wine vinegar
Salt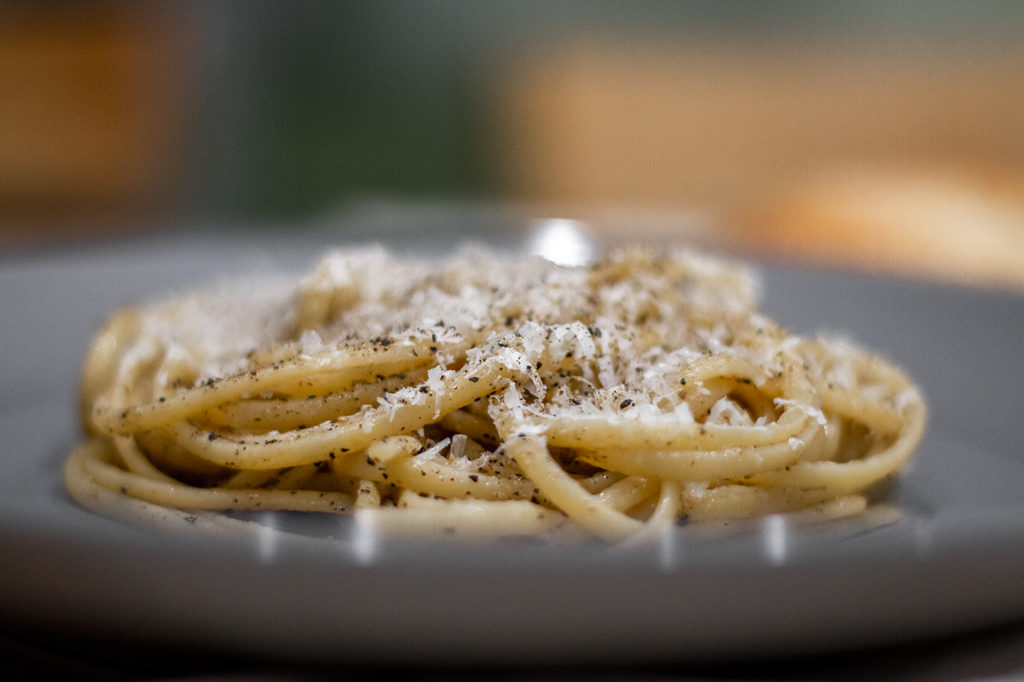 Pecorino Romano cheese is the traditional cheese used for cacio e pepe, but others could work too. Parmigiano-Reggiano is a good substitute if you can shell out the price. Ralphs carries a Kroger Brand mix of Parmesan and Romano that works well. If you have a block of cheese, shred it to add to the pasta in phases.
There are so many types of long noodles, but my favorite type of pasta is tagliatelle. Any long noodle, like spaghetti or linguine, would be fine.
Instructions
Bring a large pot of water to a boil, adding about two to three palmfuls of salt, depending on the size of your pot.
Once the water is boiling aggressively, add the pasta. Stir the noodles around every few minutes to reduce sticking.
Boil the noodles for around eight to 10 minutes. The cooking time varies depending on the pasta type, so make sure to taste for texture. The noodles should have a little bite and resistance to them.
When the pasta is one to two minutes from finishing, heat a pan on medium heat. After about a minute or two, add olive oil to the pan and swirl. Add ground black pepper to the oil and continue cooking for a minute.
Before draining your pasta, save about one cup of pasta water. When the pasta is ready, drain it and place the noodles in your pan. Add half a cup of previously saved pasta water. Reduce the heat to medium-low.
Gradually add the cheese (and more pasta water if necessary), tossing and flipping the pasta in the pan for about two minutes, or until the sauce reaches a creamy, sticky consistency rather than a clumpy one. If the sauce is too dry, add more water; if it is too watery, add more cheese.
Add the capful of vinegar and season with more black pepper. Remove the pasta from heat and enjoy.