Identical twin sisters double as bandmates in musical group Braemore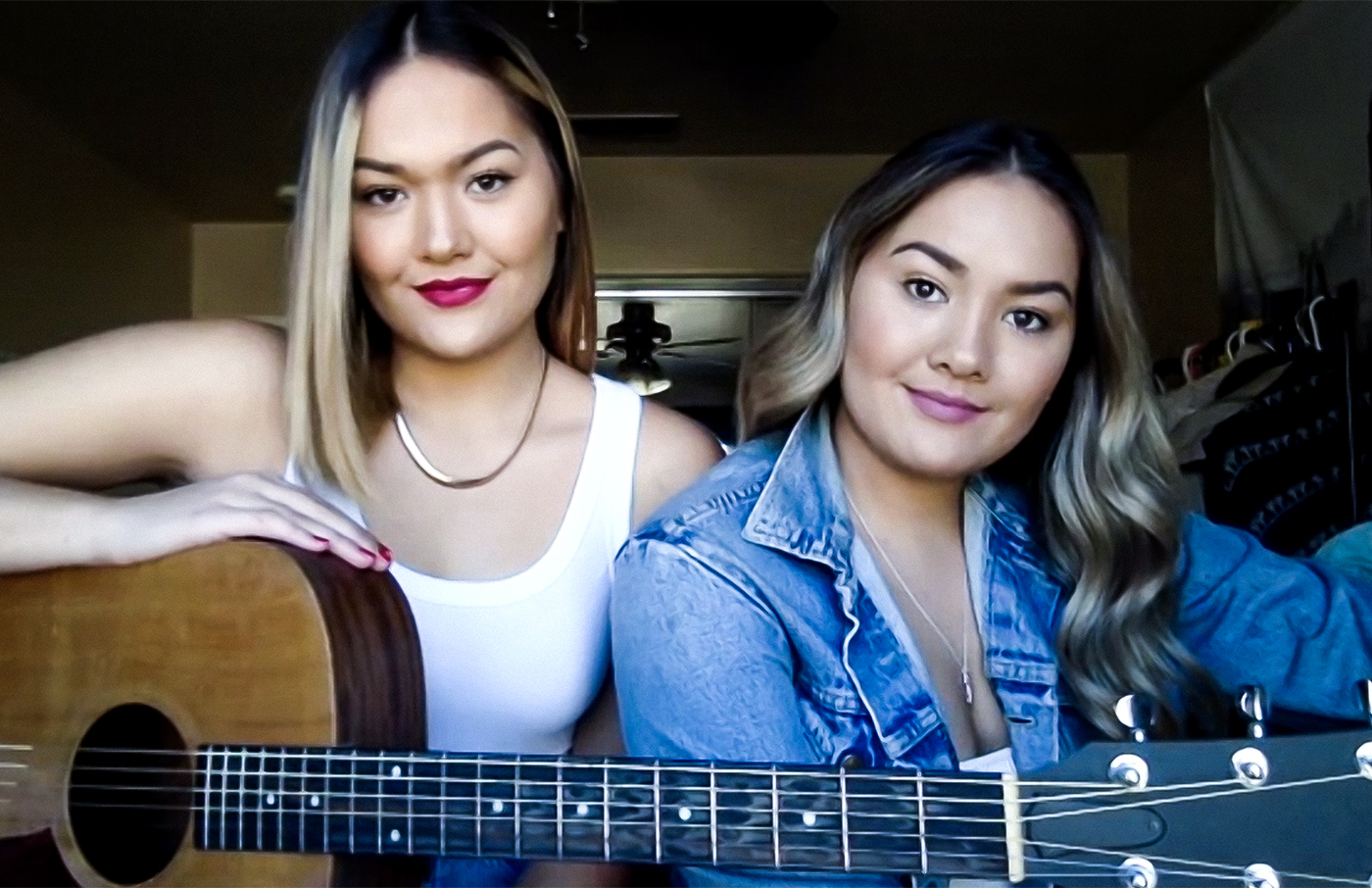 Alumnae and twins April and Taylor Adams are the frontwomen of alternative pop band Braemore. The two have been making music together since they were little and are currently working on writing new songs. (Anna Syed/Daily Bruin)
The Adams twins are proving to the alternative pop world that two is better than one.
Identical twins and alumnae April and Taylor Adams have been performing since the age of 13. Now, as college graduates, the sisters perform onstage for venues such as Whisky a Go Go, The Bourbon Room and Avalon Hollywood as the frontwomen of Braemore, an alternative band they created back in 2016. In the absence of live performances, April said the sisters have been spending their time songwriting and planning to put together Instagram livestreams to share their new music.
"(In 2021, we) want to start recording our new songs," April said. "And then whenever it's safe, (we want) to start performing in front of an audience."
With deep tonal vocals, staccato drums and R&B rhythms, Taylor said Braemore has a bass-driven alternative sound. However, this wasn't always the case, Taylor said, as the sisters began their musical journey as an acoustic duo, covering songs and posting them on YouTube. At the time, Taylor said the two considered themselves singers, not songwriters. It was their dad who ultimately encouraged them to begin writing their own music, and now she said the duo crafts lyrics as though they are narrating stories.
"(Writing) our own music (has) become one of the best outlets for us," Taylor said. "It's one of the most fulfilling experiences we've had – making our music and hearing people like it, sing along to it and resonate with it."
[Related: Twin sister flutist duo cultivates connection through music, personal bond]
Though the twins are identical, Taylor said she believes their most prominent commonality is their music. Their relationship wouldn't be the same had one of them not been musically inclined, and music runs in the family, she said, for the sisters are not the only Adamses in the band. Their older half brother Randell Adams previously played at a summer music festival, the Vans Warped Tour, and is the current bassist for Braemore.
"My sister and I would go to (his) show and it would be the coolest thing to see people singing along to songs that our brother wrote," Taylor said.
The women garnered inspiration from their brother, wanting to also share their music with the world, Taylor said. And to do so, she said the two began to transition away from their acoustic sound, collaborating with other musicians to establish an alternative pop sound. The creation of Braemore was inevitable, because the twins knew they wanted a certain sound, and it was one that needed a band to back them, April said.
The band's drummer, Tib Van Dyke Jr., said he discovered the twins through their dad, who managed a bar where he performed. The working relationship led to his eventual involvement in Braemore, and he said the sisters work well together with their harmonies, song structure and songwriting.
Though the twins have been performing since they were young, Taylor said being a woman in the music industry has not always been easy. They haven't seen many live bands with young women, and because of this, she said she and her sister had to learn to assert themselves in the industry. The first time Braemore performed at Whisky a Go Go, workers assumed their bass player was the frontman, even though April said the twins had been the ones corresponding with the venue.
"(The workers) would assume that I didn't know how to use something on my keyboard or they would automatically go and talk to one of my bandmates, because they're all men," April said.
[Related: Sibling duo opens up to listeners in latest single 'Electric Currents']
Nonetheless, Taylor said the twins see these instances as growing experiences. Such experiences have made them realize there's no room for uncertainty in their performances – a confidence April said they exude both in the music studio and on stage.
As twins, April said the two naturally lean on each other for support. It's comforting to have Taylor next to her, and she said she thinks their identical nature gives them a "wow" factor on stage. People are intrigued with their performance, firstly because they're two women in an alternative band, and secondly because they happen to be twin sisters.
Currently, Braemore has started recording demos, as Taylor said the band hopes to use this time to produce new tracks. For them, the COVID-19 pandemic is a blessing in disguise, because April said quarantine allowed the twins to write more songs than they usually would within a regular year. For now, Taylor said the band is considering livestreaming small performances at local restaurants through Instagram.
"It's so very weird not to be on stage," Taylor said. "We really miss that. But for right now, it's just writing a lot and hopefully recording soon."