Editorial: UCLA's LGBTQ+ policies should inspire continuation of inclusive efforts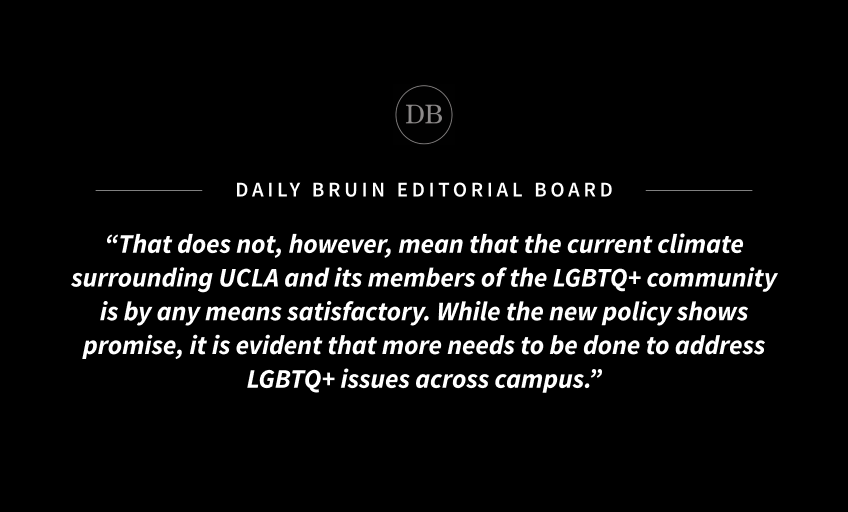 This year, UCLA ranked third in a CollegeChoice ranking of the top 50 LGBTQ+ universities. Now, it's time for the administration to live up to that ranking.
University of California President Michael Drake announced Nov. 10 that students' preferred names and gender identities will be used on university-issued documents at all UC campuses by the end of 2023.
The policy change will help to remove the unnecessary and often painful burden that comes with being referred to by a "dead name," or name associated with an assigned gender identity, for many transgender and nonbinary students.
While the change is a step in the right direction, the administration would do well to remember that UCLA still has miles to go in terms of policies and support for its LGBTQ+ student body. Despite how liberal UCLA is, LGBTQ+ students continue to grapple with discrimination in one form or another.
According to the Association of American Universities, 65.1% of all transgender, nonbinary, genderqueer or questioning undergraduate students reported experiencing sexual harassment since first enrolling at an institution. Individuals may also struggle with peers and supervisors disregarding and even dismissing their preferred pronouns.
Discrimination exists across the system. The UC is still contracted with Dignity Health, a Catholic health care nonprofit with accusations of discrimination against transgender individuals, LGBTQ+ groups and women.
The UC must understand that administrative accountability and student advocacy do not have to be mutually exclusive. Students can and should be part of developing inclusive policies and programs throughout the year, especially if administrative changes directly concern them.
However, it can be said that the university on its own has made valiant efforts to be inclusive of LGBTQ+ students in the past.
In 2017 the university allowed students to use their preferred name on their BruinCard as opposed to their legal name. In 2019, the policy progressed to remove the "legal name" field from the back of BruinCards.
These changes have increasingly allowed many students to feel accurately represented on their most important piece of UCLA identification. Now, with the move to include preferred names and gender identities on university documents, it would appear that transgender and nonbinary students have never been in a better position.
That does not, however, mean the current climate surrounding UCLA and its members of the LGBTQ+ community is by any means satisfactory. While the new policy shows promise, it is evident that more needs to be done to address LGBTQ+ issues across campus.
Student advocacy groups such as Transgender UCLA Pride have been instrumental in laying the groundwork for past changes. Partnering with these organizations would not only keep the administration in touch with students' needs but ensure they have a hand in forming a campus that's both inclusive and accountable for its actions.
Policy matters, not just on paper, but in practice. The UC would do well to remember as such.