International student enrollment drops amid pandemic, stricter immigration policies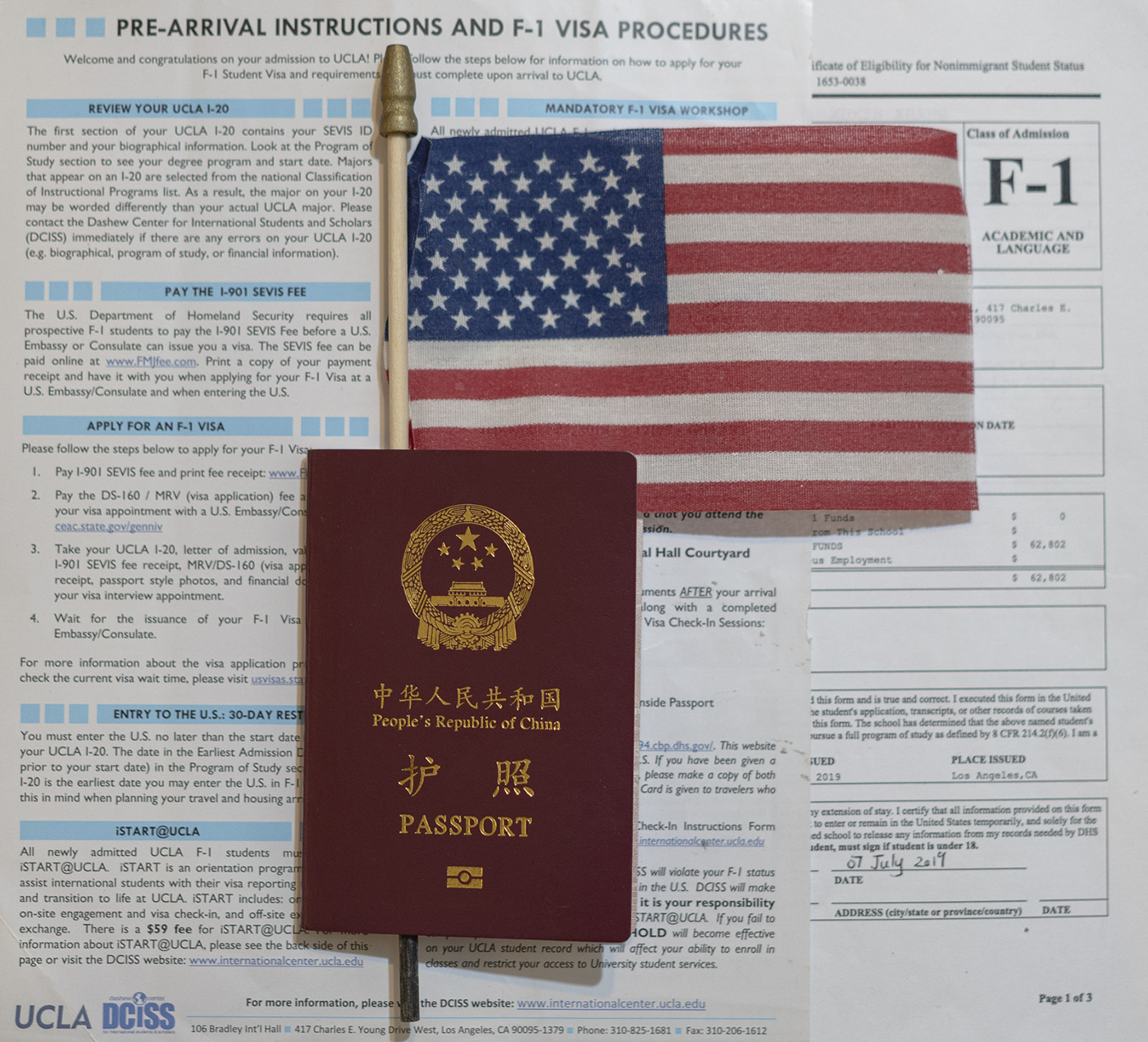 International student enrollment dropped across the United States in part because of several policy changes and uncertainty about the pandemic, UCLA faculty said. (Xuxin Zhang/Daily Bruin staff)
International student enrollment declined because of the COVID-19 pandemic and changes in government policy, UCLA faculty said.
The enrollment rate of new international students decreased nationally by more than 40% from 2019 to 2020, according to data in the Open Doors Report on International Educational Exchange. The enrollment rate for first-year international students at UCLA dropped about 1.6% from 2019 to 2020, according to data from UCLA Academic Planning and Budget.
First-year international students are unable to enter the United States unless they enroll in at least one in-person class, according to the U.S. Department of Homeland Security. This has been true for both fall and winter quarter at UCLA.
Ali Ashkanani, a first-year psychobiology student, said he may have considered other universities if he knew COVID-19 would have caused UCLA classes to be taught remotely for the year.
"(The UCLA Dashew Center for International Students and Scholars) told us to wait for January, that's probably when we would get to go, … and then they announced recently that they're going to go online for winter quarter too," Ashkanani said. "So, now we can't go, so I'm guessing we're going to go next year."
Patricia Gandara, a research professor of education, said things are very uncertain in the U.S. right now. Many students are discovering other places to study that have a cheaper tuition and less immigration restrictions, Gandara added.
"If you can't be on campus it doesn't make a lot of sense to a lot of people to make the huge investment just to be online from your own country," Gandara said.
Carlos Torres, a distinguished professor of education, said in an emailed statement that COVID-19's economic downturn makes the decision to study abroad hard since tuition for international students is triple that of in-state tuition.
"Many international students find themselves resorting to private funds to finance their studies," Torres said in the statement. "With the global economic crises, many families lack the resources that they use to have in the past to support their (children)."
Torres said international student enrollment rates were declining before the pandemic because of new government policies under the current administration that limit student visas.
"The four years of (President Donald) Trump, and his rabid nationalistic immigration policies to please a segment of his hard core base, has created an atmosphere that is not helping for foreign nationals to come," Torres said.
On June 22, Trump suspended new work visas until the end of 2020, stating that a restriction on the entry of new workers would help the American economy recover after the COVID-19 shutdown.
Gandara said the Trump administration has also changed policies that allowed students to stay in the U.S. to work after graduation.
For example, the Department of Homeland Security proposed a rule Sept. 25 that would remove the duration of status for certain visa recipients. Under the proposed rule, visa recipients would only be able to stay in the U.S. until their program's end date, according to the Dashew Center's website.
"I think that universities across the country also need to be vigilant about changes in immigration policy and making access for students abroad more welcoming," Gandara said.
Despite these challenges, UCLA remains strongly committed to supporting international students, said UCLA Admissions in an emailed statement.
Gandara said there are many advantages of having more international students at UCLA, because they pay much more in tuition which helps balance the budget and it is intellectually enriching to have a diverse student body.
"We attract a lot of very smart and talented people with our higher education institutions, so there are a number of benefits to having international students and losing them decreases those advantages," Gandara said.
Remote classes limit the ability to interact with the UCLA community and the ability to get to know peers, Ashkanani said.
"I feel like since I barely know anybody, now I couldn't make friends or meet people in class," Ashkanani said. "When I have assignments or homework or (when) I need any kind of help, it's really difficult to just talk to anybody."
Gandara said there is still a lot of uncertainty about when the campus will open and how the international enrollment rate will change once the pandemic is over.
"Hopefully by next fall we're back to pretty much normal and things will be bouncing back," Gandara said.