Faculty discuss potential impacts of visa restrictions on United States and UCLA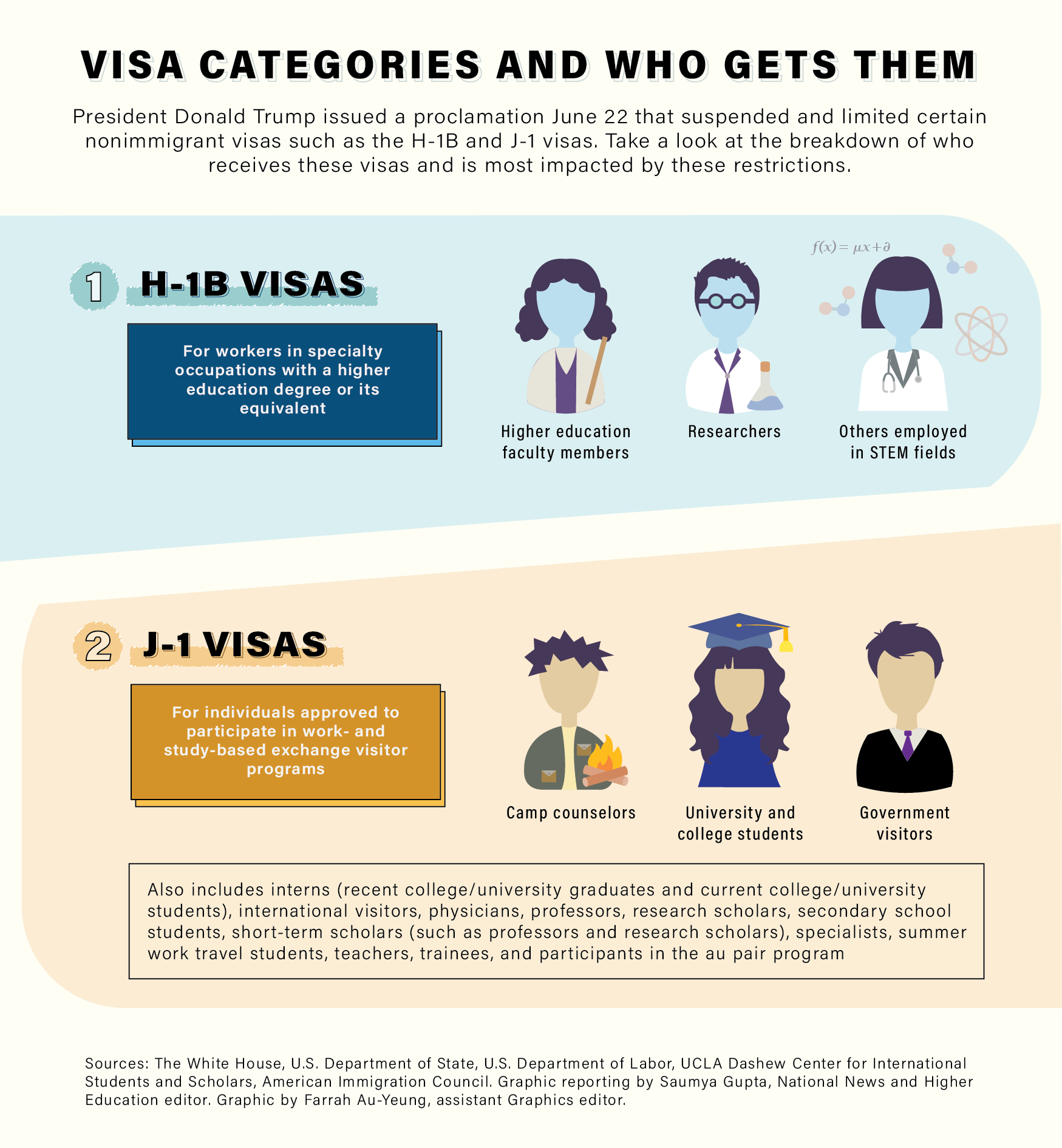 A proclamation which limits the entry of workers into the U.S. may be detrimental to the campus community, UCLA faculty said.
President Donald Trump's administration issued the proclamation June 22, which suspends entry of individuals applying for certain visas until Dec. 31. The Trump administration said the unemployment rate in the U.S. has increased during the COVID-19 pandemic, and the restriction on workers coming into the U.S. will protect jobs in the country.
The limit on nonimmigrant visas will temporarily stop new H-1B, H-2B and some J visas, among others. For J visa applicants, the decree will affect interns, trainees, teachers and others.
H-1B visas are nonimmigrant visas issued to workers in specialty occupations, such as technology and science. H-2B visas allow employers to hire nonagricultural workers temporarily. J visas are issued for exchange visitor programs based in work and study, but students and professors in the U.S. with J visas are exempt from the proclamation.
The University of California is disappointed at the restrictions placed on immigrants and nonimmigrants, said UC spokesperson Stett Holbrook in an emailed statement. Holbrook said the UC will continue to assess the impact of the decree on students, faculty and staff.
The restrictions on H-1B visas and H-4 visas may have the most significant impact on UCLA, said Margaret Peters, an associate professor of political science.
H-1B visas allow companies to employ graduate-level workers in specialized fields and allow UCLA to employ foreign workers as professors or administrators. H-4 visas are issued to H-1B visa recipients' spouses.
Peters added that the visa restrictions may not help economic recovery, since many businesses may need workers from outside of the U.S. to help them with growth. Some sectors, like technology, employ foreign workers, and preventing these employees from working could damage economic recovery post-pandemic, she said.
"The majority of these workers aren't actually competing with American workers for jobs," Peters said. "They're working with American workers."
David Schaberg, the dean of Humanities, said the proclamation may dissuade international students from going to schools in the U.S., which would be detrimental to the university and to the country.
The presence of international students helps bring diverse viewpoints and provides all students with new perspectives, Schaberg said.
"We regard it as fundamental to our mission that we have the opportunity to search for the best talent in our fields, and we have done that and pursued that policy," Schaberg said. "We're aiming to show our students a picture of what the world of thought and scholarship is, and that's a very diverse world."
Although he has not been personally affected by the limit on visas, Guido Roberts-Borsani, an astrophysics postdoctoral researcher at UCLA, said he understands that visa challenges come with sacrifices.
Because the U.S. borders are closed as a response to the COVID-19 pandemic, Roberts-Borsani said he fears that if he leaves the country he may not be allowed to reenter.
Roberts-Borsani added he recognizes how the proclamation may hurt the campus community.
"Lots of sectors, and astronomy in particular, thrive off of collaboration and multiculturalism," Roberts-Borsani said. "These are not things that should be downgraded, overlooked or looked down upon. These are strengths of different nations and of our cultures, and they should be applauded, not knocked down."