Restaurants in Westwood respond to newly implemented in-person dining ban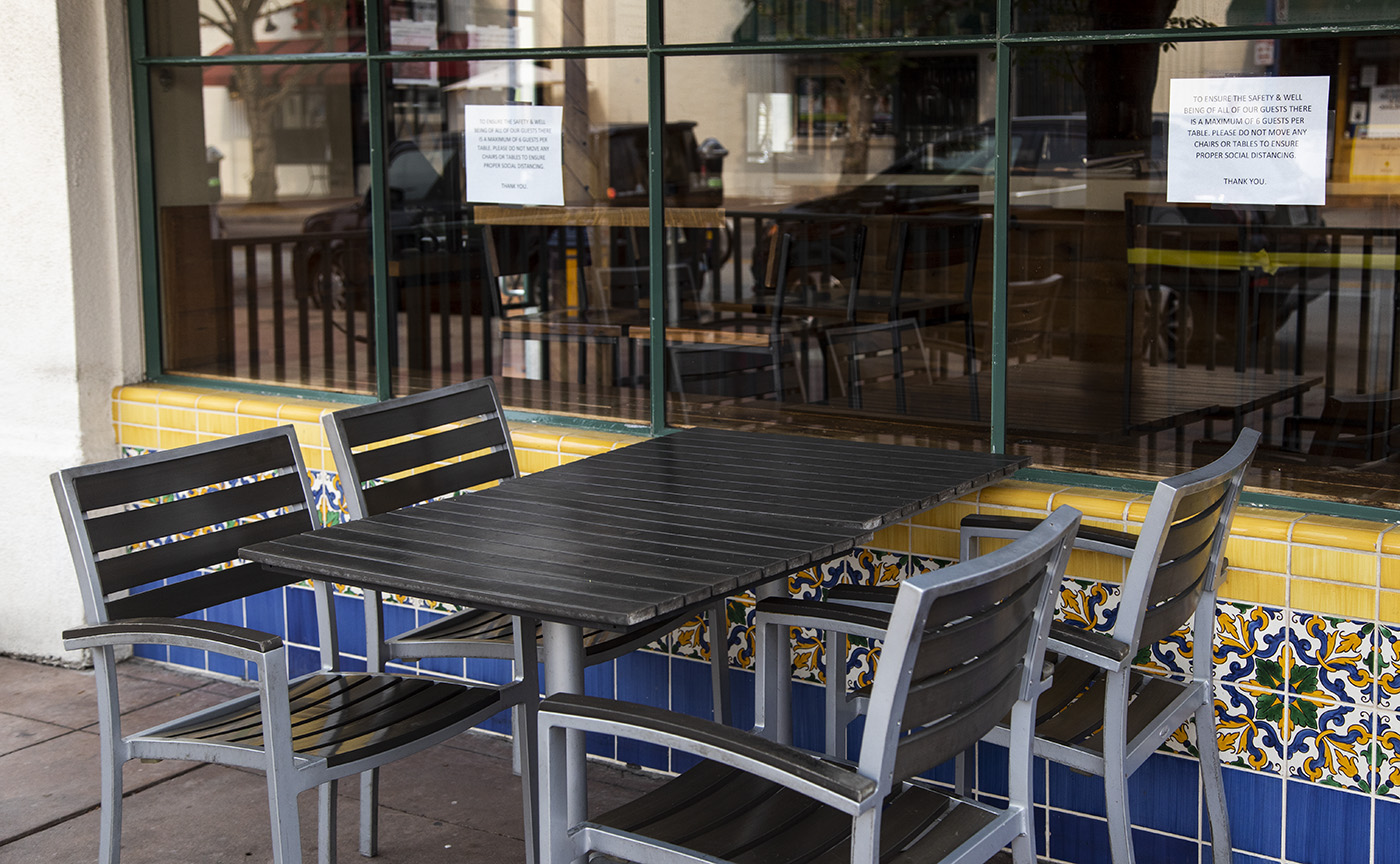 Westwood restaurants are preparing for decreased revenue because of a ban on in-person dining in Los Angeles County. (Justin Jung/Daily Bruin senior staff)
This post was updated Dec. 6 at 8:47 p.m.
Westwood restaurants are preparing for decreased revenue because of a late November ban on in-person dining in Los Angeles County.
The LA County Department of Public Health issued a three-week in-person dining ban that began Nov. 25. COVID-19 outbreaks tied to food facilities, including restaurants and grocery stores, increased by more than 200% between Oct. 31 and Nov. 14, according to a Nov. 23 LACDPH press release.
Under the newest order detailed in a Nov. 27 press release, people are advised to remain in their homes, all gatherings with members outside of one's immediate household are prohibited and restaurants, bars, breweries and wineries can remain open only for pickup, delivery and takeout, according to the LACDPH.
Jaimie Alexander, the manager of Violet Bistro, said he expects his restaurant's revenue to decrease by 90% because of the in-person dining ban. To prepare for the effects of the ban, Violet Bistro laid off most of its staff and simplified the menu, Alexander added.
Violet Bistro, located on Glendon Avenue, was one week old when the first shut down went into effect in March. When the county permitted restaurants to offer outdoor dining at reduced capacity at the end of May, Violet Bistro could seat 50 people. Before pandemic restrictions, the restaurant had about a 110-seat capacity. Despite the setbacks, the two weeks before the new restrictions were the restaurant's most profitable thus far, Alexander said.
"It's doubly disappointing that we're shut down again," Alexander said. "Honestly, we kind of saw it coming, so it wasn't that surprising."
Mayra Mejia, the manager of Frida Mexican Cuisine in Westwood, said she was heartbroken to hear about the new three-week dining restriction because it means she will have to reduce hours for more than half of her staff. Mejia added she expects the restaurant's daily sales could decrease by more than 50%.
In an emailed statement, Mejia said the restrictions alter her restaurant's concept of hospitality, which used to include enjoying a new ambiance, place and culture through foods and drinks.
"Obviously it's more important to save lives than to go out and to have a good time and a good meal, but obviously (the order) has impacted the economy," she said.
This new mandate follows a previous mandate that also put restrictions on restaurants. On Nov. 20, food providers were limited to a 50% outdoor capacity and were prevented from operating between 10 p.m. and 6 a.m., according to an LACDPH press release.
Frida Mexican Cuisine was able to seat about 35 to 45 people in its outdoor patio – a reduction from the restaurant's original capacity of 166 people, Mejia said. Although the restaurant's takeout sales increased compared to before the pandemic, its overall revenue has significantly dropped.
Consequently, the restaurant has been operating at a loss because of costs associated with food, rent, employee salaries, maintenance and repairs, Mejia said. Government aid and rent assistance have been the only reasons Frida Mexican Cuisine is still in operation, she added.
"We have a strong community here in Westwood that supports us, but obviously as more restrictions start to apply, it will be harder, but hopefully, we'll be able to survive," Mejia said.
Violet Bistro began offering online cooking classes through Zoom shortly after the county first shut down in March, which helped the restaurant stay afloat, Alexander said. The classes range from $50 to $160 and are taught by the owner of Violet Bistro, Dana Slatkin. Originally, the restaurant planned to offer these lessons in person, Alexander said.
Violet Bistro will continue to offer online classes, including holiday-themed classes for Hanukkah and Christmas.
Alexander said he believes the county is doing the right thing by banning in-person dining but said he wishes it had only reduced capacity further.
"It's kind of just taking it week by week and seeing what we can sustain and how much staff we can continue to keep on," he said.
On Nov. 30, LA County passed 400,000 COVID-19 cases and confirmed 5,150 new cases, as reported in a press release.
Megan Sparrow, a first-year molecular, cell, and developmental biology student, said in an emailed statement that although she enjoys going out to eat at restaurants with friends, she understands why the county implemented the in-person dining ban. She said she believes it's better to be cautious and save lives, but that the ban will likely be difficult for the food industry.
"Things won't be better fully until a vaccine or medication comes out to combat (COVID-19)," Sparrow said. "This may take a while, and many restaurants and food services may not have the means to financially survive this. I believe this (ban) can help reduce (COVID-19) cases, but I do not know to what extent."