Album review: BTS matches high expectations with concise, soulful 'BE'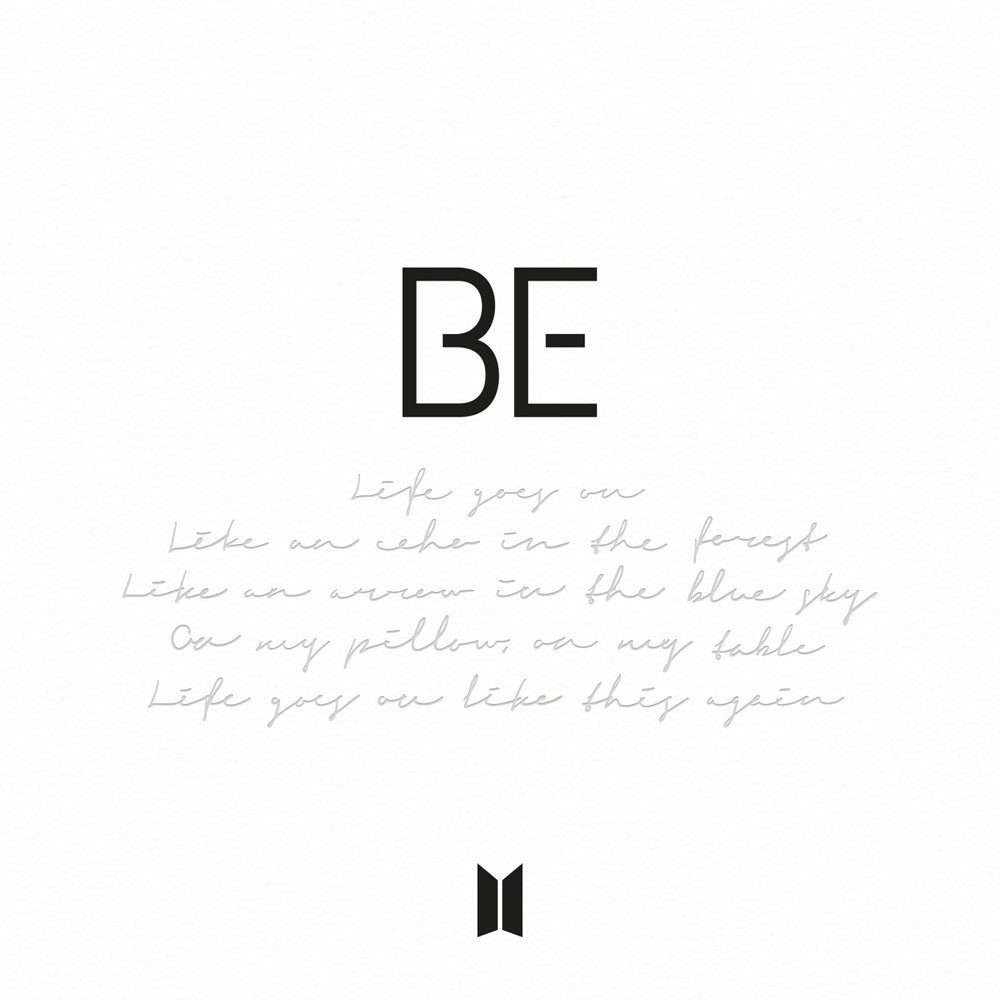 (Courtesy of Bighit Entertainment)
"BE"
BTS
Bighit Entertainment
Released Nov. 20
BTS is writing a vulnerable, yet hopeful love letter to the world with "BE."
Soaring off record-setting success from their hit, "Dynamite," BTS has delivered beautifully upon monthlong promises for an introspective and quarantine-driven collection of songs. "BE" is a marked improvement from the preceding album as the septet manages to cram eight tracks into the barely 30-minute album that settle into themes of anxiety, inadequacy and hopes for success. While BTS typically spans genres within its lengthy albums, "BE" represents a divergence from this trend as it sports cohesive and soul-inspired tracks throughout.
"Life Goes On" opens the album with a subtle impression of low-fidelity acoustic guitar paired with high-pitched and filtered ad-libs. Buoyant vocals keep tension at bay throughout the pre-chorus, which gradually releases itself in a gentle catharsis. The muted instrumentals of the track manage to reflect the pains of a sick world arrested in time but is eventually able to move on "like an arrow in the blue sky."
The second track, "Fly to My Room," introduces an untapped style of music for the group that expresses their musical prowess but fails to fully develop a soulfully experimental sound. The gospel-inspired song features organ and R&B bass lines underneath highly stylized and filtered vocals. Smoothly sliding between vocalists, the hymnal-esque track features occasionally syncopated vocals with instrumentals to lament that "the entire year got stolen," a dismal attitude that is unfortunately reflected in the song's unmotivated and cookie-cutter structure.
[Related: Album review: MAMAMOO's latest release "TRAVEL" explores variety of rhythms but lacks cohesion]
While "Fly to My Room" refreshingly introduces apprehension-filled themes to the overall album, it falls slightly below the bar set by the songs nestled beside it, such as "Blue & Grey." The colorfully titled track presents the most vocally exposed and technically impressive verses of the album as it mournfully filters vocalizations into an orchestral wave that cradles listeners with a delicate chorus. Despite the calm tones of the song as a whole, the group deftly intertwines breathy vocals with metronome-like 16-count raps.
But the spoken interlude "Skit" serves as a partition between the mournful pleas to "come and save me" in the first half of the album and exclamations that "there won't be any pain" in the fifth track, "Telepathy." Launching into modernized '80s synthesizers and finishing with funk-and-soul style cowbells comes an ode to carefree companionship, shucking off the sonically somber sentiments before it.
The energy of "Telepathy" skids into "Dis-ease" with an exhausted sigh that opens an anything-but-weary song. "Dis-ease" wastes no time highlighting the strength of playful rap verses with an unexpectedly soulful call-and-response style bridge. In spite of a transformative and lively backtrack, the song grieves the repetitive days and lost opportunities that have accompanied the pandemic. The stuttering nod to anxiety is married to revving engines, brass and '90s-inspired record scratches for a contradictory, yet complementary effect.
[Related: Album review: BLACKPINK adopts sounds of past but fails to reimagine or modernize]
Past decades are left behind, however, with the contemplative, yet uplifting first verse of "Stay,' which lends itself to themes of entrapment and subsequent escapism. Despite the success of the final track, "Dynamite," "Stay" would have served as a much more cohesive and substantial conclusion to an inventive and reflective album. The EDM track strays not only from the songs before it but also from all of BTS' discography, which has little examined the rave-ready genre. Serving as the true satisfying conclusion to "BE," "Stay" spans electronic crescendos and soft piano arpeggios that admit fear of the unknown.
"BE" is clearly the most BTS has ever been involved with the creative process. From start to finish, promotional material showcasing the group designing cover art, writing songs and mixing tracks marks a new era for an industry that heavily weights the work of professional writers and hyperproduction over realistic portrayals of the vocal artists. While this vulnerability and accessibility is only afforded to K-pop bands as successful as BTS, the group has clearly matured enough in its seven-year career to produce a both stripped-back, yet forward-thinking album that hopefully pleads for a "brighter" future.
With a reflective note, BTS asks the listener simply to listen, to exist and to understand that despite extenuating circumstances, life can and will go on.