Editorial: Administration must provide support to students experiencing housing insecurity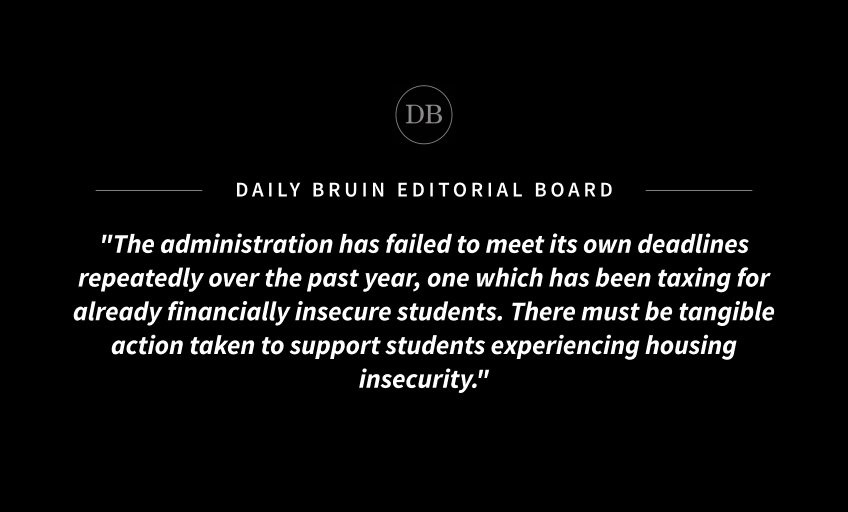 Administrators say they work to support their students.
This, apparently, doesn't include students experiencing housing insecurity.
For the second time in a year, UCLA administrators rejected a community-led proposal to create safe parking spaces for students experiencing housing insecurity. They did the same at the beginning of January, citing sanitation issues and instead proposed to create a university-run hostel to potentially be ready by fall 2020.
The burden fell on the student government to renew the call this fall – the Undergraduate Students Association Council passed a resolution Oct. 6 with similar demands. The university cited similar hygiene and safety concerns for the second rejection.
Now, as we approach the end of fall quarter, UCLA's proposed hostel is nowhere in sight.
This story is familiar – administrators reject new proposals, while old promises remain unfulfilled.
While changes to the timeline were somewhat expected with the unprecedented nature of the pandemic, continually delaying the project ignores the immediacy of need for students experiencing housing insecurity.
The administration should take the time to consider Safe Parking initiatives as an interim measure while continuing to develop BruinHub – a series of pods in the John Wooden Center for students with long and extreme commutes. The ease and accessibility of pods could benefit students experiencing housing insecurity on an interim basis. So with at least one option on hand, students can address their immediate housing concerns as UCLA hashes out the details of their most recent plan. This will allow the current timeline to be feasible while not neglecting students.
A recent UCLA report found that nearly one in 20 University of California students faces homelessness. With the COVID-19 pandemic worsening across the country, a lack of access to food or basic amenities is an added concern that students facing housing insecurity confront daily.
This issue has been dragging on for far too long.
The administration has failed to meet its own deadlines repeatedly over the past year, one which has been taxing for already financially insecure students. There must be tangible action taken to support students experiencing housing insecurity.
The recurring theme that the BruinHub initiative and the Safe Parking initiative are incompatible is groundless. It is not impossible to incorporate both into a substantial plan for students – especially since BruinHub is expected to open in fall 2021.
The primary opposition to the initiative is based on concerns over hygiene. Throughout the pandemic, homeless shelters have operated at a lowered capacity or have even shut down, offering even fewer options for students in need of shelter. While these concerns are valid, UCLA is conveniently ignoring that alternatives for students experiencing housing insecurity are likely even more unsafe, unclean and uncertain.
BruinHub has the potential to support students' long-term needs, but Bruins experiencing housing insecurity will have to wait one whole year for the space to even open. It's terrifying to think about what students will need to do to get by in the meantime.
Long-term goals are admirable. But change in the immediate moment is what students experiencing housing insecurity deserve.