UC can increase diversity despite Proposition 16 failure, according to faculty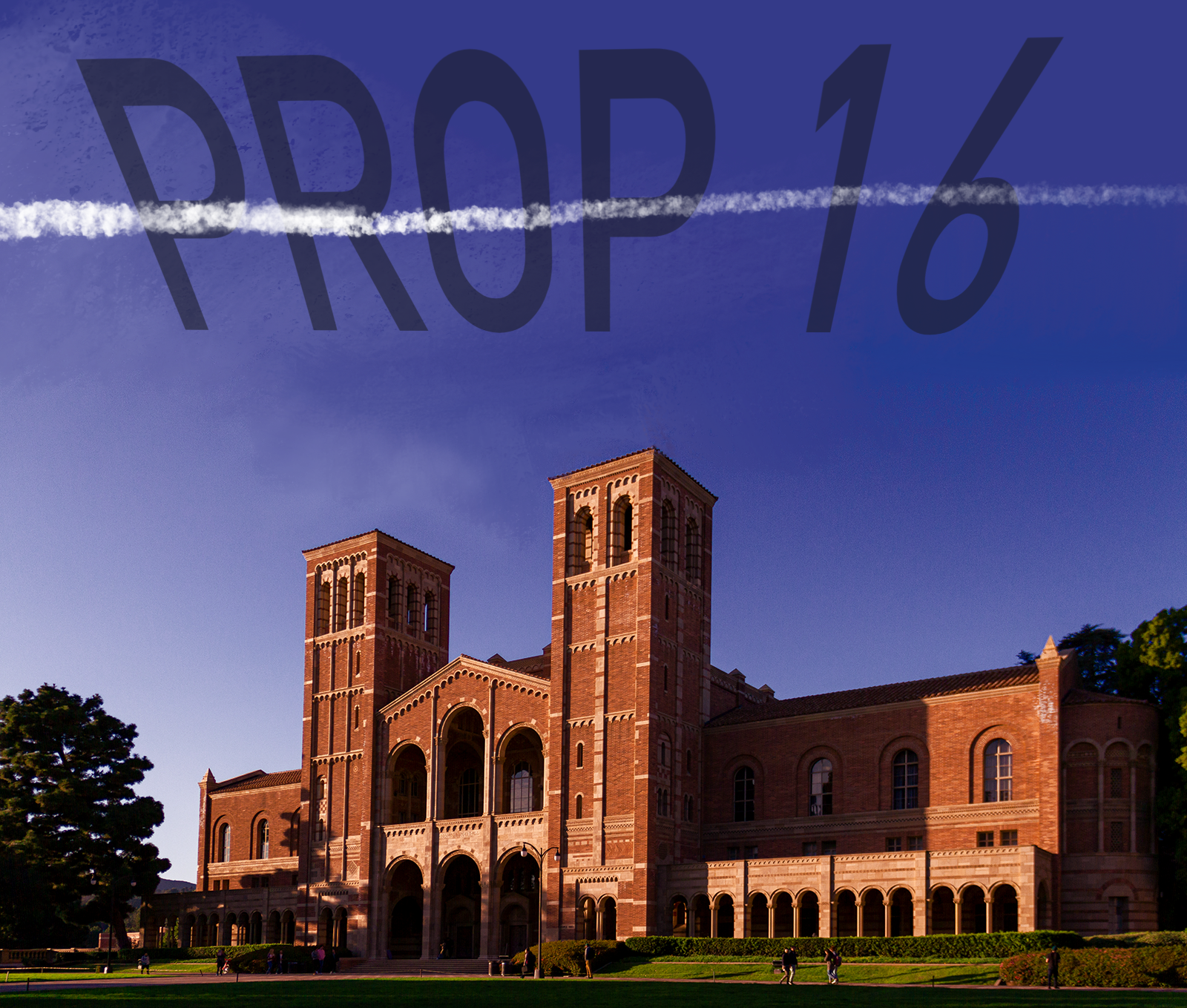 With the failure of Proposition 16 in the state, which aimed to allow the use of affirmative action, UCLA faculty said outreach efforts and financial aid can help increase the student body's diversity. (Photo by Tanmay Shankar/Senior staff. Photo Illustration by Emily Dembinski/Illustrations director)
UCLA faculty said outreach efforts and financial aid can help the University of California increase diversity among the UC's student body in light of the failure of Proposition 16 in the 2020 election.
If passed, the proposition would have repealed Proposition 209, a 1996 measure that banned state entities from using factors such as race and gender in college admissions and employment. However, most voters rejected the proposition.
Gary Orfield, an education professor and co-director of the Civil Rights Project at UCLA, said the UC can increase access to UC education for underrepresented students by giving them more financial aid opportunities. Additional financial support would encourage low-income families to send their children to the UCs, he added.
"California is very unequal in terms of family wealth and income," Orfield said. "The cost of coming to Los Angeles is very expensive and support is very inadequate for low-income families."
To increase diversity among students, the UC should start increasing their outreach efforts to community colleges, which serve many students of color, Orfield said. Students of color tend to transfer to UC schools at lower rates, he added.
[Related link: Proposition 16 fails in California, ending move to reinstate affirmative action]
Mitchell Chang, an education professor, said the UC should create bridge programs for all types of students. Bridge programs provide high school students the opportunity to take college-level coursework at college campuses to prepare them for higher education.
"It allows students who do not have a certain level of education to come to campus and be exposed to the curriculum that other students from privileged backgrounds already have been," he added. "These students are not playing catch-up all the time."
The passage of Proposition 209 in 1996 led to a decrease in enrollment from historically underrepresented ethnic and racial groups, according to a Nov. 4 UC press release. The percentage of students enrolled in the UC's outreach programs also dropped from 90% to 75% for underrepresented groups after Proposition 209 passed, the statement added.
Chang said Proposition 209 has done a lot of harm to both the undergraduate and graduate schools in the UC system.
Since then, Latino enrollment has increased, he said, but added that there is work to be done for African Americans students.
UCLA spokesperson Ricardo Vazquez said in an emailed statement the university has implemented several community engagement programs to help racially and ethnically underrepresented groups see themselves at UCLA.
For example, UCLA worked with about 30 high schools in the Los Angeles Unified School District to help African American students pursue higher education, Vazquez said.
[Related link: Students unable to vote in 2020 election share thoughts on outcome, president-elect]
UCLA admissions also uses a holistic approach, which means admissions officers look at a student's achievement in the context of what was available to them, he added.
However, Orfield said the UC system has not had much success in improving diversity among students in the admissions process, despite how committed admissions officers are to the holistic approach.
"The (UC system) has spent the last 25 years investing millions of dollars, but none of the methods have worked as well," he said.
Patricia Gandara, an education professor and co-director of the Civil Rights Project at UCLA, said Proposition 16 would have changed this by taking into consideration the factors that contribute to inequality.
"Proposition 16 would have changed the perception," she said. "It is hard to see what the university can do beyond using race and ethnicity in their admissions process."