Life and Hip-Hop: How women's role in the industry allows for empowerment, breaking norms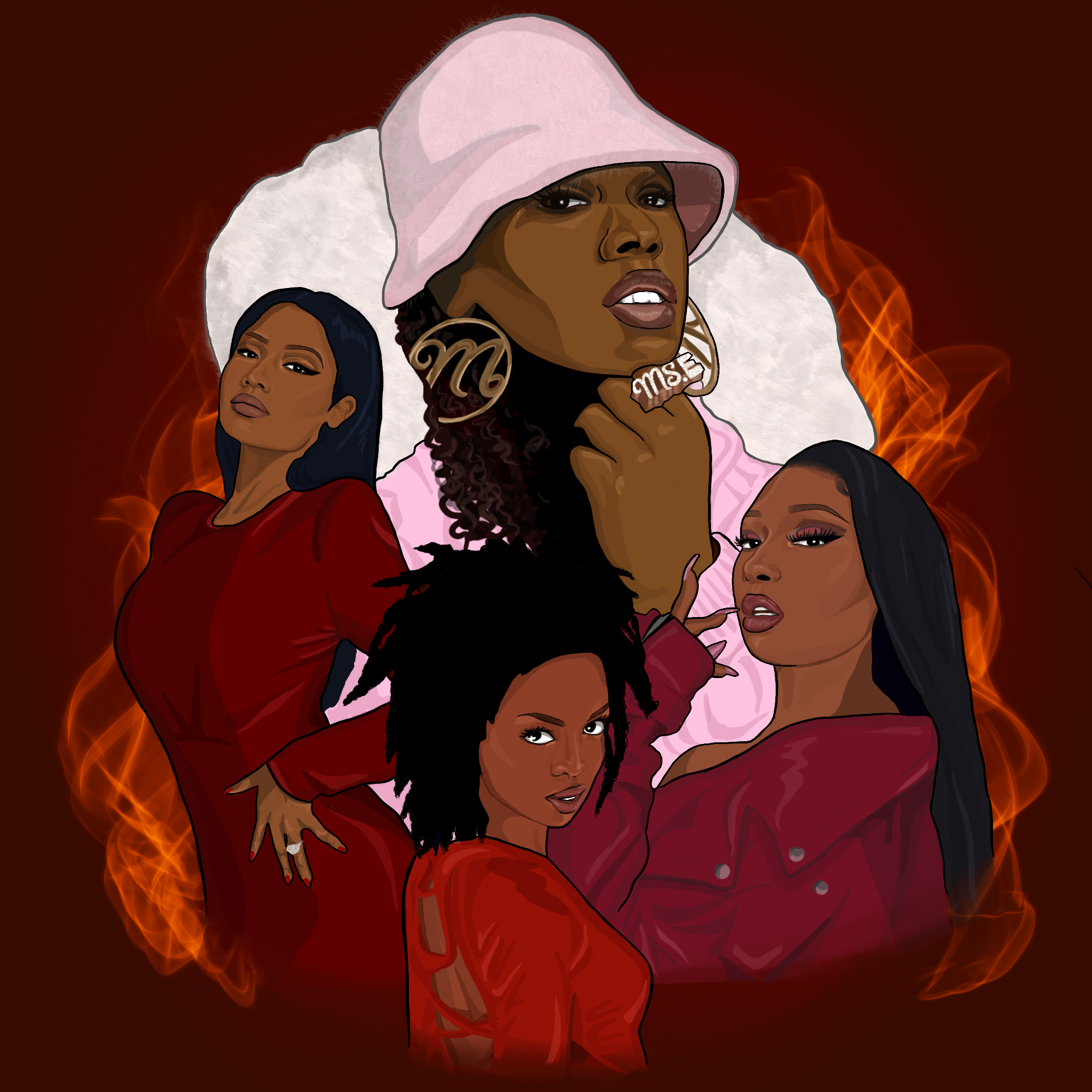 The impact of music extends far beyond the play and pause buttons. Formed in the 1970s as an underground movement, hip-hop has expanded into various art forms and musical subgenres – with rap specifically being one of the most popular musical styles among today's youth. In "Life and Hip-Hop," columnists Natalie Brown and EJ Panaligan explore and analyze how hip-hop intersects with and influences everyday aspects of life.

There's room for more than one female artist in hip-hop – even if the music industry hasn't always seen it this way.
At the very inception of hip-hop culture, women have always been at the forefront of the genre. However, they haven't always been acknowledged and treated with the same respect as their male counterparts. Though today's female hip-hop artists have faced misogyny head-on, they have emerged as strong, multifaceted and empowering artists who carry on the legacy of those who came before them while uplifting each other.
The roots of women's involvement in hip-hop can be traced back to a party in 1973 that is credited as the genre's birthplace. Georgia State University's Perimeter College women's, gender and sexuality studies instructor Loron Benton said DJ Kool Herc's party in his New York neighborhood was where modern elements of hip-hop, including rapping and DJ'ing, first appeared. Herc's sister Cindy Campbell – aptly dubbed the founding mother of hip-hop – inspired and planned the event as an effort to fundraise money before starting school. Beyond this party, however, Benton said it was a long struggle for women to achieve commercial success in such a male-dominated industry.
"(We are now seeing) women in hip-hop – particularly Black women in hip-hop – moving from the margins of the culture to now being on the top of Billboard (charts) and staying there with longevity," Benton said. "This (long-standing commercial success) has been a major shift in the industry."
There was by no means a clear-cut path to achieve industry success, Benton said. Moving into the '90s and early 2000s, she said a multitude of women in hip-hop began to achieve commercial success in the music industry. With mixed R&B and rap stylings, Lauryn Hill was responsible for bringing women in hip-hop to the forefront, winning several Grammys along the way. Other influential artists like Queen Latifah, whose strong female empowerment anthems like "Ladies First" and "U.N.I.T.Y.," achieved critical acclaim and success, while inspiring other women in the industry.
[Related: Life and Hip-Hop: Examining the complex relationship between music and politics]
Though female artists did manage to break into the industry, success was more challenging to achieve for women compared to their male counterparts. Los Angeles Southwest College sociology professor Kristine Wright said the genre of hip-hop's treatment of women draws parallels to the world of sports – specifically basketball. Much like the WNBA, she said women in hip-hop have traditionally been paid less and receive less attention than their male peers, like those in the NBA.
With female artists historically receiving less attention, Wright said there is a conception among industry executives and popular artists that promoting female sexuality can result in greater industry success. Some female rappers like Nicki Minaj have been pressured by these ideals to change their looks as a result, Wright said. While Minaj first appeared in a hoodie on an early BET cypher, upon achieving critical acclaim, Wright said Minaj began using some aspects of her body and sexual lyrics to sell records. The practice is not exclusive to hip-hop, she said, but it is seen across the entire entertainment industry.
"Hip-hop is a microcosm of society," Wright said. "The patriarchy we see in society, we see it in the hip-hop industry as well. The industry – and what they believe sells – is what they promote."
While there are many female hip-hop artists who are open about their sexualities, it rarely comprises their entire identities, Benton said. Female artists' lyricism, delivery, stage presence and performance value are crucial components and strengths that don't always address sexuality. Artist Missy Elliott was never perceived by audiences as being visually hypersexual, yet her lyrics communicate stories of finding female empowerment and encouraging women to take control of their bodies.
[Related: Life and Hip-Hop: Exploring the origins of the association between drugs and music]
Regardless of how women's femininity is expressed, hypersexuality and hyperfemininity are empowering, Wright said. The feeling of empowerment has inspired immense collaboration and support between female artists, who she said are driven to help each other flourish in the industry rather than tear each other down. Female rappers are not trying to assimilate to the dominant patriarchal culture, and Benton said they are bringing their own musical influences and personalities to create music together.
With a throughline to artists popular in the '80s and '90s, female hip-hop artists today who collaborate with each other – like Minaj, Megan Thee Stallion, Cardi B and Doja Cat – are topping the charts, Benton said. Many female artists like Young M.A are even working to change the culture of hip-hop's definition of femininity by not conforming to traditional feminist ideals and showing gender fluidity in their lyrics and performance as well. By challenging preconceived notions of the ideals for women in hip-hop, Benton said artists are creating a wider lane for female artists to thrive and create work that is not only meaningful to themselves but also to a broader audience.
"Hip-hop has (traditionally) been so reticent to allow more than one woman to shine in its space," Benton said. "It has been for the betterment (of hip-hop) culture to get rid of this old idea that there can only be one (female rapper) at a time."