Album review: Ariana Grande showcases more mature sound and lyrics in 'positions'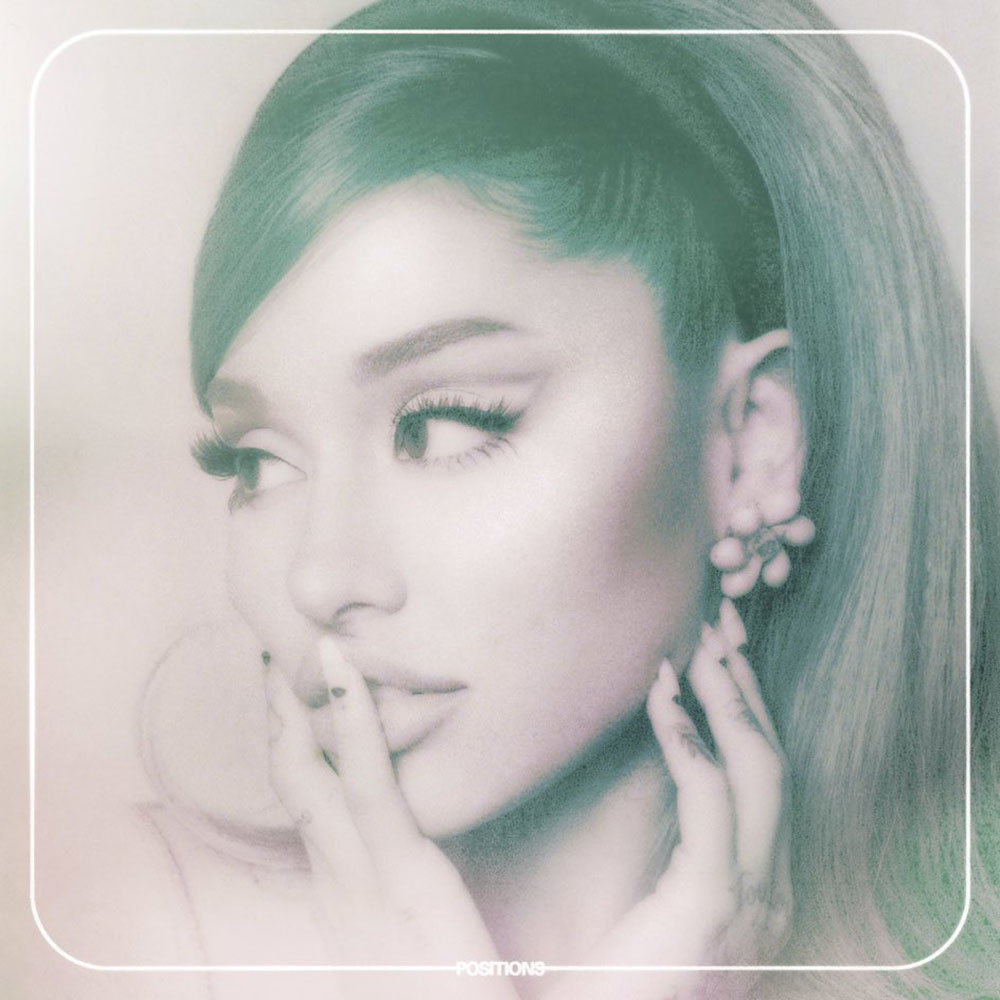 (Courtesy of Republic Records)
"Positions"
Ariana Grande
Republic Records
Released Oct. 30
Ariana Grande has clearly been getting busy during quarantine.
"positions," the sixth studio album from the soprano singer, is stacked with 14 odes to her newest beau and their time spent in Grande's quarantine home. The deceptively short release is the realization of a sophisticated sound that the vocalist has long been searching for after dabbling in more upbeat R&B and even trap musical styles. Pairing rather single-minded, lustful lyrics with an equally consistent sultry sound, the album is a voyeuristic journey through Grande's rather explicit thoughts.
Gently settling into a pizzicato-heavy introduction, Grande talks more than sings in the first track, "shut up." Her impressive vocal runs and in tune scales glide over deceptively harsh assurances to a past lover that they "sound so dumb." The unexpected drooping violins that conclude the song resemble a Broadway-esque interlude dividing Grande's past from her present as she begins her descriptive escapades into "doin' you right."
But the decidedly more pop-influenced "34+35" is chock-full of innuendo and auto-tuned ad-libs that awkwardly stray into overly-predictable runs and soft synths seen too often in Grande's repertoire. While the unfiltered sound of the singer's own laugh opens the song, it quickly devolves into a template of stripped back bass and strings that falls flat on ears. And unfortunately, the song's short length and explicit lyrics do little to make it feel like less of a drag nearing its end.
Luckily, the trodding pace of "34+35" is clawed back with the help of Doja Cat in "motive," which perfectly balances high-quality production with lofi musical trends. The amalgamation of trap bass and synthy R&B provides a shuffling tempo and backdrop to Doja Cat's raspy verse detailing her distrust of "phonies." Doja Cat's breathy vocals superbly overlap with Grande's ad-libs to provide the perfect backdrop for a diverse and surprisingly vindictive track.
[Related: Second Take: Pete Davidson's facetious jokes about Ariana Grande downplay offensive behavior]
Following "motive" comes "just like magic," which has big shoes to fill and consequently struggles to deliver on the promise set by earlier tracks. Despite a refreshing retrowave synth opening the song, "just like magic" is too much of a call-back to the plainly-worded, storytelling lyrics characteristic of Grande's earlier albums.
But, a feature from The Weeknd smoothly manages to bring the album back up to par in "off the table." Grande clearly lends herself to The Weeknd's falsetto style but misses the perfect balance between smooth and stale. Regrettably, the song's stripped backtrack and empty bass lines add little interest to the nearly four-minute track. Yet despite its lulling end, "off the table" still beautifully showcases the vocal range of both singers who are clearly familiar with runs and scales.
Hiccuping out of "off the table" come five predictably structured songs, broken up by "my hair" in their center. The jazzy track marries marimba, saxophone and unexpected whistle-high vocals in an ode to Grande's own locks. Equal parts a stage for Grande's true range and a reprieve from the flat quality of "six thirty," "safety net," "nasty" and "west side," the track picks up the pieces of the previous songs and creates a strong stage for the second half of string-heavy "positions."
[Related: Second Take: Ariana Grande's new music video walks fine line between self-love and queerbaiting]
While a string quartet seems to be a main staple of the album and Grande's discography, the staccato, disco-esque violins that open "love language" exemplify the musical risks that Grande takes in the latter half of her album. Echoed in the chorus, the disco strings pair smoothly with gently auto-tuned, breathy vocals for a polished, well-produced track praising "the little things that you do."
Alongside "love language" comes promotional single and title track "positions," which strays from its sonically softer predecessors in favor of light tambourines and acoustic guitar but still remains decidedly promiscuous. It isn't until closing track "pov" that Grande finally settles on a less explicit tone, ending the record on a more safe-for-work note. A reflective conclusion seems all too common in recent albums, but Grande subverts the lyrical trend by straying away from introspection and instead delving into the mind of her partner who sees her for "all of my pretty and all of my ugly too."
"positions" clearly holds a mirror to Grande's slower domestic lifestyle as a result of quarantine, and subsequently, the album manages to finally settle the singer into a more matured sound. The release showcases Grande's newfound talent for pairing explicit lyrics with intricate production to draft up potential blueprints for chart-topping songs.
And luckily, she seems to have drawn them up just right.