Student reflects on ways COVID-19 affected his family, outlook on life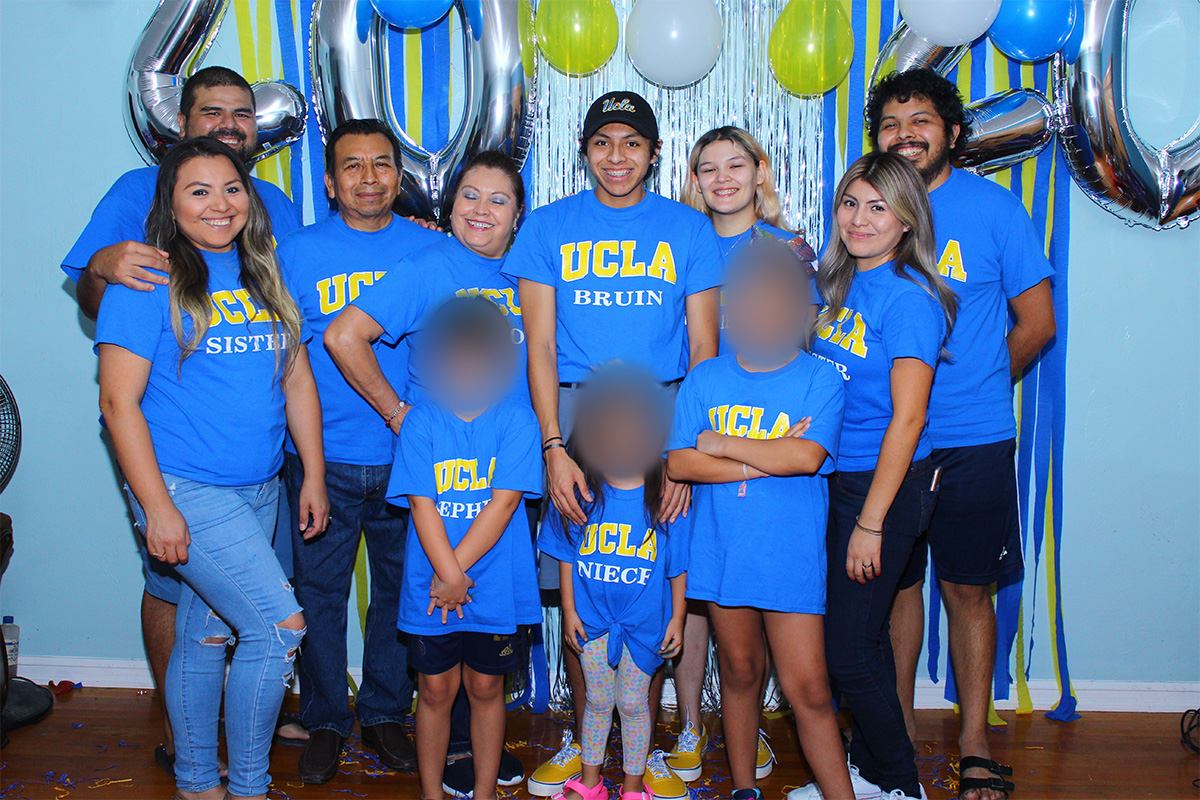 Moises Hernandez (pictured center) and his family are some of hundreds of thousands of people in California who have had COVID-19. This summer, Hernandez and seven of his family members tested positive for the virus. (Courtesy of Miguel Angel Flores)
Moises Hernandez woke up in May with a sore throat.
Then, Hernandez's father tested positive for COVID-19.
As soon as Hernandez and his family found out that his father had COVID-19, they wore masks around their house, cleaned their spaces and limited their interactions with each other. No more than two people ate at a time, the third-year philosophy student said.
"We were all living in fear," Hernandez said.
A few days later, all but one of the people in his household had COVID-19. His parents, his two sisters, his brother-in-law, his niece, his nephew and himself tested positive. Hernandez's other niece who did not contract COVID-19 went to her grandparents' house, he said.
Hernandez is one of many UCLA students who contracted COVID-19 over the summer, which he said left a lasting impact on him and his family.
Timothy Brewer, a professor of medicine and epidemiology, said transmission of COVID-19 can occur in households where people are in close proximity.
"People living together in a household where they're probably spending lots of time together in close proximity indoors, not wearing masks, is probably one of the most likely places where transmission will occur," he said.
[Related link: Students directly affected by COVID-19 share their stories on impact of disease]
Hernandez's parents became unable to move out of their bed or eat, he said. His father had to go to a hospital for oxygen, he added.
"My parents really didn't have anything to do, they were in pain," Hernandez said. "All my mom would do was just lay in bed all day. I would see her and she would just sleep throughout the whole day, without any thought of what was going on around her."
Hernandez said he had chest pains, difficulty breathing and lost his sense of taste – all of which he never experienced before. Hernandez added he could not taste the soup he had for dinner one night or the slice of lemon he put in his mouth once.
"There was no taste and that's when I just kind of got into this panic mode," he said. "I was just really scared. I remember calling my girlfriend and telling her that I couldn't taste anything."
Aileen Sanchez, a student at Imperial Valley College and Hernandez's girlfriend, said she tried to support Hernandez when his family was sick.
"It was crucial for me to support him emotionally and mentally with phrases just like 'don't worry', 'just take your time', 'rest', 'don't over-stress yourself with school'", she said.
Brewer said some people who have recovered from COVID-19 still have inflamed lungs caused by both the infection and the immune system's response to COVID-19. This sometimes results in damage to the lungs, or fibrosis, he added.
Some people may be constantly exhausted weeks after they were infected, Brewer said. Others may notice they cannot think as clearly as they could before, which is another concerning aftereffect of COVID-19, he added.
Hernandez said his older sisters did not have a chance to cope with the situation because they were busy filling in for their parents. They kept the house clean, checked if their parents took their medicine and ensured Hernandez and the children ate healthy snacks throughout the day, he said.
His niece and nephew played around the house by themselves, Hernandez said. Although they tested positive for COVID-19, they were asymptomatic and looked healthy, he said.
Hernandez said he and his family have mostly recovered since then. His father now tends to his garden and his mother returned to physical therapy for her right foot, which was fractured before they had COVID-19, he said.
"It was just a big relief that the situation had passed by already and it was just going to be a story that we can talk about right now," he said.
But the fear of COVID-19 still looms over Hernandez and his family, he said.
"In the physical sense, we've all recovered," Hernandez said. "Emotionally, however, I think we're all still pretty affected by (COVID-19). We live with fear that one day one of us is going to die of (COVID-19)."
Sanchez said Hernandez was cautious about going outside, even before catching COVID-19.
"The perspective that we have now is so different than of people that haven't had (COVID-19)," Hernandez said. "We have family members that have wanted to visit us, and we tell them 'no, you can't come to our house.'"
Hernandez now tries to spend as much time with his family as possible.
"Honestly, we were really fearful for our parents' lives and being able to be here with them today, I feel really grateful," he said. "Now we try to spend more time together with each other because we don't know when our last day on earth is going to be."