Week three: Student employee job uncertainty, vaccine advisory group, in-person graduate courses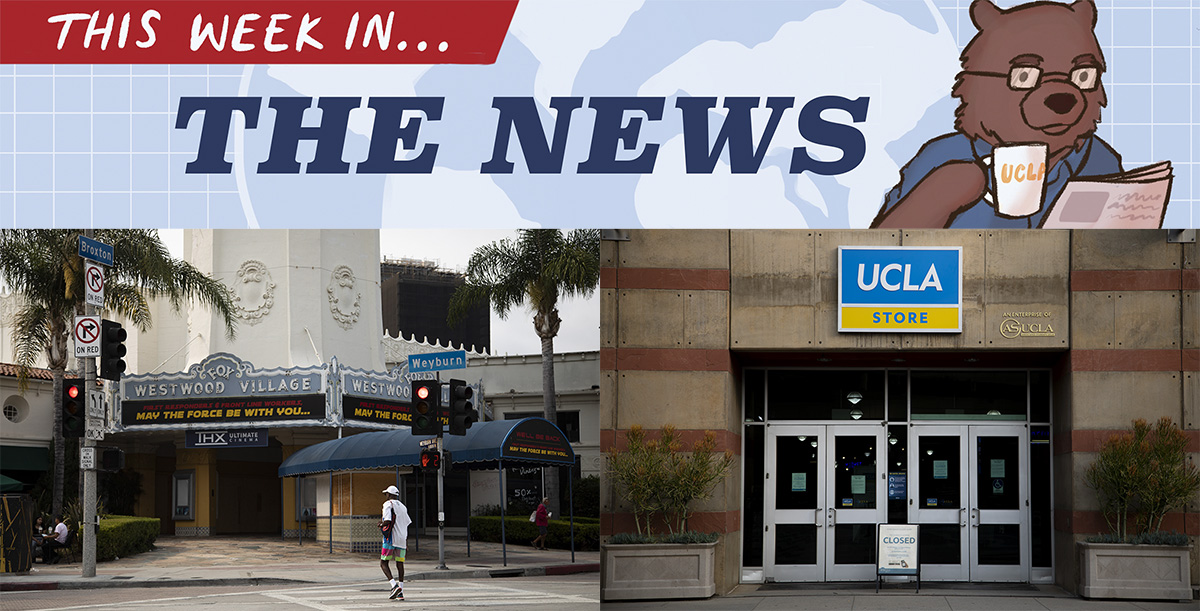 (Photos by Justin Jung/Daily Bruin senior staff)
This Week in the News serves as The Quad's space for reflection on current events at and around UCLA. Every week, Daily Bruin staffers will analyze some of the most significant stories to keep readers up to speed.
Many Bruins may have conquered week three from the quiet of their homes, but Westwood's happenings still persist.
From University of California researchers being appointed to oversee California's COVID-19 vaccine distribution to updates on graduate programs' in-person instruction, here are The Quad's picks for some of the most noteworthy events of the week.
Due to the COVID-19 pandemic and its resulting decrease in work opportunities, data shows that large percentages of student workers are facing reduced work hours or unemployment.
Among the Associated Students UCLA entities, only the Hill Top Shop and shipping at the Ackerman Union remain open during the pandemic, decreasing the number of student employees by 58%, UCLA spokesperson Bill Kisliuk said. Kisliuk also said that for those still employed, total working hours have decreased by 46%.
Paul Zhamkochyan, a second-year history student and supervisor at the UCLA Hill Top Shop, said many things about being a student worker right now are uncertain, and that the threat of hour cuts is stressful.
For now, Kisliuk said UCLA is looking for ways to make previously in-person jobs available online, prioritizing the students with the greatest need.
In a press release issued Monday, California Gov. Gavin Newsom announced the members of the Scientific Safety Review Workgroup, which will assist California government officials in reviewing any federally approved COVID-19 vaccination when it becomes available. The group will also help develop a distribution plan for the vaccine.
The workgroup will be led by a team of UCLA and UC researchers who will be working alongside the California Department of Public Health. Among the 11 selected was Peter Szilagyi, a pediatric health researcher at UCLA.
Newsom said in a press conference Monday that he believes a safe COVID-19 vaccine will be available to all California residents in the second quarter of 2021.
The Undergraduate Students Association Council Facilities Commission and Financial Supports Commission partnered with the Westwood Village Improvement Association to create a coupon code – redeemable in person or via phone – for UCLA students and faculty to use in certain Westwood eateries, as initially announced via social media Oct. 13.
The coupon code, "ILOVEWESTWOOD," comes at a critical time. According to USAC Facilities Commissioner Sachi Cooper, USAC created the coupon code in order to increase food affordability for UCLA community members facing financial challenges.
The coupon users aren't the only people benefiting from this code, either. Businesses in the Village, like Enzo's Pizzeria, are seeing an influx new of customers, manager Ezequiel Medina said.
USAC Financial Supports Commissioner Noe Garcia said ideally the program would last throughout this school year, and maybe in future years, too.
A select number of UCLA graduate schools are now offering in-person instruction with increased COVID-19 safety precautions.
UCLA spokesperson Ricardo Vazquez said in-person class operations are currently limited to essential workforce training programs that would not successfully translate into an online format. Some research and labs at UCLA's nursing, dentistry, medical and physical science graduate schools qualify.
Face coverings, social distancing and daily symptom screenings are required in all in-person classes, Vazquez added.
Professors seeking to open their labs for research must submit a proposal to conduct in-person activities to the vice chancellor of research's office, enforce social distancing and provide proper personal protective equipment for usage, said Jean Paul Santos, the president of the Graduate Students Association.
If any violations are perceived to occur, Santos added that students can report these to department chairs, deans or to the vice chancellor of research's office.