Student employees face job uncertainty, reduced hours amid COVID-19 pandemic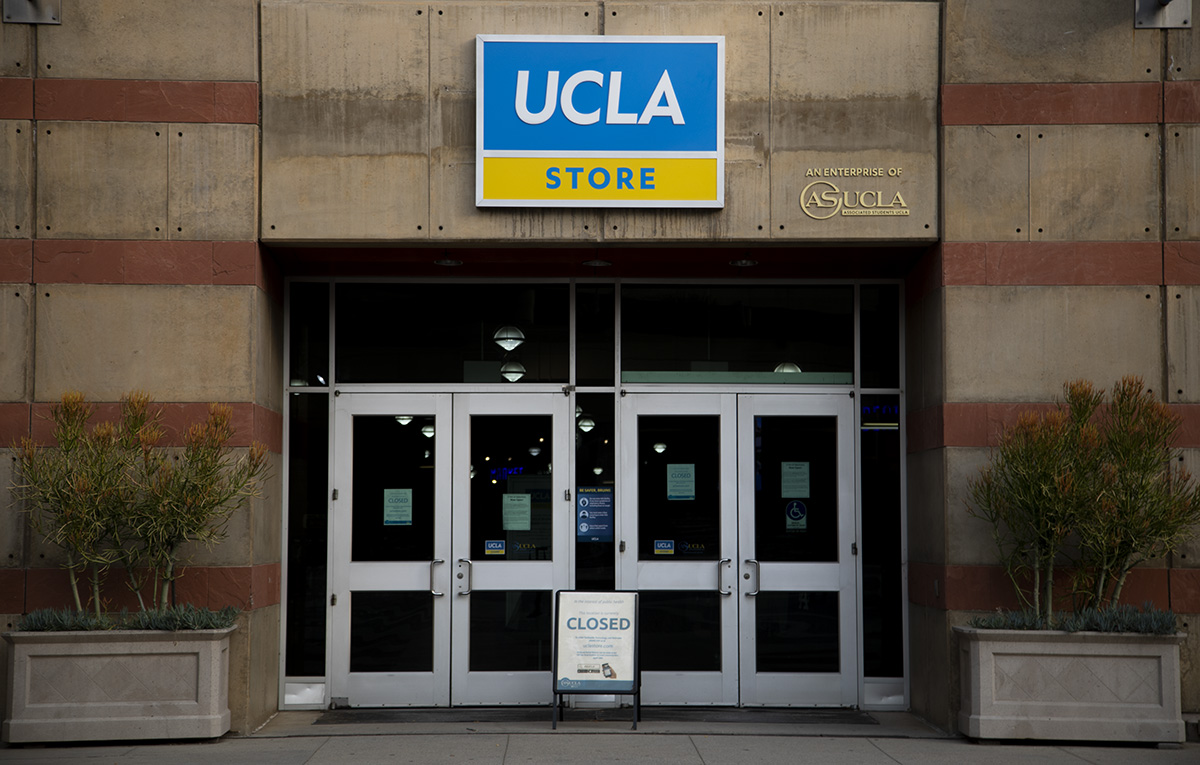 Student workers on campus have fewer available positions and face shorter working hours because of the COVID-19 pandemic. (Justin Jung/Daily Bruin senior staff)
This post was updated Oct. 25 at 7:47 p.m.
As the COVID-19 pandemic has upended on-campus life at UCLA, many student workers are left with reduced working hours or without jobs.
The number of student employees working at UCLA has decreased by 58% since last October, said UCLA spokesperson Bill Kisliuk in an emailed statement. During the same period, students' total working hours also went down by 46%, Kisliuk added.
Many students have been unable to find work because of the lack of available work opportunities, said Emily Luong, the internal vice president of the Undergraduate Students Association Council.
"I've heard about a lot of people having to find jobs in the gig economy, driving for Postmates, DoorDashing," said Luong, a fourth-year communication student. "And those (are) things that … actually put them at risk (of COVID-19)."
UCLA should make more remote work opportunities available to students, which are safer from COVID-19-related risks, Luong said.
Paul Zhamkochyan, a second-year history student who is a supervisor at the UCLA Hill Top Shop, said he got a job at a grocery store and at a financial firm in addition to the shop over the summer to increase his working hours. The Hill Top Shop and shipping at the Ackerman Union are the only Associated Students UCLA entities to remain open throughout the pandemic.
The campus is only open for essential services and the residential halls are operating at 5% capacity because of Los Angeles County restrictions, Kisliuk said. This unprecedented situation has forced UCLA to close facilities and dorms and suspend some student positions, he added.
Zhamkochyan said being a student worker is currently unpredictable. Available hours at the Hill Top Shop dropped two weeks into the quarter, Zhamkochyan said.
Not knowing when hours will be cut is stressful, Zhamkochyan said. He added that this has made him feel at risk of potentially losing his job.
The decreased hours have also led the Hill Top Shop to hire fewer employees than normal, even though students returning to campus are looking for work, Zhamkochyan said.
Although UCLA suspended available positions, no current employees have been furloughed or received an adverse employment action, Kisliuk said.
Travis Bourdon, a second-year mathematics for teaching student and a management assistant at the Hill Top Shop, said the store gives its workers masks, gloves and has recently installed sneeze guards for cashiers. The store also enforces social distancing procedures for both its staff and customers and sanitizes regularly, Bourdon said.
Luong said that while she is glad UCLA is providing personal protective equipment to on-campus workers, it must do more to support student workers – providing them with PPE is the bare minimum, Luong said.
USAC offices collaborated with UCLA Student Legal Services to publish a Student Worker Resource Guide in September. While Luong said she believes that the guide supports student workers, she said UCLA should take on the charge to support student workers, not USAC.
UCLA is addressing students' financial needs through financial aid and other programs, Kisliuk said. The university has given students an additional $18.5 million in financial aid and has distributed over $17 million in pandemic relief funds to students, he added.
More than 450 students who lost their work-study jobs in the spring received funding from UCLA that made up for lost wages due to the pandemic, Kisliuk said.
Justin Rodriguez, a USAC general representative, said he found that student workers were confused about which workers would be given paid leave and which would not, according to a student worker survey he and his team conducted in August.
Bourdon said ASUCLA gave employees one month's pay while they were out of work to act as a transition. However, many other UCLA student workers were not given this option, Rodriguez said.
UCLA continues to look for opportunities to convert traditional in-person positions to remote positions, Kisliuk said. He added that the school is prioritizing students with the greatest financial needs.
Jessica Munoz, a third-year political science student who works on campus for the communication department, said only one person is allowed to work at a time to mitigate the spread of COVID-19. Munoz's work hours have decreased from 15 to 10 hours a week and she received no additional financial aid from UCLA.
Munoz said she was worried about her work status at the beginning of summer because her job had been temporarily suspended and she had not heard anything about when she could return to work.
Areli Martinez, a fourth-year psychology student who works as a data supervisor for UCLA Residential Life, said her department had 30 to 40 student workers, but they were only able to keep seven, all of whom were supervisors, at the start of the COVID-19 pandemic. The remaining members are working virtually.
Martinez said she hopes that this is a temporary adjustment.
In addition to the reduced working hours and financial instability, student workers on campus also must face thethreat of COVID-19, Bourdon said.
"(There is) the added stress of working in a pandemic where you can contract it yourself but also hold the responsibility of spreading it to others," Bourdon said.