Editorial: AB 3092 helps sexual assault survivors, but doesn't make up for UC's lack of action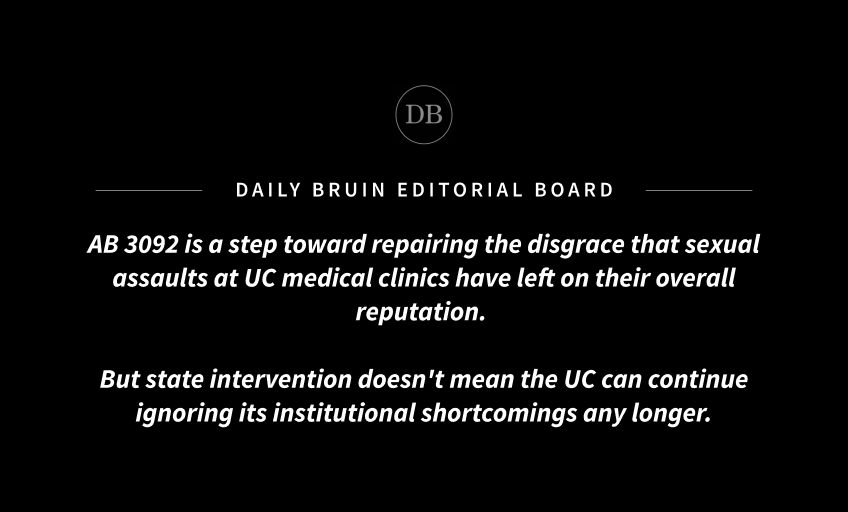 Survivors of sexual assault at the University of California might finally have a shot at justice.
California Assembly Bill 3092 gives survivors of sexual assault until the end of 2021 to file charges in response to incidents of sexual assault at UC clinics that occurred from 1983 to 2019. Before this bill, which passed the California legislature without a single "No" vote and was signed into law Sept. 29, survivors had to file lawsuits on a constrained timeline of up to ten years after the incident occurred or three years after injuries were discovered, preventing many from taking legal action against the UC personnel who assaulted them.
In practice, this means that survivors can create new lawsuits against certain perpetrators even after the statute of limitations on their sexual assault claims has expired. With this, survivors can take steps toward justice even after institutions failed to take action in response to their complaints.
Former UCLA doctor James Heaps, who has been accused of sexual abuse dating back to 1989, was charged with 20 felony counts of sexual misconduct by seven former patients. This legislation could allow people to divulge new information about Heaps' conduct during his time at UCLA Health and give survivors who were once unable to come forward a chance to be heard.
The legislature's commendable actions present a stark contrast to UCLA's history of inaction and indirect complicity when it comes to sexual assault incidents on its own campus. Following the passing of AB 3092, the UC must offer more than words to reform the institutions that allowed sexual abuse to fester for decades.
The UCLA Title IX office formally opened an investigation into Heaps' time at UCLA in December 2017. However, the university only informed its student body when he was arrested in June 2019, by which time Heaps had quietly retired. The 2017 Title IX investigation also uncovered complaints in 2014 and 2015 to UCLA Health against Heaps, which went unaddressed at the time and eventually prompted a new lawsuit against the university.
The complaints that never materialized into investigations could have brought Heaps' conduct to the light sooner and prevented further suffering. It is inexcusable that an alleged sex abuser was allowed to practice at UCLA for years without any institutional checks on his behavior.
And the warning signs go back further. Julie Wallach, who said Heaps sexually assaulted her in 1998, said she alerted UCLA about Heaps' behaviors in 1999, but was met with inaction. Under AB 3092, Wallach can now file a lawsuit against the UC and Heaps.
AB 3092 is a step toward repairing the disgrace that sexual assaults at UC medical clinics have left on their overall reputation.
But state intervention doesn't mean the UC can continue ignoring its institutional shortcomings any longer.