The Bruin Gastronomer: Stripped-down breakfast taco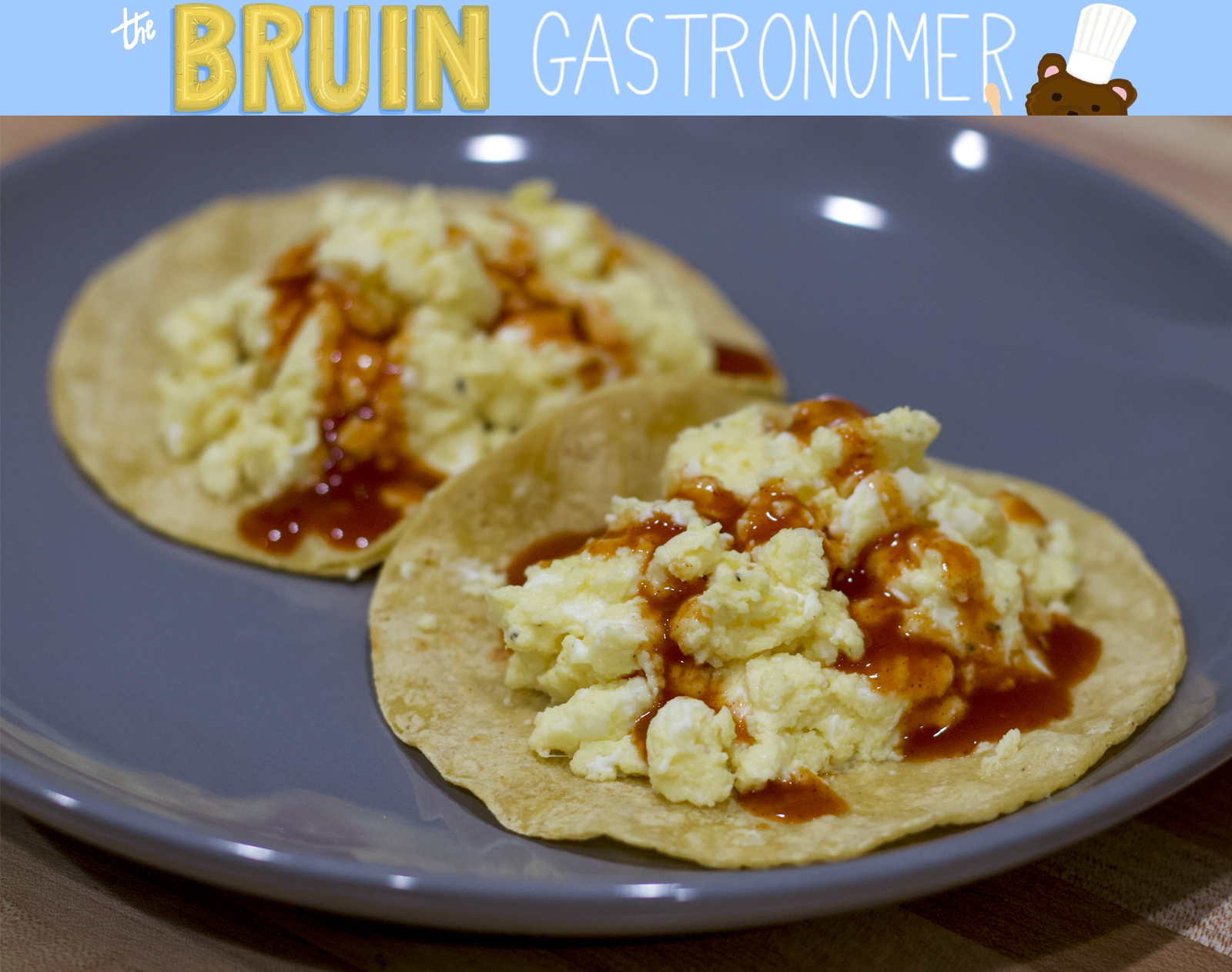 Stripped-down breakfast taco. (Photo by Keaton Larson/Daily Bruin, photo illustration by Emily Dembinski/Illustrations director)
Cooking in college can be daunting. The Bruin Gastronomer aims to give students the knowledge and tools to cook affordable, simple and delicious meals that will fill brains and bellies alike.
I don't subscribe to the idea that college students cannot eat good food on a budget.
Sure, instant ramen and microwave hotdogs are convenient, cheap and perhaps even a hallmark of college life – but I'm here for the Bruins who, regardless of skill level, are trying to enhance their college cooking experience.
I understand we're students. We live on tight budgets and the chaos of college life can prevent us from having time to cook for ourselves. But, I can assure you, these recipes will be cost-effective and simple, and will immediately upgrade your college fare.
Finally, remember that when something is not to your liking or did not go as planned, you are still learning. Over time, recipes will become easier and you will be able to cook faster.
And with that, I present to you: The Bruin Gastronomer.
Stripped-Down Breakfast Taco
Bleary-eyed and starving one morning, I attempted to replicate huevos rancheros, a traditional Mexican breakfast the chefs at the restaurant I worked at would make on occasion. Unfortunately, when I tried myself, I had almost no ingredients. So, what I created was a bit different than originally envisioned.
Essentially, the dish I made was scrambled eggs on a tortilla with some flair. It turned out simple and highly customizable, and therefore is perfect for a variety of palates.
I love to cut up a sprig of cilantro or add pico de gallo to the eggs. You could also add a slice or two of avocado if you wanted to dress it up even more.
Ingredients
2-3 eggs (depending on your hunger)
2 tortillas
A palmful of cheese (I like mozzarella in mine)
1/2 a lemon
Hot sauce (Valentina is my weapon of choice)
Kosher salt
1/2 tbsp unsalted butter
Whole black pepper
In total, this cost approximately $15. I get about six meals out of all the ingredients I buy, so the price per meal is around $2.50 – and you still have plenty of tortillas left over for quesadillas.
Usually, I'll buy an 18-count of eggs, a 30-pack of Mission tortillas and an 8-ounce bag of cheese. I'll get Valentina from Target for $1 and three lemons, which are 55 cents each. If you don't have necessities like salt, pepper and butter, your grocery trip will cost a little more.
In the recipe above, I call for kosher salt, unsalted butter and whole black pepper. These three ingredients have qualifiers for a reason.
Unsalted butter is best for cooking and baking because you want to avoid unnecessarily salting your food; plus, the switch costs nothing extra.
Whole black pepper – rather than ground – emits a stronger aroma and flavor when grounded immediately before cooking, and the prices of the two store-brand peppers at Ralph's are nearly the same. You also use less of the whole black pepper in your cooking so you can keep it for longer.
And lastly, you should be using kosher salt. The size of kosher crystals is more favorable for cooking and less likely than table salt to result in over-salting.
Instructions
Heat two pans on medium-low: one for your tortillas and one for your eggs. After about two minutes, add 1/2 tablespoon of unsalted butter to the designated egg pan and toss your tortillas in the other without butter. Your tortillas should take about one to two minutes to cook. You'll know they are done when little brown marks start to speckle each side.
While your pans are heating up, crack your eggs in a bowl and beat them, using a wooden spoon if you have one, until tiny bubbles form. This method helps to not over-beat the eggs. Many tend to furiously mix eggs, but a slower, calmer motion actually produces a better outcome.
Toss in a palmful of cheese into your bowl of beaten eggs. Squeeze the juice of half of a lemon into the bowl and give it a stir. Throw the other half of the lemon in a Tupperware container for tomorrow's breakfast.
Add a pinch or two of salt and a sprinkle of pepper to the bowl right before placing the egg mixture in the pan.
Once the butter is melted and you have swirled it in the pan, add the egg mixture slowly and turn the heat to low. If you can slide a spatula under your egg mixture to lift it up from the pan and the egg mixture maintains its form, it is ready to scramble. Fold and chop the egg mixture until you get what looks like scrambled eggs. Scrape any mix that might be sticking to the pan as well. Let the eggs continue to cook until puffy, silky and a little wet. Generally, this takes about four to five minutes.
Place the eggs on the tortillas and drizzle some hot sauce over the top. Add any extras that sound good and fit into your budget.