Student's 'Find Your Calling' podcast aims to inspire perseverance through adversity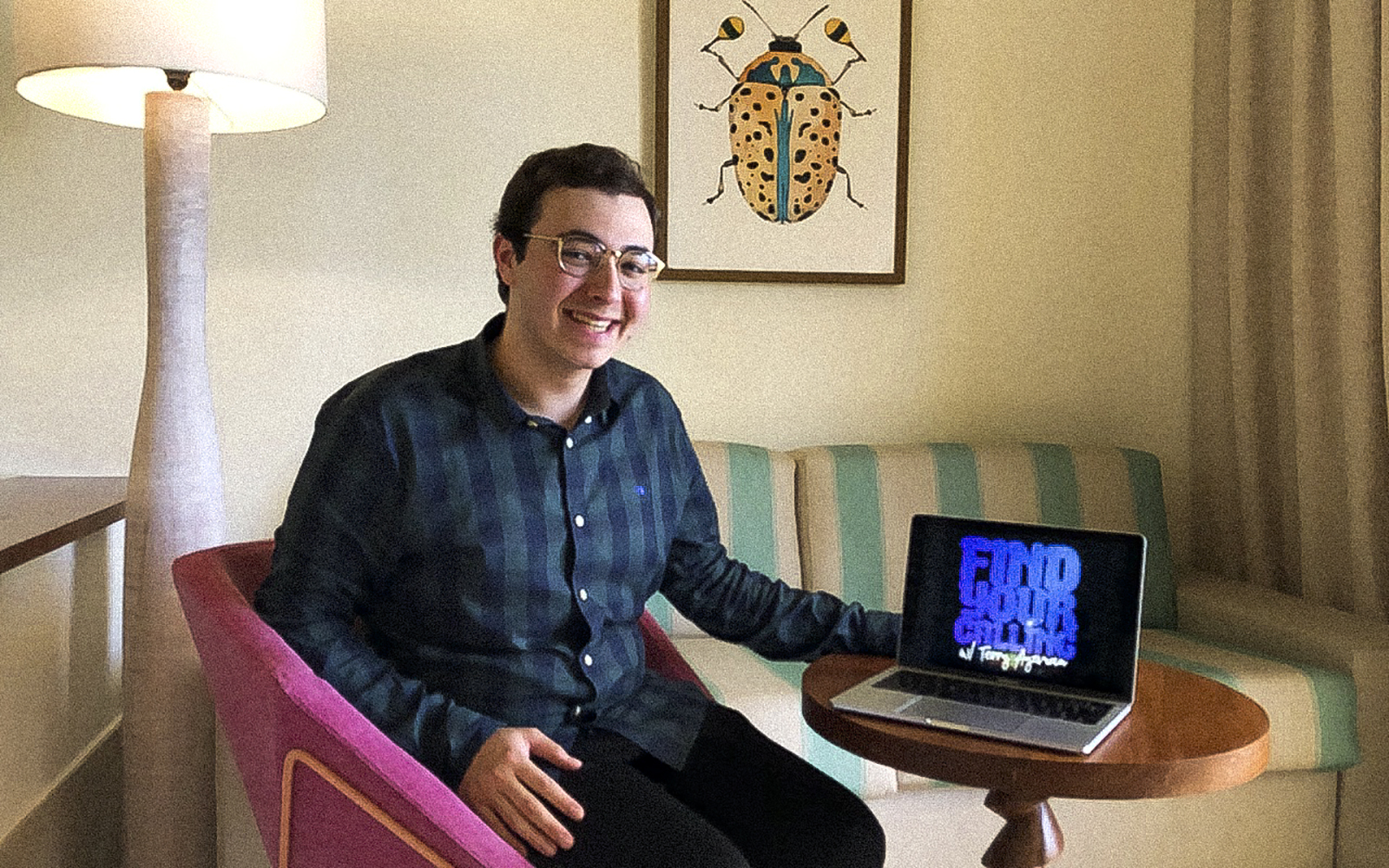 Inspired by the isolation and loneliness brought on by the COVID-19 pandemic, fourth-year political science student Terry Ayzman founded the ongoing "Find Your Calling" podcast. For each episode, Ayzman said he interviews guests with a connection to UCLA and discusses career setbacks and achievements to inspire students to persevere, even in uncertain times. (Medha Vallurupalli/Daily Bruin)
Inspired by the pandemic, Terry Ayzman found his calling – and he encourages others to do the same.
In April, the fourth-year political science student founded the ongoing "Find Your Calling" podcast featuring guests with a connection to UCLA. Guests discuss career setbacks and milestones, which Ayzman said he hopes will inspire students to persevere even when the future is unknown. He said the COVID-19 pandemic served as the impetus for "Find Your Calling," as he recognized that the mandated isolation escalated people's feelings of loneliness. He said he wanted students to hear from people who have a mutual Bruin connection, inviting guests from a variety of backgrounds to his podcast.
"Students are going to say, 'Those people overcame a bunch of obstacles,'" Ayzman said. "'They've had to hop over their own roadblocks, so that means I can do it too.'"
One of his guests, courtroom sketch artist Mona Shafer Edwards, who previously taught at UCLA, spoke to Ayzman about the importance of remaining flexible. She said they discussed finding joy in happy accidents and accepting when passions transform as new scenarios unfold. Many of Edwards' own career aspirations were born from personal pivots – and she said her advice is applicable for any student facing uncertainties.
"I think it's difficult for young people to remain optimistic, but you just have to try new things," Edwards said. "You just have to start somewhere."
Like Edwards, Ayzman said he decided to try something new when he launched the podcast – encountering his own set of trials along the way. He said that booking high-profile guests is the most difficult part of production.
[Related: 'Speaking Our Language' co-hosts spark conversations around race, culture and life]
Although booking these prominent figures, such as Fox 11 Los Angeles news anchor Elex Michaelson and chef Wolfgang Puck, can be complicated, Ayzman said it's still important because he wants students to understand that it is possible to seize this moment in history instead of waiting for it to pass. During his interview with Puck, for example, Ayzman said he came to understand the importance of perseverance. Puck grew up being told he wasn't fit for success, but he later built a culinary empire, Ayzman said.
"During our conversation, he talked about the fact that his restaurant business is suffering, but he's still going to reinvent the wheel," Ayzman said. "One of the key themes of that interview was that adversity should be an opportunity."
Seeking to overcome adversity herself, Miriam Gorbatov, a fourth-year communication student and podcast listener, said she finds these interviews to be helpful when thinking about her own postgraduation plans. She finds it especially beneficial for students who are having trouble discovering their calling amid so much uncertainty.
"It's great to know that these people have become so successful despite the struggles they've faced in their own lives," Gorbatov said. "They've still managed to do something important. So we just have to pick ourselves up and continue on our journey."
[Related: Professor's podcast explores technological, social innovation in music industry]
Alongside the theme of persistence, Ayzman said one of his favorite podcast topics has been self-reflection. He believes that using this time to look inward can create positive chain reactions, and can help students reach their full potential.
"Pre-(COVID-19), we were so busy," Ayzman said. "We were just glancing over life and glancing over ourselves. But now we have an abundance of time. I think that if you don't use that time to help build people up, you're ultimately not successful."
Hearing how his guests have built others up while simultaneously fueling their own success is what Ayzman loves most about his podcast. People have a lot to learn from each other, and he said the only requirement is listening.
"When you listen to the podcast, try to question yourself and your motives," Ayzman said. "Keep an open mind. Allow yourself to shatter preconceived notions. Annotate in your head. And then just enjoy it."