Alumna takes on dark pop genre in her self-produced debut EP, music video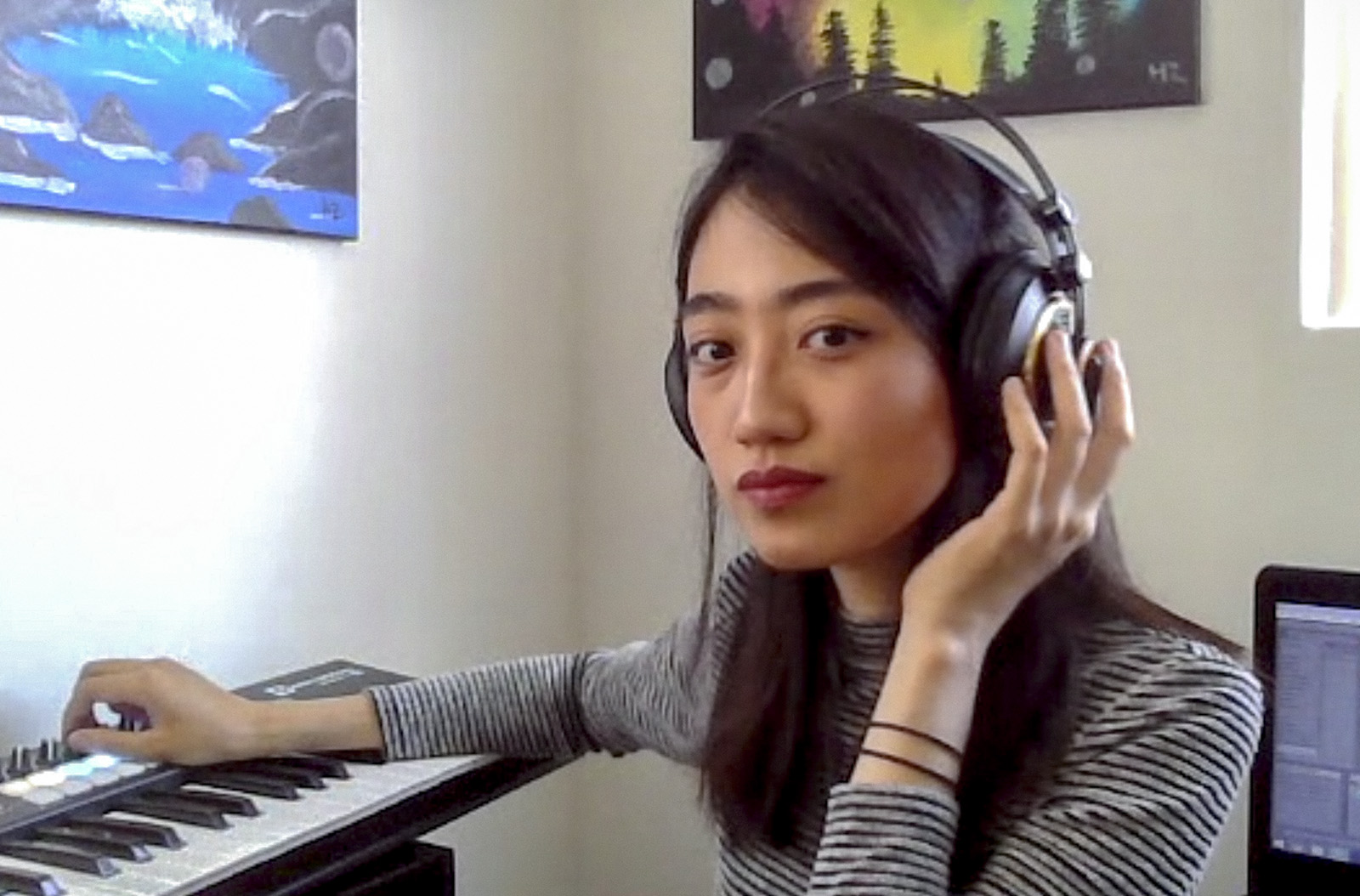 Alumna Helen Zhou, who creates music under the name HALAN, released her debut EP on Aug. 28 and self-produced music video Aug. 15. The EP focuses on previous romantic experiences and exudes a sad pop sound. (Ashley Kenney/Assistant Photo editor)
Singing in the shower is usually a private experience, but in Helen Zhou's new music video, it's the center of attention.
The alumna, who creates music under the name HALAN, released her debut EP on Aug. 28 and her music video "Best Intentions" on Aug. 15. Zhou said the collection of songs are all based on previous romantic experiences, with the title track "Best Intentions" taking inspiration from a bad, monthlong romantic encounter that continued to affect her for years. The EP contains four tracks, exuding a dark, sad pop vibe that accompanies introspective lyrics with instrumentals set to a minor key. Zhou said the overall tone of the songs surprised even herself, as she initially only focused on the main melody and lyrics.
"I didn't intend for the music to be this moody," Zhou said. "I followed with wherever instrumentals sounded good. It was only when friends pointed it out to me that I really realized the dark heaviness of the track."
Zhou said the release of the EP marks a significant achievement for her musical pursuits. While she works in the tech industry, Zhou said she had pursued music all her life, from starting classical piano at the age of 4, to joining the Music Club at UCLA and finally to independently producing music. Zhou's experience at the Music Club allowed her to perform with other people, which she said led her to join a regional theatrical metal band that greatly influenced her current musical style.
[Related: Krista Marina's new music mixes Middle Eastern influences with R&B, bedroom pop]
For Zhou, the opportunity to experiment in Music Club encouraged her to try different instrumental and vocal techniques, dabbling in metal, dark pop and heavier genres besides the classical piano she was used to. Austin Norris, Zhou's friend who is appearing in her upcoming music video for "I Don't Know You," said Zhou indulged in more niche and intense pursuits, namely her interest in metal screaming vocals, which she often practiced at home.
"She bought a singing mask that dampens sound to practice screaming vocals at home," Norris said. "When she performs, hearing such a sound coming from her small figure is sure to take any listener by surprise."
Compared to the screaming vocals Zhou used to deliver, her new EP is drastically different, said Max Ward, a friend of Zhou's and a former Music Club member. Ward said Zhou had shown him unfinished versions of each song where he only detected traces of these heavier influences in the instrumentals. However, he said Zhou retained the intensity of metal screaming vocals in her music without the aggressive method of delivery.
"(Zhou) has changed a lot since the times she practiced screaming," Ward said. "Her songs carry a similar weight and emotional intensity to them, just in a different manner,"
Soon after independently releasing an EP and a music video, Zhou said she is preparing to release another music video Saturday, which required an intense production workload to complete in time.
Zhou said she is mostly self-taught, learning how to set up a recording booth from a UCLA Extension course and studying production through online videos. For the "Best Intentions" music video, Zhou used her phone and a homemade stabilization crutch to film herself in the shower, producing and editing the video all by herself – a production style she plans to use in future videos.
[Related: Sibling duo opens up to listeners in latest single 'Electric Currents']
The choice of filming in a shower stemmed from the everyday aspect of the event. Zhou said she often found herself contemplating the emotional ramifications of previous relationships while doing day-to-day things like brushing her teeth or taking a shower. By filming in a place where she usually experienced alone, she said the video took on a new level of emotional and physical vulnerability that complimented the lyrics and undertones of the track.
"I like the idea of a continuous shot to convey emotional intensity," Zhou said. "I think it's the only way to show an internal narrative: The viewer watches me go through an internal chain of thoughts and feelings and it plays out on my face."
Zhou said she treats her musical and creative pursuits with an attitude of adaptability and determination, despite not having formal tools and training. Norris said Zhou converted a closet space into a recording studio, where she created songs in that cramped environment. During his experience creating the music video for "I Don't Know You" with Zhou, he said they faced several technical challenges, like the lack of a film-level phone tripod, which they substituted with a homemade crutch.
Despite her intense musical and video production schedule, Zhou said she can't see herself focusing solely on her musical pursuits as she enjoyed focusing on her technological passions simultaneously. However, Zhou said music and creative pursuits have always played a big role in her life, and they will continue to do so in the foreseeable future.
"I enjoy doing many things at once," Zhou said. "I used to also do poetry and creative writing. Maybe someday I'll focus on writing and music, or writing and data, but I can't see myself only doing one."