Editorial: UCLA must support divestment board over Public Safety Advisory Council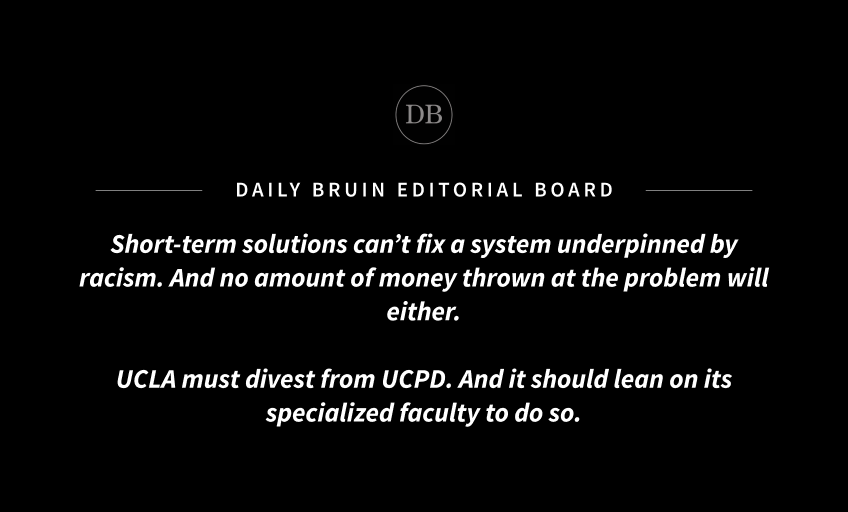 UCLA's projected plan to increase its UCPD budget by more than $500,000 this year despite clear opposing demands from students defies logic.
This increased funding comes amid protests calling to defund police over numerous complaints of police use of force against people of color, calls to increase funds for community programs, about $1.8 billion in revenue loss as of July to the University of California because of COVID-19 and a pandemic that will limit the number of students on campus.
Now, undergraduate student leaders are calling on the university to end its efforts in maintaining a Public Safety Advisory Council – a UCLA-initiated oversight board that would advise university police on potential reforms. The No UCPD Coalition instead backs the Divest/Invest Faculty Collective – a group that has called on UCLA to establish a board staffed with faculty experts and students dedicated to divesting from UCPD and reinvesting in other areas to promote safety.
And it's about time the university listens to its students and faculty.
With renewed protests following the Kenosha, Wisconsin, police shooting of Jacob Blake, it's clear now more than ever that the system of law enforcement in our country is despicably rotten in its excessive use of force against individuals of color. And, yes, that trickles down to campus police, too. A June letter from the UCLA Equity, Diversity and Inclusion Student Advisory Board highlighted that about 30% of those arrested by UCPD are Black, though they make up less than 5% of the UCLA student body, according to the 2018-19 undergraduate profile.
When it comes down to it, an advisory board is simply not enough to undo the systemic issues rooted within the criminal justice system.
Creating a board whose role is to idly sit by and watch university police spend even more funds isn't exactly how change mobilizes. The Divest/Invest board would bypass the back-and-forth on which increased spending is good or bad and jump straight to diverting "a substantial amount" of the UCPD budget to invest it into other options for community safety.
Members of the Divest/Invest Faculty Collective also clarified that divesting takes time. While it may be true that the university can't immediately pull UCPD from its budget, it can begin to make an impact by gradually weaning the community off problematic policing.
Of course, proponents of maintaining such a high budget may argue that police officers need sufficient funds to combat weaponized criminals or keep communities safe.
But police officers don't need to be the only ones dealing with community problems. Many cases of nonviolent crime or mental health issues do not and should not require the assistance of armed officers when social workers and mental health professionals are trained to de-escalate, not instigate. When the UC is funding a system that has been statistically shown to harm those it's meant to serve, they're only increasing the likelihood that force will be used on Black and brown communities.
Short-term solutions can't fix a system underpinned by racism. And no amount of money thrown at the problem will either.
UCLA must divest from UCPD. And it should lean on its specialized faculty to do so.