Faculty collective pushes for university police divestment, criticizes UCLA's plan forward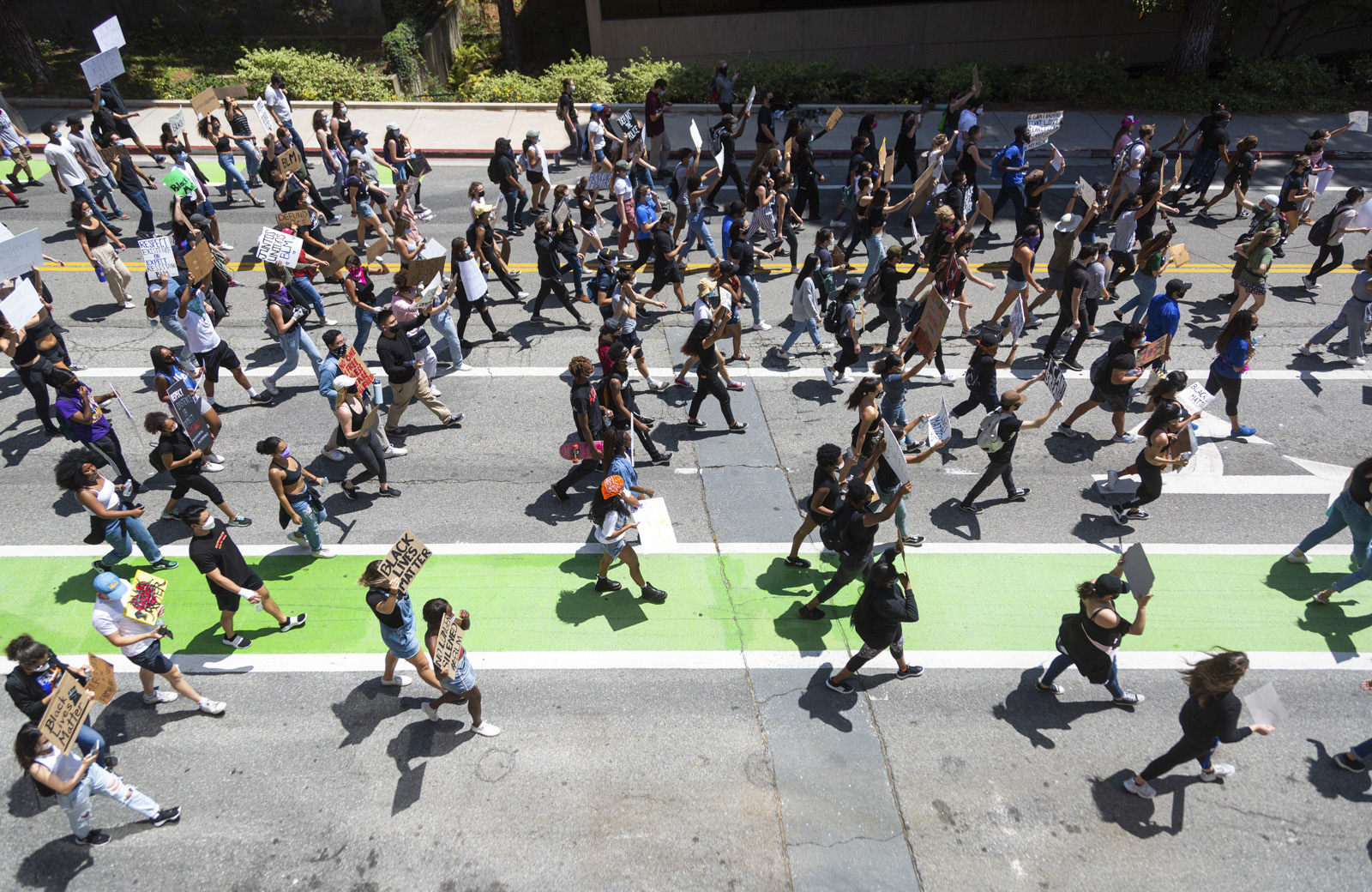 A group of UCLA faculty rejects the university's proposal to reform campus police, and calls for divestment from law enforcement instead. (Amy Dixon/Daily Bruin senior staff)
A group of UCLA faculty says the university's plan to address police violence represents a renewed commitment to policing and fails to work meaningfully toward divestment.
At least 36 UCLA faculty formed the Divest/Invest UCLA Faculty Collective, which demands the university fully divest from law enforcement agencies. A June 11 letter, signed by more than 200 faculty members and sent to the UCLA administration, stated that UCLA should divest from the Los Angeles Police Department, defund UCPD and invest in racial and gender justice teaching, research and community initiatives.
"As long as UCLA collaborates with LAPD and other police forces, it is complicit in, and bears responsibility for, police brutality and racialized state violence," faculty members said in the letter.
Chancellor Gene Block and Executive Vice Chancellor and Provost Emily Carter addressed some of these demands in a June 30 statement. The statement said that the UCLA Police Department had already banned the use of carotid holds, and added that UCLA will discuss additional changes to UCPD's use of force policy, including by sending trained mental health professionals to mental-health-related incidents.
UCLA will also expand the role of the Public Safety Advisory Council, which is currently being formed, to evaluate the university's relationship with UCPD and ensure campus safety, the chancellors added in the statement.
The statement did not include changes to UCLA's relationship with the LAPD or the funding given to UCPD.
"We commit to continuing our improvement in policing, both on campus and off, including how we can further address issues like racial bias and racial profiling, effective de-escalation techniques, data transparency and other pressing racial equity matters to ensure that we protect the safety of all in our community, including Black Bruins and other Bruins of color," the statement read.
UCLA spokesperson Bill Kisliuk said UCLA will continue to work with other local law enforcement agencies until there are proven and effective alternatives. The Public Safety Advisory Council will also review the university's relationships with external police agencies, Kisliuk added.
"We rely on (the) UCLA Police Department for the public safety needs of staff, faculty and students," Kisliuk said. "Until there are proven and effective alternatives, We need to continue to work with other local law enforcement agencies."
However, the Divest/Invest UCLA Faculty Collective released a letter July 7 rejecting the chancellors' proposal adding that it would boycott the Public Safety Advisory Council because it is "aligned with a pro-policing agenda." The letter states that the collective maintains that divesting from police is the most effective way to achieve a thriving space for Black life.
"This national moment of uprising seeks transformative change in all institutions of American society, from schools and universities to foundations and corporations," the letter read. "Such transformative change requires divestment from policing, not simply the reform of policing."
Grace Hong, a professor of Asian American studies and gender studies at UCLA, said although the divestment process could take time, the UCLA administration should commit to divesting from the police right away, she added.
"(Divestment) is not inconceivable," Hong said. "Prior to relatively recently, the idea of there being an armed police force on a university campus would have been unimaginable."
The faculty collective said the Public Safety Advisory Council has so far not included faculty who work on racial violence and policing or given decision making power to community members and groups who are disproportionally impacted by policing.
Instead, the faculty collective asked the administration to establish a Divestment/Investment Council led by faculty with the relevant expertise along with students, staff, workers and community members.
"The Council must be empowered to effect meaningful divestment, chart a path for reparations, and bring about effective changes in campus policies and practices towards racial justice," the faculty collective said in the letter.
Calls for divestment also came from alumni and students.
A June 9 letter signed by more than 3,700 alumni asked the UCLA administration to be more transparent about its involvement in the LAPD's June 1 use of the Jackie Robinson Stadium as a field jail to detain protestors. The letter also demanded UCLA to stop collaborating with the LAPD.
Similar demands came from the UCLA Equity, Diversity and Inclusion Student Advisory Board, which echoed faculty demands to divest while asking the university to reform UCPD policies and make anonymized UCPD data available to the public.
"We maintain that divestment from policing is the most direct and effective way to achieve a thriving space for Black life and Black studies and a meaningful agenda for generative campus life for Black, Brown, and Indigenous people at UCLA and in Los Angeles," the faculty collective said in the July 7 letter.