Editorial: UC's silence, inaction on Title IX policy changes leave students without support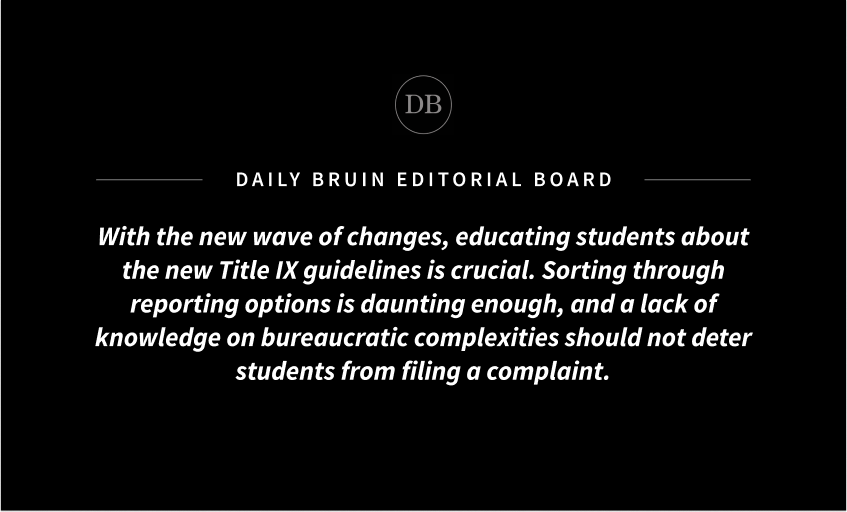 One week seems like a short time in the slowly grinding wheels of bureaucracy.
But when it comes to the fate of Title IX regulations, one week is an eternity.
It has been 10 days since the new addendums to the Title IX regulations officially went into effect. Most notably, these changes mandated that accusers go under cross-examination to prove credibility – a move experts said will deter reporting and increase trauma for those who do report.
The changes are horrifying, but hardly surprising, coming from the ever-regressive Betsy DeVos and the Department of Education.
What is more concerning is the University of California's silence regarding the implementation of these changes – more specifically, how it will respond to them with the "care and thoughtfulness" it promised.
UC leaders have said time and again that they oppose the new regulations. To make good on that opposition, administrators need to provide the information and resources that go beyond good intentions – and they must do it soon.
For starters, the UC can make use of the increased capacity of an online counseling format. For example, Counseling and Psychological Services at UCLA is no longer forced to numerically restrict its appointments, meaning the UC could use this extended capacity to integrate opportunities for therapy into the Title IX process.
With the new wave of changes, educating students about the new Title IX guidelines is crucial. Sorting through reporting options is daunting enough, and a lack of knowledge on bureaucratic complexities should not deter students from filing a complaint. By providing accessible digital resources with concrete steps on how to process their case, the UC can do more than demystify the process for survivors. It can show them that administrators stand by them.
However, systemic change is rooted in the national and societal levels.
As the highly anticipated November elections loom, the UC can put its weight behind its words by placing pressure on potential candidates and elected officials. California senators, representatives and the eventual president-elect must all be targets for the UC's political efforts to reverse the damage that DeVos' four years of leadership have caused for those who have experienced sexual misconduct. After all, the educational system is no stranger to national politics.
However, not all aspects of the new Title IX rules are a step backward.
The recent regulations expanded the definition of sexual harassment to include stalking, domestic violence and relationship violence for the first time in history. Title IX hearings can now be held virtually, allowing administrative officials to maintain due process during the pandemic.
But in neither intent nor impact do the policies' benefits outweigh the harm.
Revamped definitions and access to virtual hearings are rendered useless if students who come forward are to be harshly retraumatized through a direct cross-examination. Students who have experienced sexual misconduct will be deterred from reporting their assault if their innocence is questioned and attacked.
It may be months until a potential new administration comes into play to reverse these regulations.
But, in the meantime, students shouldn't be left with silence about how to move forward.