UC-AFT Local 1990 holds protest demanding greater job security outside regent's home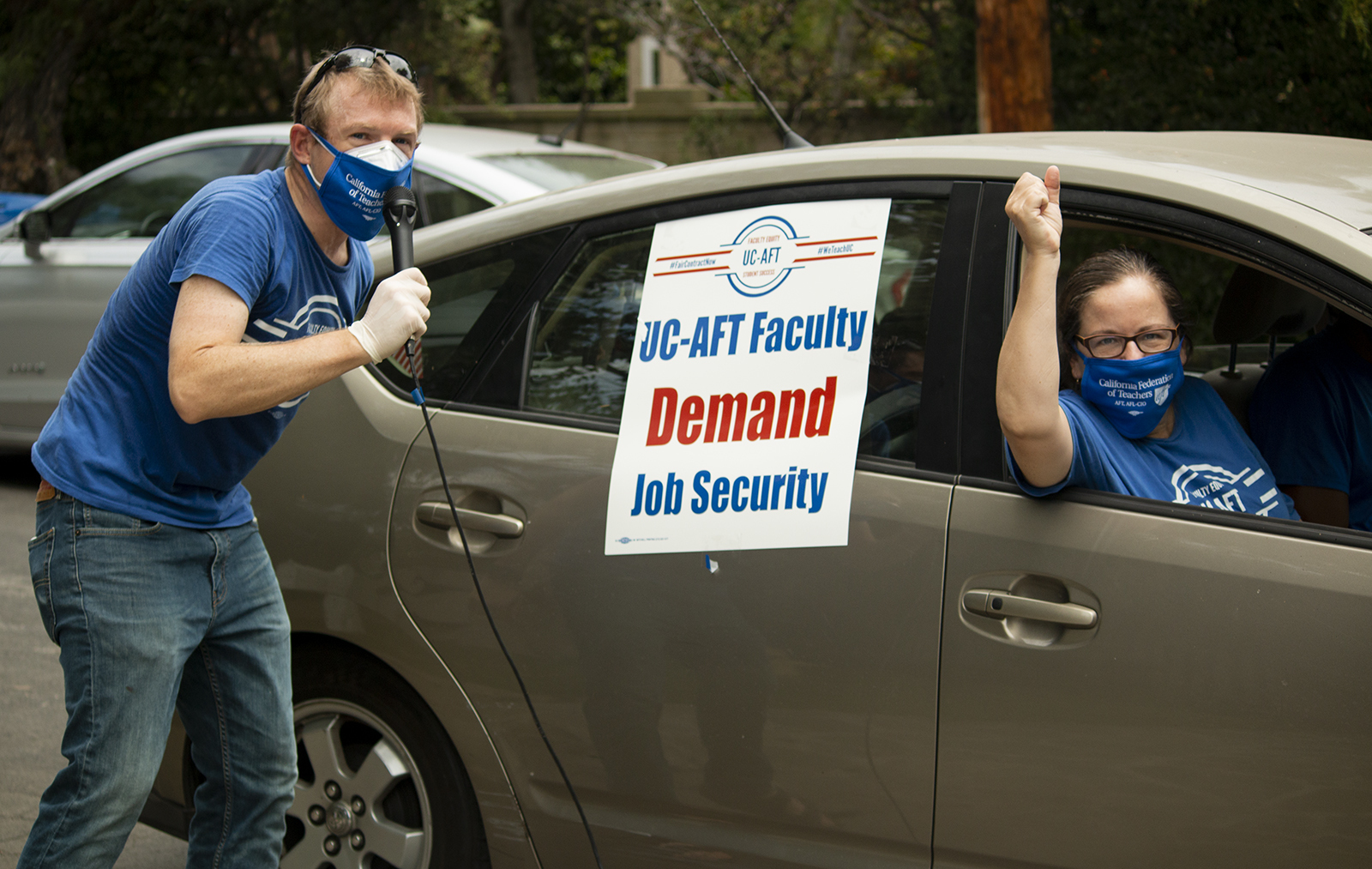 Dozens of protesters demanded greater job security for lecturers at the University of California in front of UC Regent George Kieffer's Brentwood home Monday. (Bernard Mendez/Daily Bruin senior staff)
The union that represents lecturers at UCLA is calling on University of California President Michael Drake to continue contract negotiations to increase job stability for lecturers.
University Council-American Federation of Teachers Local 1990, which has been in contract negotiations with the UC since April 2019, organized a car caravan protest Monday in front of UC Regent George Kieffer's Brentwood home. Dozens of protesters drove around Kieffer's neighborhood for about an hour, honking their horns and yelling into a microphone, urging Kieffer to address the crowd and relay their demands to Drake.
Kieffer did not exit the house and it is not clear if he was present during the protest. Kieffer did not immediately respond to request for comment.
Mia McIver, the UC-AFT president and lead negotiator for UC-AFT, said after the COVID-19 pandemic hit, the union narrowed its focus from improved compensation, reduced unpaid labor and improved job security to only improved job security as opposed to increasing wages.
McIver added that although the union began negotiations with the UC in 2019, it has not been able to reach an agreement; UC-AFT's contract with the UC expired Jan. 31.
Members of other UC labor unions also attended the protest in solidarity with UC-AFT, including the United Auto Workers Local 2865, which represents student workers – primarily graduate students – and the American Federation of State, County and Municipal Employees Local 3299, which represents laborers, such as service and patient care workers.
John Branstetter, a fourth-year lecturer who helped organize the protest, said there is little protection for UC lecturers during their first six years of employment. After a lecturer's sixth year, departments are required to offer the lecturer a continuing appointment, which gives lecturers more job security. However, before then, departments have no obligation to retain lecturers, said Branstetter, who is also the president of UC-AFT Local 1990, the UC-AFT chapter at UCLA.
"It doesn't matter whether you're good, it doesn't matter whether you have experience. In fact, actually your experience counts against you," Branstetter said. "Because as you get closer to that six-year deadline, there's an incentive for them to get rid of you."
Improving lecturers' job security would allow lecturers who are doing a good job to continue to do a good job, he added.
The UC offered UC-AFT a contract in June that included improved job security for lecturers who have a continuing appointment and gave all lecturers the option to "express interest" to continue to teach courses in the next academic year earlier. As of publication, UC-AFT has not accepted the June contract.
UC spokesperson Sarah McBride said in an emailed statement that the UC has talked to union leaders about the pandemic's fiscal and operational effects on the UC and believes a "mutual commitment to good-faith negotiations" is the way toward a resolution.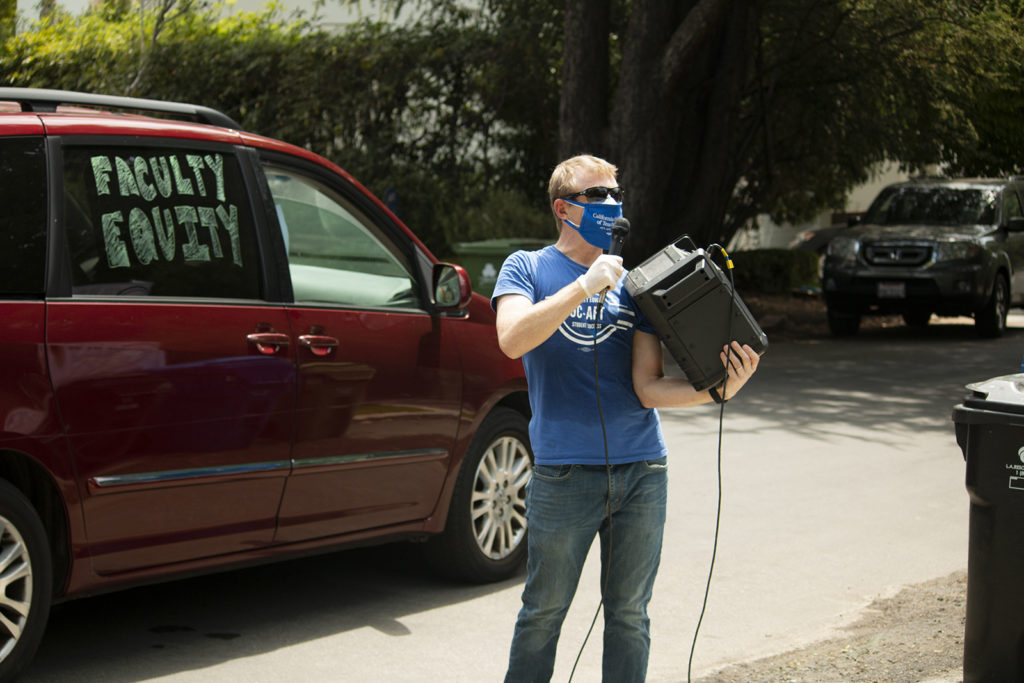 Michael Dean, a steward for UAW Local 2865 and a doctoral candidate in history who attended the protest, said that even though UAW Local 2865 is fighting for separate issues and is under contract until 2022, he still wanted to support UC-AFT.
Although UC-AFT contract negotiations wouldn't directly benefit him, Dean said that many UAW Local 2865 members are doctoral students who may become lecturers.
"Their fight is definitely our fight," Dean said. "And we know that when we are bargaining like they are now, they'll be there to support us, too."
McIver, who was a graduate student at UC Irvine while Drake was the UCI chancellor, said she thinks Drake is committed to higher education and has a vision for the UC.
"We are calling on him to make labor justice for all easy workers part of that vision," she said. "And particularly at this moment when not just the UC but the entire world is in crisis, to invest in education as a way out of that crisis."
Mendez was the 2020-2021 News editor. He was previously a staff news reporter for the Science & Health beat and a developer for The Stack. He is also a third-year math student at UCLA.
Mendez was the 2020-2021 News editor. He was previously a staff news reporter for the Science & Health beat and a developer for The Stack. He is also a third-year math student at UCLA.